Spiral review is important. Do you do it? Are you looking for a way to make it fun and to only take about 20 minutes once a week? Check out how I do it in my classroom!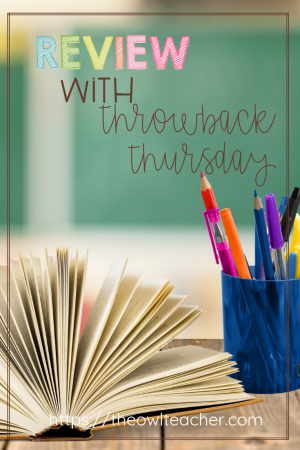 For a while there on Facebook, I would see these cute, adorable pictures of my friends when they were younger. Sometimes they were pictures of them being tagged unknowingly (before they changed it), and other times they simply shared it themselves. It was Throwback Thursday, and it was a hit! Come on, I bet even you got in on it!
Yes, Throwback Thursday, where you went into the past for a brief amount of time and revisited old memories. Ahhh… Wait. Why not do that same exact thing in the classroom? I mean, let's be honest: All that cramming in the day before a test, reviewing and then not touching it again until – uh oh – the BIG test comes up… Well, that just doesn't work. In fact, sometimes it becomes more of a reteaching nightmare.
So, I thought, "Why not have a review day once a week for about 20 minutes, just spiral reviewing the important things?" I reach back four or six weeks and pick one thing – one really important thing with heavy emphasis or a struggling area – and review it to increase retention. Throwback Thursday.
Sometimes we play a review game such as heart breaker, or other times we use task cards. If you prefer Friday, call it Flashback Friday! ?

Get Weekly Freebies!
Sign up for our short & sweet newsletter to get a freebie each week! It's quick and to the point, because you are busy!