When I took geology in college, I just loved that course. Something about weathering and erosion fascinated me. I think it was that really, no matter how hard you tried, there was nothing that could stop these natural processes. Sure, we can slow them down, but we can't ever stop them. The very fact that weathering and erosion are so powerful is incredible to me. I guess that passion just carries over into my classroom.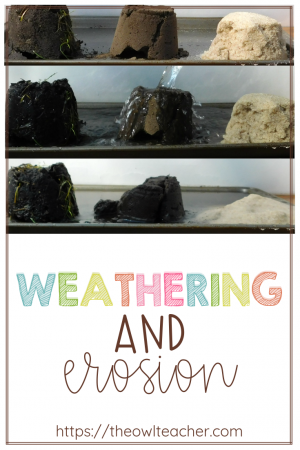 Not too long ago, while we were talking about fast and slow changes to the earth, I thought I'd give the students a visual. Ahead of time, I prepped some soil molds using plastic cups and soil. In a bowl, I mixed sand and water and poured it in a cup. Then, I did this again with just soil and once more with soil mixed with water and grass. I knew the grass was a great way to cut down on the weathering a bit.
After a few days, when the molds were "just right," I tipped them upside down and placed them on a cookie sheet (though next year, I think I will use an aluminum-like cake pan to avoid overflow of the water erosion – what a mess that was!) and removed the cups. I brought this to school and, of course, it immediately caught my students' interest.
First, we focused on the vocabulary. We reviewed weathering and its two types, physical and chemical. We also briefly discussed that when the roots of plants work their way up into sidewalks, it's really called organic weathering. Then, we shifted our focus to erosion and the various agents of it, such as wind, water, gravity, and even glacier (or ice).
Then, I gave students a small reading piece based on their reading levels and had them partner up. I had them read it twice. The first time they were just reading it, and the second time they read it again, looking for answers to specific questions I had related to the piece. I wanted to make sure I was integrating some comprehension and textual evidence in there.
---
Check out these related resources.
---
Finally, we got to the part the students were waiting for – the investigation! I gathered them around and had them first predict what they thought was going to happen and even what part the grass played in this. It was fun listening to their thoughts. Children are so creative. Anyway, I then had them turn to a neighbor and predict which mold they thought would have the most weathering to it, once I poured water on it, and explain why. I wasn't really surprised to hear that most of them believed it would be the sand, as we live in a state surrounded by water. (I love when kiddos use their background knowledge!) However, when I asked which would have the least weathering, they weren't quite sure. I then poured the water onto each mold and had students observe what happened to each of the molds.
Of course, the mold with the grass was weathered the least, and then we discussed why they thought this was. We also discussed what part was the erosion in this entire demonstration. (It was the water rolling away from the molds carrying the sediment.) Then, I had students illustrate a picture of the demonstration and label both the weathering and the erosion of it, along with explaining in their own words what happened and why.
The students really enjoyed this activity, and it was an engaging demonstration to illustrate that, although weathering and erosion cannot be stopped, it can be slowed a bit. If you want to save some time, you can complete this entire activity by using my weathering and erosion tabbed booklet (seen below).