When I was in school, chin-ups were the worst thing any physical education teacher could make me do. I hated them with a passion. My arms were not nearly strong enough to lift all of my body. I couldn't even get close to that bar, no matter how much I tried to stretch my neck. The thing is, even now in PE, kids still have to do chin ups. I hear the horror stories from my daughter. And education is no different — we have to do daily chin-ups, trying to get our kids to reach that bar that is continuously being raised on us. Most recently, the bar has been raised with our texts. Text complexity. It's a new set of buzzwords since common core came around.
C-O-M-P-L-E-X-I-T-Y.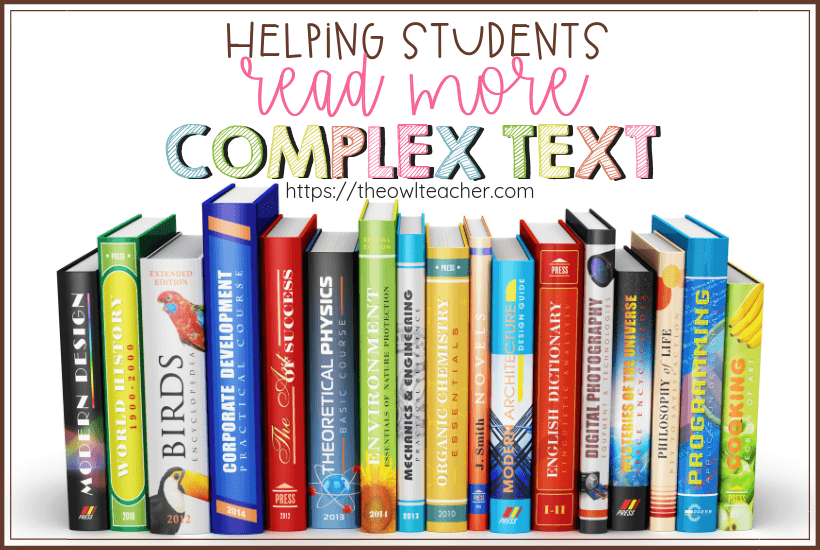 No matter what reading level, all students should be exposed to text complexity! And I am determined to not only make it happen in my classroom but hold my students accountable for it too. Why should I do all the work, right?
So, how can we help our students read more books with text complexity (besides giving it to them and saying "go for it")?
Book Talks. Book Talks are not anything new. When you choose to give a book talk to your class, make sure you are choosing books with increasing difficulty. Use the guide found in the Common Core Standards to determine its level of complexity.
Read Alouds. Read to your students books of great complexity and include nonfiction texts. Remember, a read aloud does not mean you are necessarily reading the book cover to cover. Pick a nonfiction text and find a small portion that would instantly hook your readers. Cliffhangers, suspense, and mystery are sure to draw students to the book. Read aloud is also a great time to provide any background knowledge and scaffolding necessary to help students be able to read the complex text.

Choices, Choices, Choices. Provide lots of variety in your classroom for students to choose from. Go beyond your grade level (but not their level of maturity) and select books from a variety of genres.
Student Evaluations. Set goals with students to develop their reading skills into more complex books. Teach them how to determine if a book is complex or not (again, check out the common core complexity description) and to self-assess books. Have students rank their books that they are reading from the least complex to the most complex. (Higher level thinking—Woohoo!). Not only should they evaluate their book's complexity, but also explain why they feel it is complex- they need to support it with evidence. I have provided a ladder of complexity sheet for you to download below. Just click on the picture.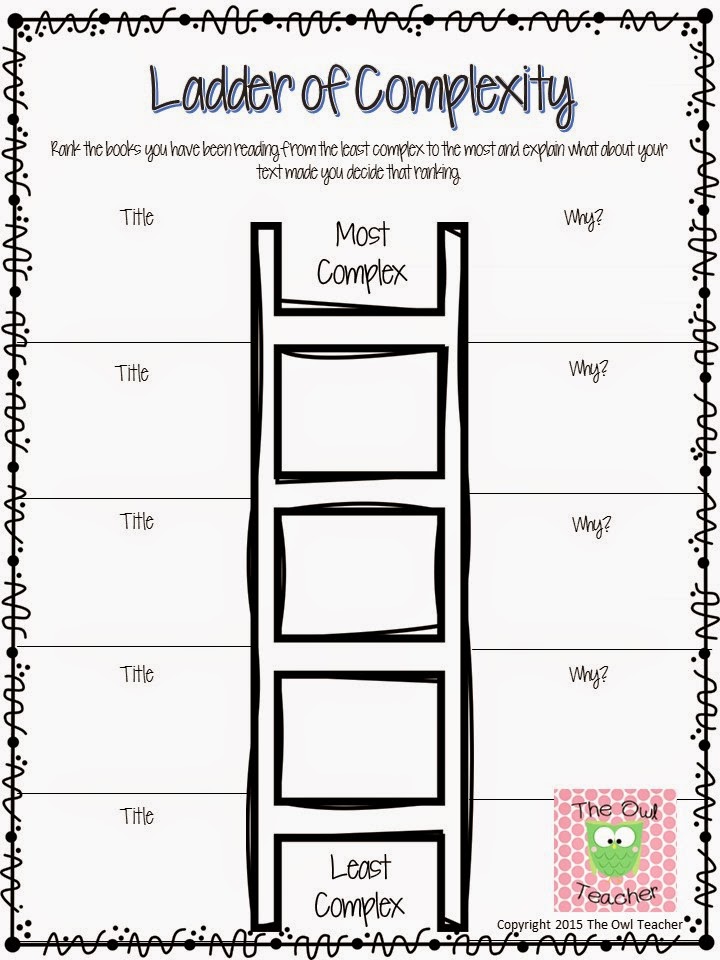 Discussion. After students have read their books, they should then have discussions about it with the teacher and their peers. Together they should discuss how it was complex and what strategies they utilized to better understand it. Students learn best and think deeper through their peers than anything we could ever say.
If we provide the tools and support we can take any learner beyond their instructional level. We are in an age of rigor and the bar has been raised. The difference is, we are older and wiser. We can now help lift our students up so they can reach that bar!
Want more valuable teaching tips and other ah-mazing perks, such as discounts, giveaways, flash freebies, dollar deals, and so much more? Become a VIP member by joining my email list! Click here to subscribe.

Pin for Later: