When teachers suddenly went online this year, we weren't the only ones thrown a learning curve. Our students and parents also had to learn about new tech tools. It was difficult to explore Seesaw, Google Classroom, Zoom, and other tools while trying to simultaneously give parent tech tips for online learning. Now that we've had a few months to learn about these platforms and what online learning entails, there are a few parent tech tips for online learning you can share to set parents up for success online! Whether you're continuing full-time distance learning or using a hybrid model, these tips will help your students and parents with their home to school connection.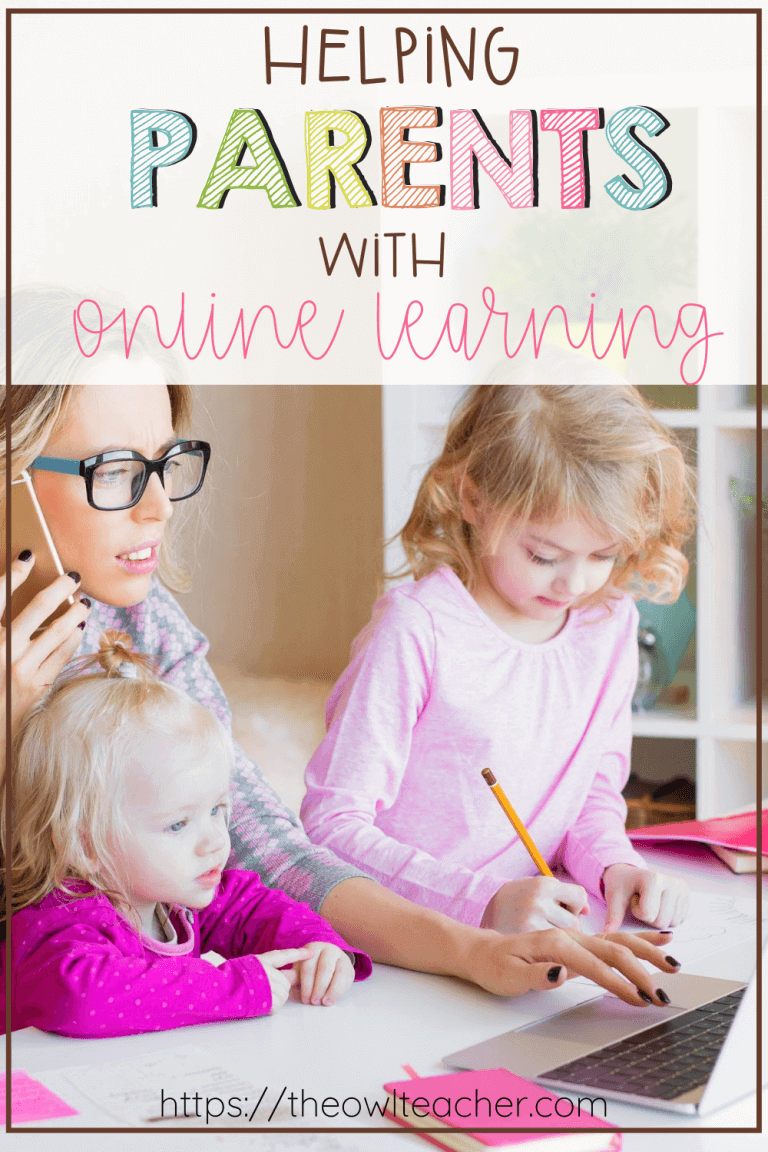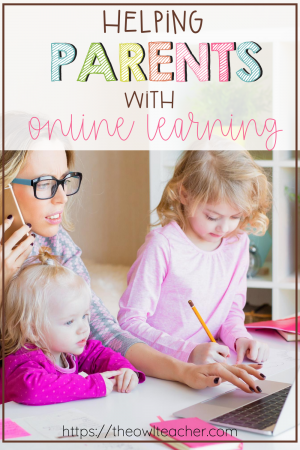 Parent Tech Tips #1: Communicate!
Just like you do with your students, get in touch with parents early in the year or even before school starts (if you have access to their contact information). For parents that don't have emails on file, give them a call, or send a letter home. Let parents know that you'll be sending home information via email or mail on how to access all the technology your students need.
Once you know what your district's plans and goals are for learning this year (and you have your class list), share tips with your students and families. It may help to work with your grade-level or content area teams to make sure all parents are getting consistent information.
Ways to Communicate: Google Classroom
If you're using Google Classroom with your students, parents may have A LOT of questions. This is to be expected because parents don't see everything that their student does unless they log into the student account. This is against privacy laws, so you should not recommend this to parents. Instead, Google Classroom can send parents summary emails.
Guardian Summaries
When parents sign up for Google Classroom access, they will receive guardian email summaries.
On your end, you and your tech administrator need to make sure your classroom has the ability for parents to sign up for summaries. Most G-Suite accounts already have this turned on from their tech administrator, but if you need help, Google provides easy step-by-step instructions. Your tech administrator may be able to bulk invite parents. Just ask!
Next, to invite guardians to receive summaries, you'll go to the PEOPLE tab in Google Classroom. Click on INVITE GUARDIANS next to the student's name. Type a name (if the parent is within your G-Suite organization) or their email address. The parent will then receive an invitation in their email. Once they accept, they'll start receiving Guardian Summaries.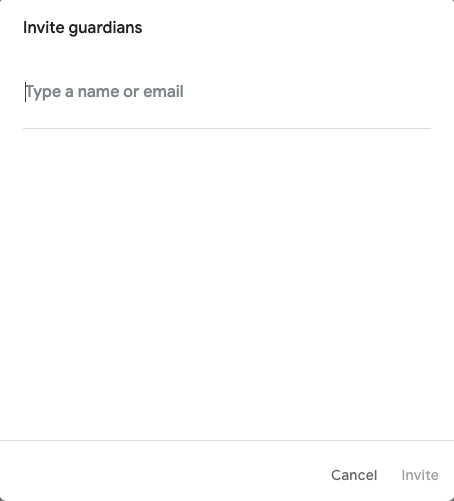 Guardian summaries include the following information:
Missing work— If you have a due date set on assignments, parents will receive notification of assignments that are missing when the summary hits their inbox. Parents can choose daily or weekly summaries. 
Upcoming work— If parents receive daily emails, they will get notified of the assignments due today and tomorrow. If weekly emails come out, they'll see what is due in the upcoming week. 
Class activity— Parents will see announcements, assignments, and questions you post.
Don't worry about privacy concerns. When parents and guardians sign up for email summaries, they won't be able to see the Stream, Classwork, People, or Grade tabs and information. They'll only see the work information listed above for their child. This is important because if your students are doing some journaling or working something that is a surprise for their parents (like a letter or special essay), they won't see the work being completed.
Ways to Communicate: Seesaw
If you are using Seesaw for your classroom platform, your parents will have access to a lot more information. Seesaw has been very popular with elementary classrooms because of the family connections made! Students can add their own work, you can make announcements, and parents and guardians will see whatever you want them to see including feedback and their child's work.
Seesaw Class App
Students connect on Seesaw with Home Codes that you send out. This will give them access to the student version of the app, or the Seesaw Class App.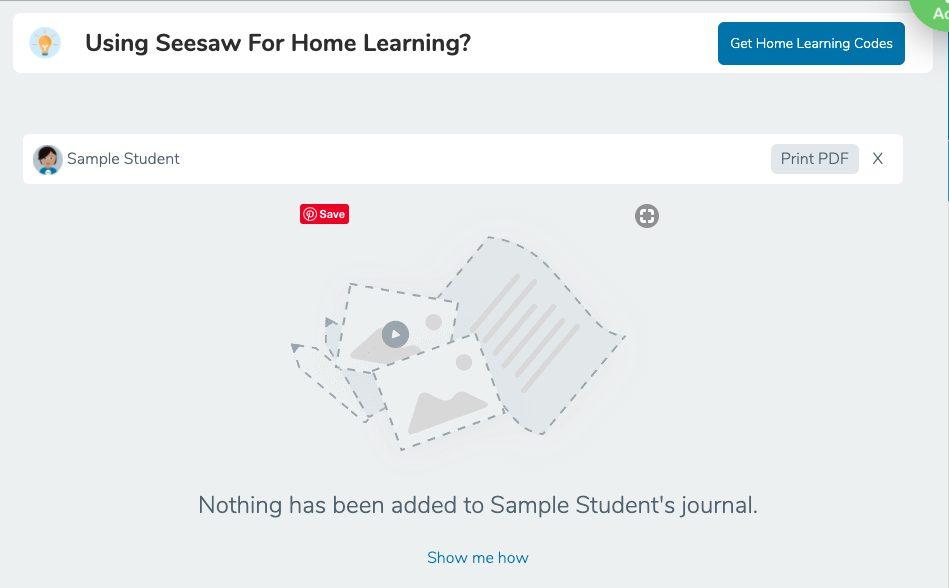 With the Class App, students can respond to your activities and post and make their posts. There are so many options with the Class App for your learners. You will need to let parents know some basic tips for students to use the Class App from home and provide them with the Home Code. This is separate from the Family App.
Seesaw Family App
In addition, parents and guardians will get access to the Seesaw Family App. Get started by clicking the +Families button then "Turn on Family Access". From there, you'll be able to invite families via emails or mobile numbers. For more information on step-by-step Family access for Seesaw, check out this Seesaw 101 guide for teachers!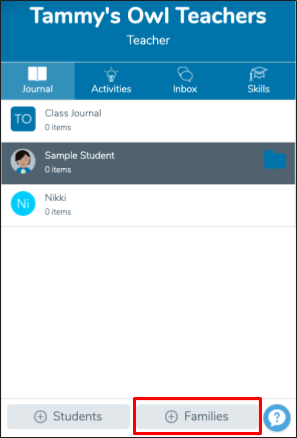 Your parents had a lot of change come their way with online learning! Like our students (and even teachers), parents have different experiences with technology. The biggest recommendation is to stick with one online learning platform and make sure to communicate with parents early in the year.
Parent Tech Tips #2 Differentiate for Families
Every family is different. Not every family is going to have access to the internet or wifi, have a great connection, or even have technology in their house. Some families have different backgrounds or experiences. There are even going to be different levels of parental involvement. For instance, some families will have their parents working while their children will be at a grandparent's house, a sitter, or home alone. Take all of these things into consideration and differentiate your lesson plans accordingly.
Parent Tech Tips #3 Provide All Needed Materials
When preparing for online lessons and activities, make sure to provide students and families with everything they need to be successful. This is not limited to but includes:
Instructions and tips on how to turn in the assignment.
A calendar or checklist of what is due and when.
Resources where the student can review the material if he/she can't remember how to do it.
Scaffolding tips for parents.
Tips for parents on what to do if the student has trouble.
The best way to contact you and when.
All the materials to complete the assignment.
Parent Tech Tips #4 Limit the Number of Platforms
One of the things that was very overwhelming for me as a parent last year when we suddenly switched to virtual learning was keeping track of all the different websites and passwords. Multiply that by two! Imagine if a family has more school-aged children to keep track of!
Find ways to make it easy on your parents. For example, provide parents with a limited number of technology sites that your students visit. Alternatively, if you want your students to visit multiple sites set them up with the same username and password at each site. Another option is to send home one spreadsheet with the website's address, username, and password all in one place to make it a bit more organized and easier. Some websites allow for these to all to be put together in one place like Padlet or Google Classroom so students don't have to type in the web address too! Anything you can do to make things easier on parents, the better it's going to go!
Since online learning is new to everyone and a challenge, consider sticking with one platform that you are comfortable with. Help parents by sharing tips early to help your students, and you will have a great year with online learning!