It's been a crazy few months as teachers have transitioned from in school learning to e-learning. Most of us had never experienced anything like this before, and it's definitely made for a challenging experience for teachers, students, and parents. With all the struggles with remote or distance learning, there are definitely some great things that have come out of online education. As some schools remain even with partial e-learning in the fall, here are some e-learning tips and how to make the most of this time for you and your students.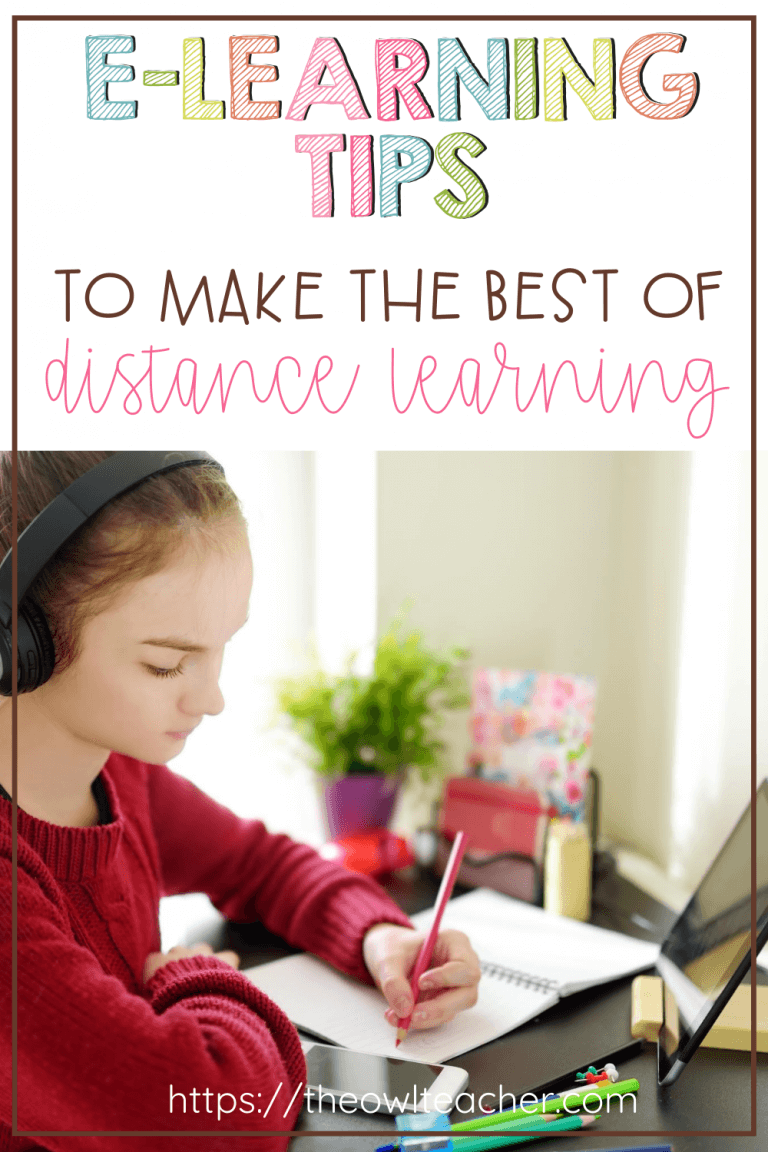 E-Learning Tip #1: Don't recreate the wheel.
There are so many distance learning resources available for teachers (and more being created every day!). Don't feel like you have to create every digital lesson from scratch. Make sure the lessons are engaging and fun for your students while still addressing the objectives and standards you want your students to master.
Lesson Materials
Check out different e-learning resources and materials to use in your classroom. These are ready to share with Google Classroom or Seesaw!
Online Tutorials
Learn how to use different online learning platforms with simple tutorials! Seesaw is a favorite for PreK-5th grade because of the parent and family accessibility. Google Classroom also has a parent piece but is targeted more towards the student interacting with the platform on their own.
E-Learning Tip #2: Let some things go.
Let's face it. You're not going to be able to cover everything you did in the classroom when you're teaching online. One of my favorite e-learning tips is to cut out the extra stuff (like extra time for standardized test prep) and instead focus on essential skills and social-emotional learning. With districts easing requirements on testing, it's much more important to focus on social-emotional well-being than reviewing how to take a test. It's still vital to teach our students reading and writing skills, of course, but putting effort into engaging curriculum and relevant tasks is #1 right now!
E-Learning Tip #3: Differentiate instruction.
E-learning gives us an opportunity to differentiate more than ever. First, think about when you've used centers or rotations in the classroom. It works, but you also have to be able to monitor all the different activities going on. When you explain the process via screencast or live video with your online learners, your students can then dive into the different lessons and materials shared to groups on Google Classroom. Google Classroom makes it easy to assign tasks and assignments to selected groups of students.
E-Learning Tip #4: Allow for flexible scheduling.
Unless your school requires it, don't get your elementary learners up at the crack of dawn for a live class. Work with families to find out what schedule is best for them (and you). Have a live class or two to check in with your students weekly (if you're full-time e-learning), or if your students switch classes, coordinate with other teachers to allow for students to have time online but also have the ability to step away from the screen. Consider setting office hours for students (and parents) to check-in with questions. Flexibility is one of the benefits of e-learning. I love this e-learning tip to help students find an optimal schedule that works for them.
E-Learning Tip #5: Ask for help.
Whether it's from online bloggers, colleagues, or administrators, don't be afraid to ask for help and give yourself some grace during this time. E-learning is overwhelming for parents, students, and teachers, but it can be a positive experience with these e-learning tips. No one expects you to know everything, and everyone has had questions. You can do this!