During this time of distance learning, we have all had to come up with creative ideas to reach our students online. You've held Zoom meetings or Google Meets to work to establish relationships with your students online. But how do you support students without internet access at home? What can you do to make sure students without internet access get the same high-quality education as their peers? Here are some tips to help your students without internet access stay connected to their learning!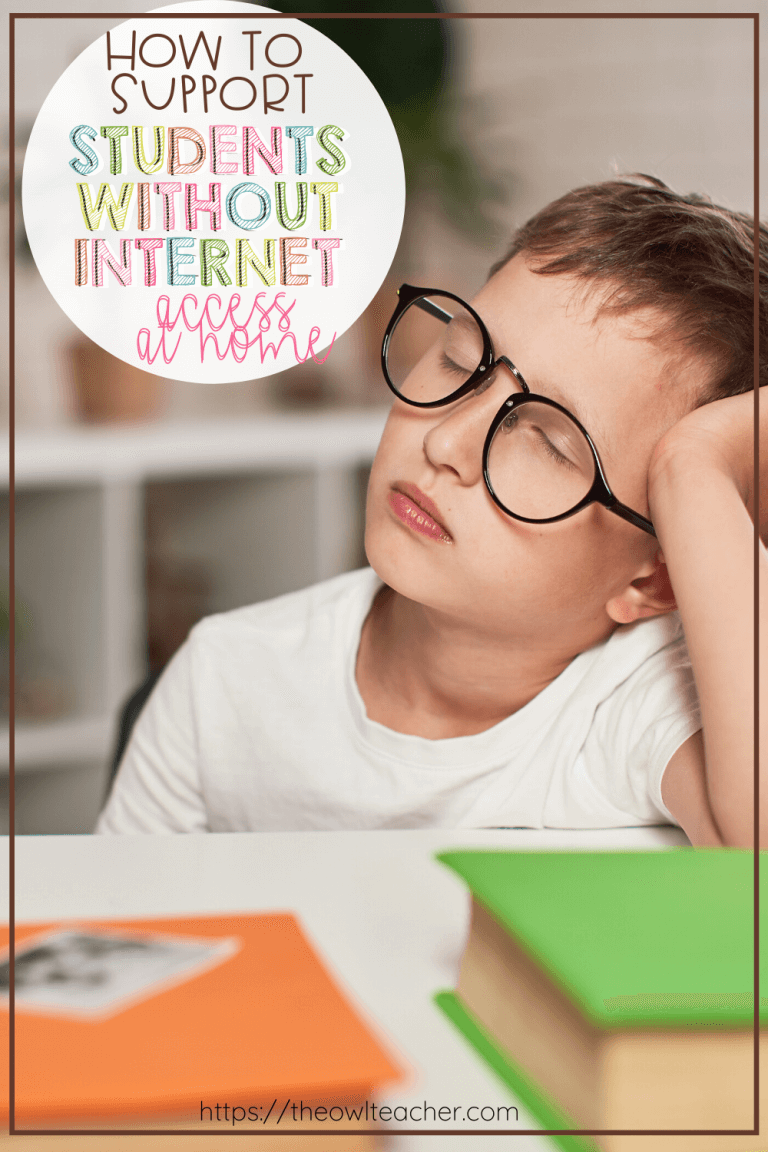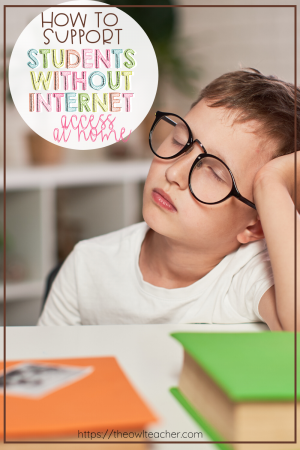 TIPS TO HELP STUDENTS WITHOUT INTERNET ACCESS STAY CONNECTED
1. Share print resources for students without internet access.
During distance learning, I have made many of my materials available in digital form. However, it's important to make sure that anything you share with your online students is accessible to students without internet access. For example, if you share a lesson on Google Slides on Seesaw or Google Classroom, make sure you have a printable PDF copy available for students who aren't online.
If your students are participating in distance learning at home, there are a few options to distribute print resources to students without internet access.
Work with your school to have a central packet pickup location for students and parents to get the materials they need.
Mail packets to students without internet access at home. Your school may allow you to drop off materials at school to have secretaries or paraprofessionals send out.
Send handouts to parents to print from work (or home if they have printing capability with limited internet access). This isn't the ideal since students without internet access most likely will not have easy printer access.
Deliver work to students' homes. This may be an option if you live in the area where you teach. It's also a nice way to stay connected to your kids (via social distancing).
2. Use Google Drive files offline for students who have devices without the internet.
Did you know you and your students can access Google Drive files offline? This is a great solution if your students have a device to use at home but limited internet access. To begin, however, the student (or parent) will need to be connected to the internet on the Google Chrome browser to turn on offline access. If needed, this can be done at school if the building is open. Students should install the Google Docs Offline Chrome extension. In addition, they should make sure they have the space they need to save their files on their device.
This works for Google Docs, Google Sheets, and Google Slides.
The following instructions adapted from the Google Help Center can be sent to parents or included in the packet of materials you send home.
How to Open Google Docs, Sheets, and Slides offline
Open the Chrome browser and sign into Chrome.
Go to Google Drive settings.
Select the box next to "Sync Google Docs, Sheets, Slides & Drawings files to this computer so that you can edit offline."
How to save Google Docs, Sheets & Slides for offline use.
Start by going to the Google Drive homepage.
Right-click on the Docs, Sheets, or Slides file you want to save offline.
Turn on "Available offline."
If you would like to save multiple files offline, press Shift or Command (Mac)/Ctrl (Windows) while you click other files.
How to preview offline files
Start by going to the Google Drive homepage.
Make sure you begin by turning on offline access.
At the top right, select Ready for offline.
Finally, select Offline preview.
Although using Google Drive files offline won't work for every student, it is a great way for them to see and save the materials you use for class.
3. Share affordable internet options.
Some students and parents have access to devices but do not have internet access at home. Companies like Comcast are offering affordable internet options for students without internet access. For example, the Comcast program gives two months free and then $9.95 month after for those who qualify. There aren't credit checks or installation fees. Cox Communications also has a similar program for families who need the internet for at-home learning. Keep in mind that privacy information may keep you from sharing these resources with individual families. Rather, you could send home letters to all your students with available resources. Sending home a card or a letter to students and families is one way I recommend to connect with your kids when they're away from school. Simply share the internet information to all families in that note.
4. Make phone calls home.
I know we are all busy, but if you find yourself teaching from home again even temporarily, you'll want to make sure you have all the information you need to help your students without internet access find success during the school year. If you know a student isn't able to get online, take a few minutes to call home as soon as possible. Ask what support parents need from you at home to help with academic and social-emotional needs. Sometimes, students have no problem doing the work on their own, but missing those class Zoom meetings or Google Meets can make them feel lonely or isolated.
Offer to have a quick weekly meeting with the child over the phone to see if they need any help with concepts. You can even include the parents in the conversation so everyone is on the same page.
5. Involve your school foundation, school leadership, or grant programs.
Talk to your principal or district leaders to see what they can do to help get devices or wifi to students without internet access. If your school is entirely online when school starts, there may be devices in your building or at the district level that are not in use. Ask school leaders if there is a plan to distribute those devices to students that need them. There may also be grant programs available through the foundations or other support programs to get kids connected.
Keeping your students without internet access connected to learning and people during this time is so important! We don't know what the next school year holds, but even when things are back to normal, it's vital to consider the needs of students that don't have access to technology and the internet at home. When assigning homework or distance learning materials, use these tips to support students without internet access at home.