Many of us have spent the last weeks in remote or virtual learning classrooms. Those strong relationships you established in the classroom don't stay strong if you're not able to stay connected with your kids! What happens if you start virtually in the fall? Or if you have groups of kids you have to work with online without meeting them in person? That task becomes even more difficult. The good news is there are ways to establish good relationships with students online.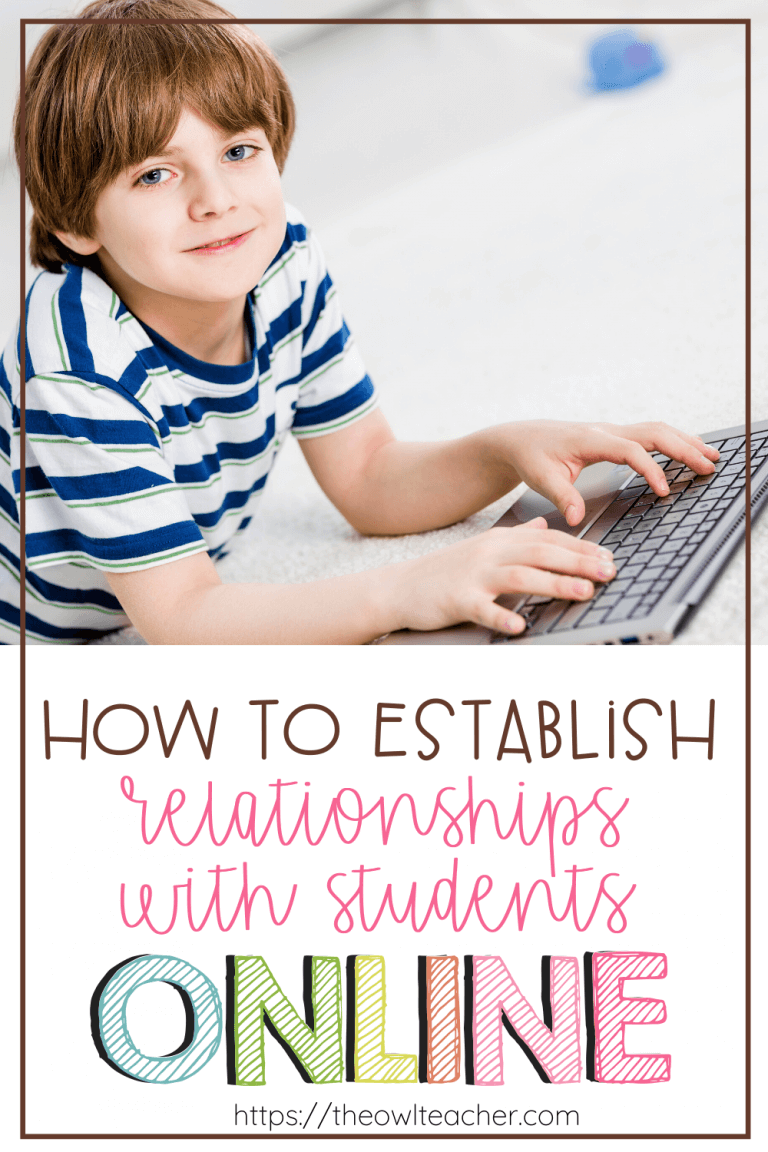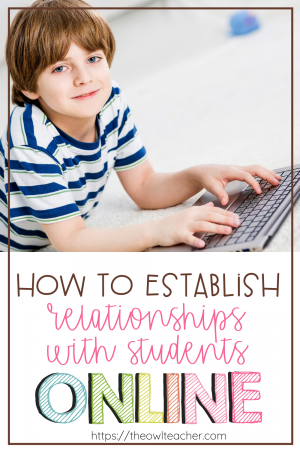 TIPS TO ESTABLISHING RELATIONSHIPS WITH STUDENTS ONLINE
1. Give the option of synchronous class meetings.
Not all of your students may be able to get online at a given time, but having Zoom meetings or Google Meets with your learners will definitely help them feel like part of a community.
If you're going to try to meet online with your students, try these tips to keep relationships strong:
Keep content lessons short and sweet.

You can always share a video or screencast on Seesaw or Google Classroom. Reserve your meeting times for sharing, communicating, and allowing your students to ask questions.

Share meeting times with parents and students.

Students should be the ones attending these class meetings, but email parents to let them know what time you'll be online. That way, parents can remind their children to get online and connect!

Encourage cameras on, but allow for virtual backgrounds.

It's so important to see faces to build community, but some children aren't comfortable showing where they live on screen. Let your students know they are allowed to use virtual backgrounds. If their device doesn't allow it, still encourage them to attend class with the camera off or in a space where they are comfortable in their home.
2. Good News
At the beginning of your online meetings consider taking a moment to move around from student to student to share one good thing that happened during their week. You can do any variation of this – sharing good news/bad news or feelings for the week. It can be very similar to class meetings that are held in the classroom. This gives you the opportunity to build relationships with students online while they feel heard. Also, don't be afraid to share a little about yourself!
3. Call home.
Depending on the number of students you have, this may not be feasible, but don't feel like you have to call every student in a day. Take 30 minutes to an hour each day at the start of the year and start going down your class list. Tell your students how excited you are about the year, and that you can't wait to "meet" them online.
Of course, parents may answer the phone, but let them know that you would love to talk to their child for a quick "hello." Not only will reaching out via phone help you build relationships with the students, but you'll also start building and fostering relationships with families. Family relationships have never been as important as they are during this time of remote learning.
4. Recognize student achievements.
During remote learning, you could post in Google Classroom or ask students on Zoom to tell you about things they are doing that they are proud of. You won't believe the cool things you'll found out! You may have students building things with their parents, redecorating their rooms, learning how to cook, and so much more.
Too often in school, we focus on academic and athletic achievements. Those are fantastic, but give your students that don't always shine in school a chance to share their best self from home. This could also be done during a Zoom meeting if a child feels comfortable sharing with the class. Try a virtual show and tell where the students can share something they have created or done while at home.
5. Write letters or send postcards.
At first sight, this doesn't seem like it's going to help build relationships with students online, but it does! Some of your kids may never get snail mail. It's so common for adults and children to text and email, so rarely do they receive correspondence through written letters. It doesn't matter how old your kids are. When they get mail from their teacher, they are excited! I've sent students stickers or just a simple note to say, "I am thinking of you!" Just as you would occasionally leave sticky notes on a student's desk, a quick post-card will go a long way! You can find teacher postcards on Amazon here (aff. link) or on Etsy, such as this one by LittleBirdiePapers.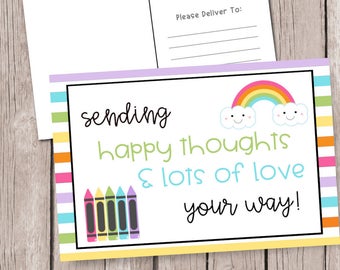 6. Explore their interests with an online survey.
Just like when we are in the classroom and would give students an interest inventory, why not provide the same just digitally? When we know our students' interests, we can incorporate that into our class activities to motivate them and engage them more. Check out my blog post 10 Ideas to Get to Know Your Students to help you learn more about your students and their interests. You can grab the FREE digital version of the interest inventory by clicking here.
Establishing relationships with your students online doesn't have to be overwhelming. Start with simple steps like online meetings, calls home, and letters to your students. Also, take some time to recognize the amazing things your students do just because… without grades or athletic competitions as motivation.
No matter what the next few months bring, use these tips to help build strong relationships with your learners! Don't forget to grab your FREE digital version of the interest inventory!