This week's mentor text is the book Enormous Smallness: A Story of E.E. Cummings by Matthew Burgess.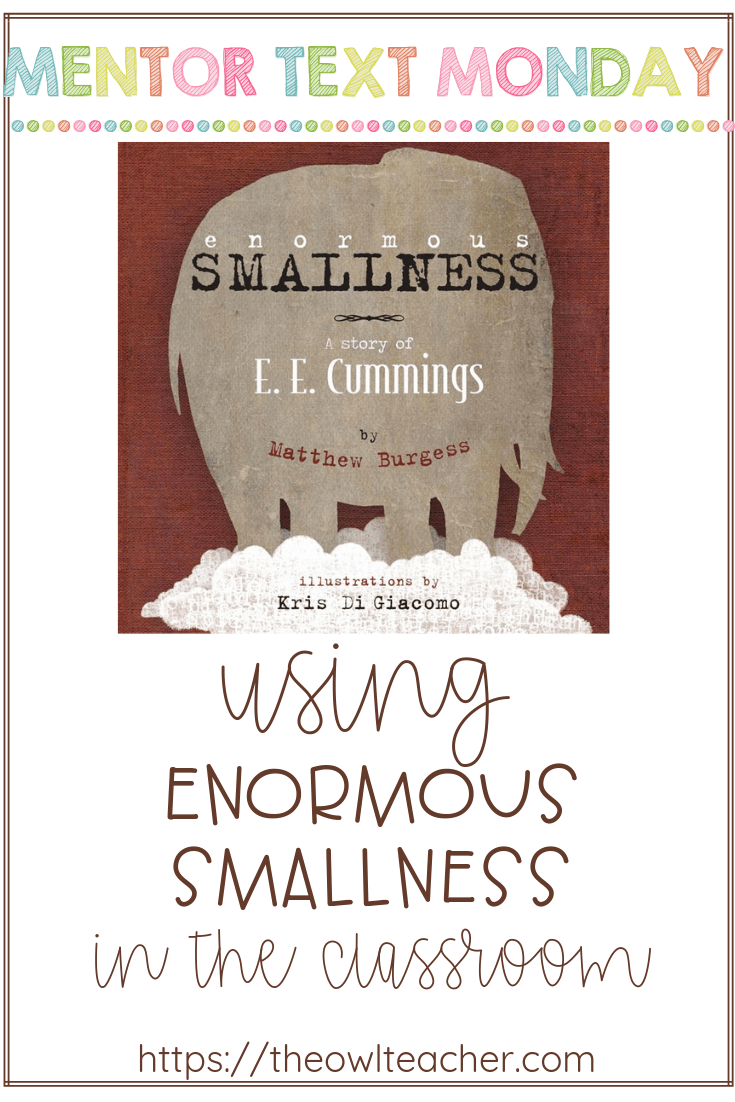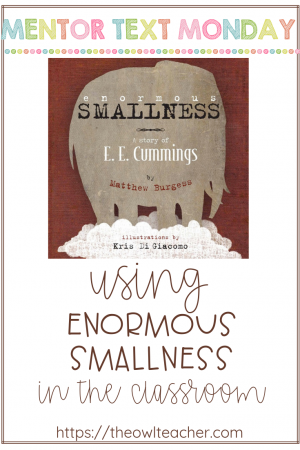 This is a nonfiction biography that centers around the poet E.E. Cummings. As we turn through the pages, we explore events from his childhood on to adulthood that led to him being the writer that he is. Additionally, in this book, you will find some of his poetry and beautiful illustrations.
Enormous Smallness would make a great mentor text for many concepts. First – it's always nice to find a nonfiction text that will read like a story and hold your students' interests. With the requirements of common core to increase our use of nonfiction text, this would definitely be a must! Further, it could be used as an introduction to biographies and/or poetry.
Second, this book has a lot of figurative language such as "…make words dance across the page…" and "…wanted his reader's eyes to be on tiptoes too!" It creates the perfect opportunity to discuss the real meaning behind the figurative language. This book also has onomatopoeia – hum, buzz, pop, and swish.
Finally, Enormous Smallness is packed full of crisp and fresh vocabulary. For instance, you'll see the words 'enormous,' 'pursuit,' 'rambunctious,' 'enchanted' and 'electrified.' If you have to take the NWEA test, you know that the concept of an oxymoron is on that test- this is the perfect introduction to that too!
If teachers wanted to study the text structure of this text – chronological- that could also be done, along with taking the last page, cutting it into strips, and having students place it in the correct order on a timeline. You can find a variety of timeline ideas in my post 10 Engaging Ways to Create Timelines.
Grab this book, (aff. link) Enormous Smallness, on Amazon for your classroom today!

Get Weekly Freebies!
Sign up for our short & sweet newsletter to get a freebie each week! It's quick and to the point, because you are busy!