These ideas that I'm presenting are suggested to be used at the beginning of a lesson or unit.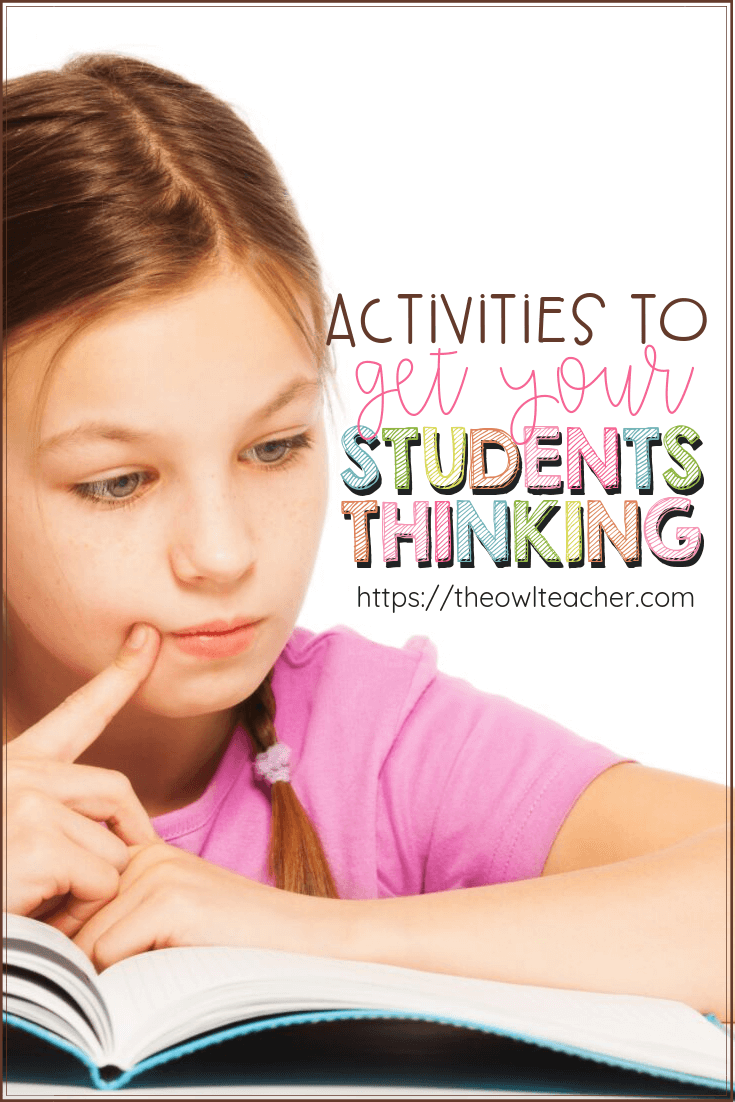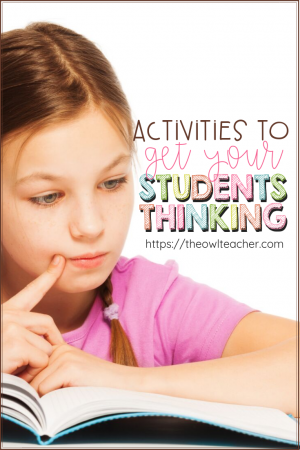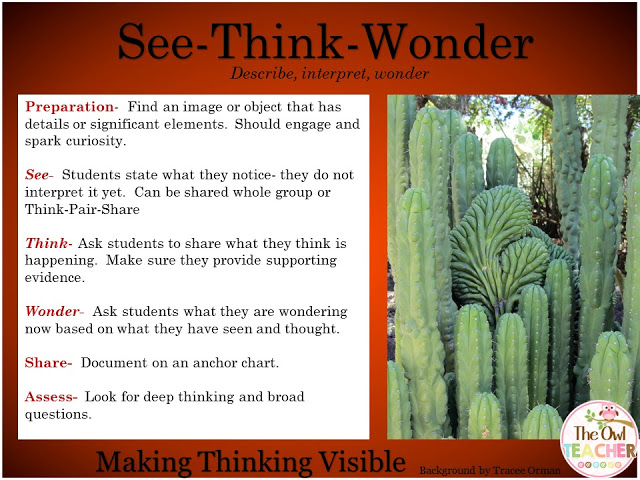 The first is called See-Think-Wonder.
This routine involves students silently looking at an image. It can be in the form of a picture, painting, artifact, excerpt of a text, political cartoon, or chart. The best thing to do is find an image related to your subject that engages you- the teacher! If possible, try to find an image that would have layers of details.
After presenting it to your students, give them some time to really look at it. They should not interpret it at this stage. After they share what they see and you record it on a piece of chart paper, have them share what they think is going on (interpretations now). Since common core is big on this- have them support their thoughts.
After this move together as a class into the wonder stage, where you record things they are wondering based off of what they see and were thinking. You can always come back and add more to the chart as you continue through the unit. You may want to model this to your students the first time you do it. The book strongly encouraged that teachers do not turn this into a worksheet activity.
If you check Pinterest, you'll see tons of worksheets with an image in the middle and the words See-Think-Wonder around it. The reason the authors suggest this is because students will give short responses and fail to notice because it will be too much to write down. Students benefit most from hearing and building off of one another.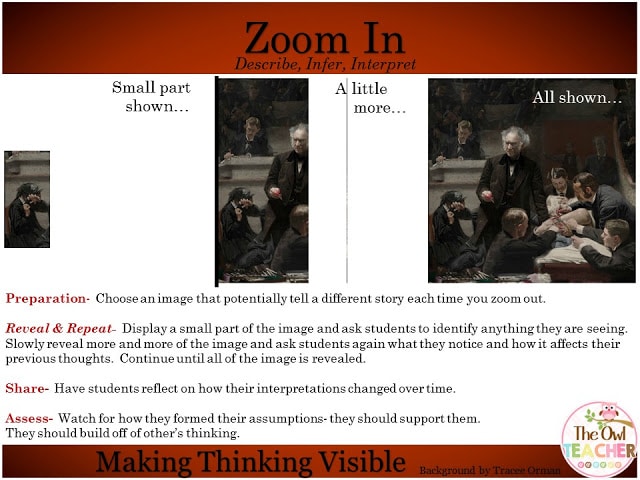 I actually saw and experienced the second routine at the Michigan Reading Association's Annual Conference last year. I loved this one! This routine is called Zoom In.
In this activity, you provide students with an image full of details and different interpretations as you reveal it. That's right- you reveal portions of the image at a time. (To me, that seems like you are zooming out- but I get why they name it zoom in.)
Slowly show just a small piece of the image (as seen above) and have students observe and create hypotheses. Then reveal a bit more and again, they observe and discuss their interpretations. You continue this process until all of the image is revealed. As you progress through the revelations, make sure that you are discussing how their interpretations are changing based on the new information.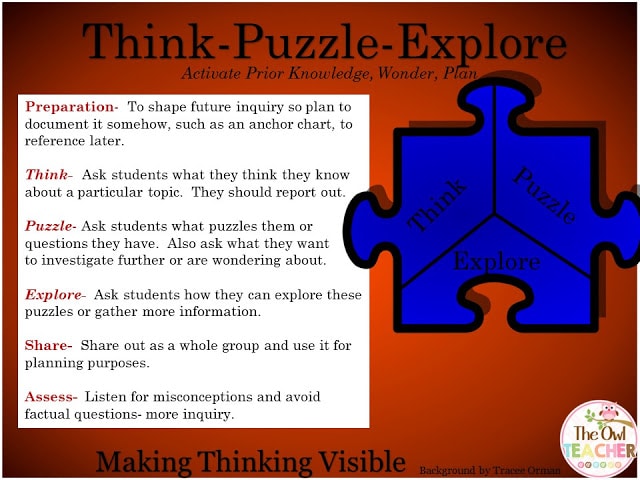 Think-Puzzle-Explore is very similar to the K-W-L Chart. The difference is mostly in the Think portion. The authors of this book found it important to have students list things they think they know about a topic rather than they "know."
Once again, it is strongly encouraged to have students share out- whole group or small groups- and document their thinking on an anchor chart. Then students discuss what questions they have about the topic, and finally, the Explore portion helps students focus on how they can find the answers to their questions. This chart can be referenced again at the end of a unit.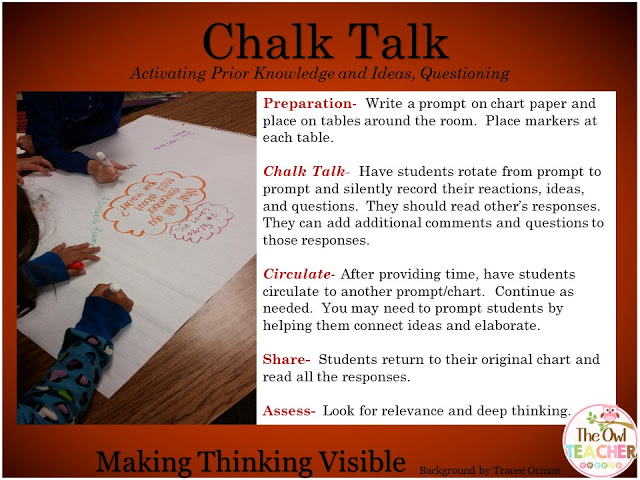 I have heard of and utilized Chalk Talk many times in my classroom. In fact, in a past post, I wrote about how we used this activity to share our memories of the school year. In case you are not familiar with this activity, students have a conversation on paper. The room should ideally be silent.
You place a different prompt on a different piece of chart paper and place them on tables in the room. Then you provide students with markers and they move around from paper to paper responding to the prompt. They should read the responses already there and consider responding to them. That could be done through questions, connections, or elaboration. Then as a whole class, you review all the responses and discuss them.
Each of these thinking routines listed above should be modeled before you have students try them. Further, you may need to circulate and encourage deeper thinking and elaboration for each activity. All activities should have a sharing session at the end and some form of documentation to reference later during the unit.

Get Weekly Freebies!
Sign up for our short & sweet newsletter to get a freebie each week! It's quick and to the point, because you are busy!