Since NCLB passed years ago, my focus had grown to be on those struggling learners. However, as a parent of a gifted child, I felt the guilt of nearly ignoring those very children in my classroom. With all the pressure and demands being on raising my low learners, how could I possibly meet the needs of the others in the classroom? Some schools have switch out time during RTI where students are grouped more homogeneous, but that was not my reality. I had students who would make Bill Gates look dumb, and students who were several grade levels below. If you have ever had such large extremes in your classroom like this, you know just how frustrating (and challenging) it can be. I'm hoping I can provide you with a few ideas on meeting all students' needs if this ever happens to you (and if it hasn't yet, it will – I promise!).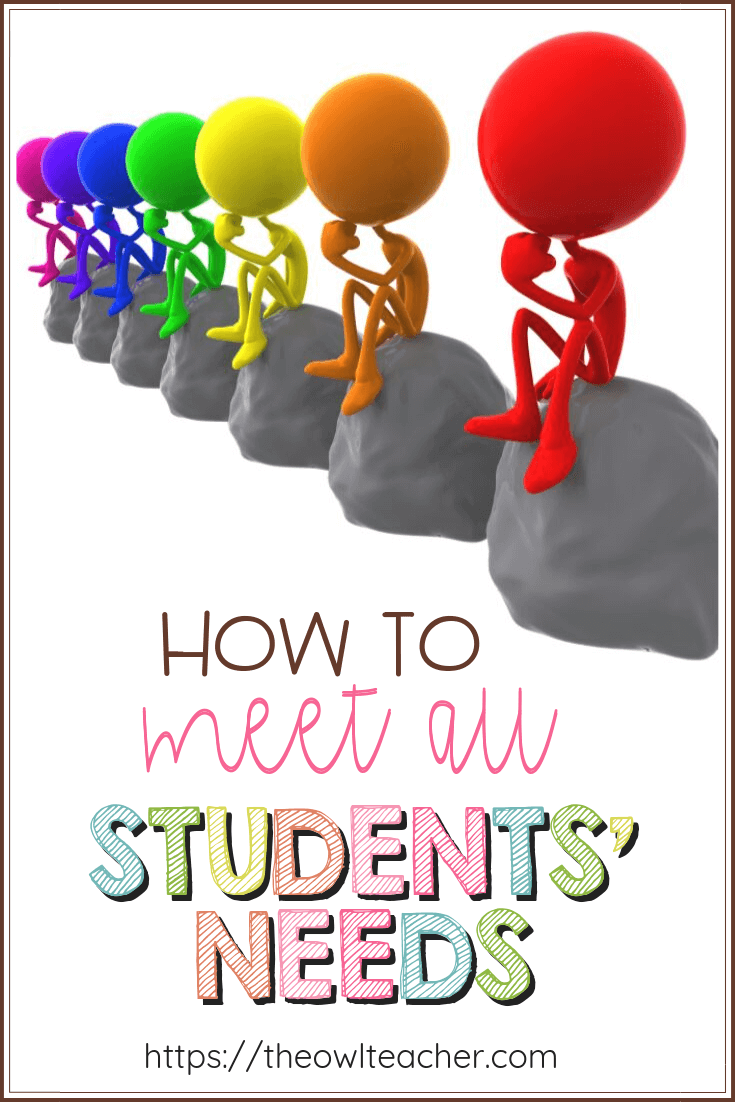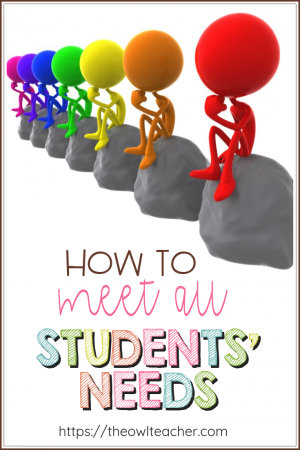 We have all heard of differentiation and I'm sure you are likely implementing it already in your classroom. And while I felt I knew a ton about differentiation – as I mentioned before, I have had lots of PD in differentiation, read many books on the topic, and am finishing up my masters in it – I still felt I didn't quite know the answer to this question. Until recently. I will be writing an entire post dedicated to each of these in the near future – but for now, here is a snapshot of these ideas on meeting all students' needs.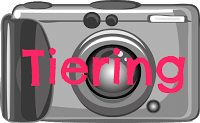 Tiering. That sounds scary. Is it easy? No, not at first. But just as we tell our learners, the more you practice, the better you will get at it. Tiering is taking a concept and providing a variety of "parallel" activities at different levels. Take the concept of the main idea for an example. If you need students to practice identifying the main idea of a piece, you can break it up this way to meet all students' needs:
Level 1 (below grade level): After reading the piece, provide this group of students with all the supporting details and have them work together to identify the main idea.
Level 2 (on grade level): After reading the piece, have this group work together to determine the main idea and the details that support it.
Level 3 (above grade level): After reading the piece, have this group work together to determine the main idea and details to support it – including details not listed in the article.
All students are practicing identifying the main idea, but the lower students are assisted a bit, while the higher leveled students are being challenged to think outside the text. Overall, the entire class appears to all be doing the same thing, while all students' needs are being met. You can read more about tiering in my blog post, How to Tier Your Lessons Successfully.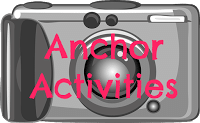 Anchor activities is not busy work, but instead activities that are ongoing through the course of the unit. It should be engaging, challenging, and related to the area of content you are studying.
These are five to ten activities that all students choose from that will deepen their understanding of the curriculum. Some examples would be choice boards related to a topic that has a variety of multiple intelligences addressed. I would also level these boards. (Students can work on anchor activities when you are working in small groups.)
However, these are not just for early finishers, as all students should have opportunities to work on them. Read my blog post on Academic Badges to help you with anchor activities and early finishers.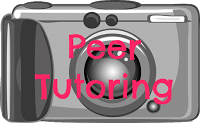 In my classroom, I often have students who are higher-level assist students who are medium level. I have some medium level students to assist my lower-leveled students. I try to make sure that at some point, all students have been an "expert" tutor at some point. I know that in every classroom there are those kids that sometimes just don't seem to excel at anything. That's okay. I personally meet with them ahead of time and "preteach" something over and over with them until they become my "expert." It's always fun to see the higher leveled students shocked and the lower leveled students excited and confident! I don't do this often, as I like to make sure that there are definitely no communication issues, but occasionally I will do this while pulling small groups.
While this is not a large compilation of ideas, it is a start! Our students are all at different levels and we have to keep pushing to meet all students' needs – even if it's just a small start. That's more than no start at all.

Save