Every year around the holidays, I desire to find holiday crafts that have yet to be done. It is always quite the feat! For ideas, I have thought back to all of the cute little ornaments and decorations my children made. How do you find something that hasn't already been overdone and is still appealing? How do you find a holiday craft that is age appropriate (not too "babyish" for third graders), not too hard on my pocket book, politically correct, and even academically driven? I'm not really sure it's possible.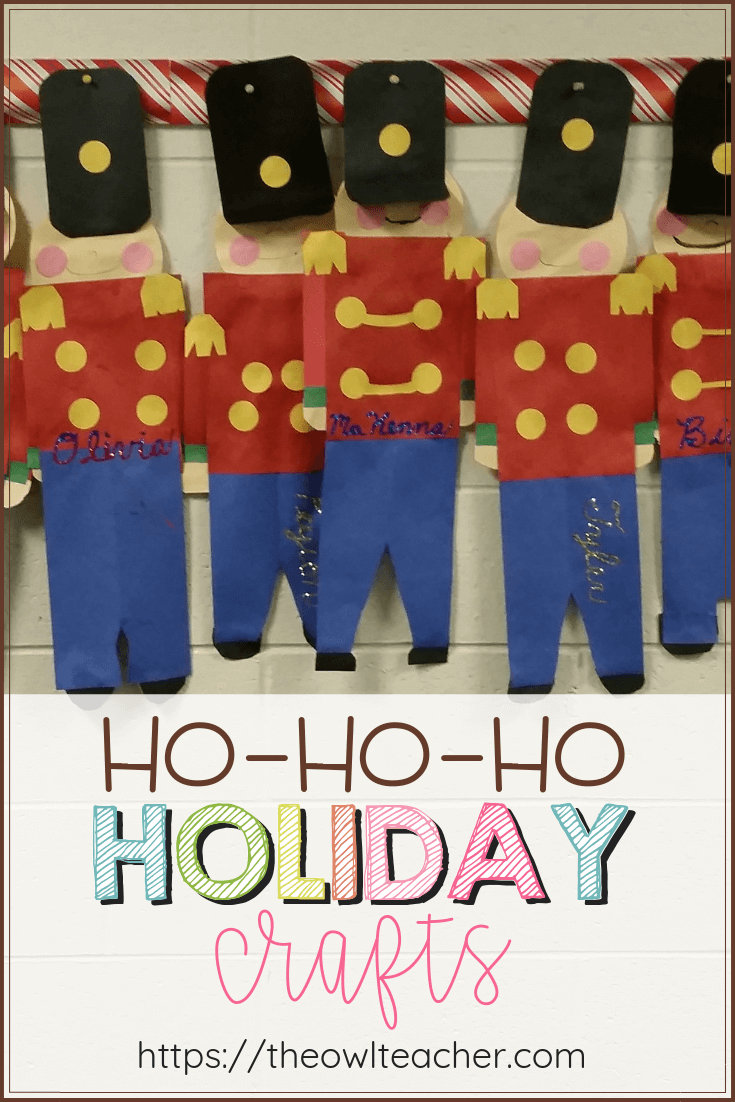 This year all my colleagues have come to my rescue! They have provided me with the many cute little ideas I have to share here. I honestly could not imagine trying to teach each day without their inspiration and assistance!
1st of the Holiday Crafts: the Soldiers!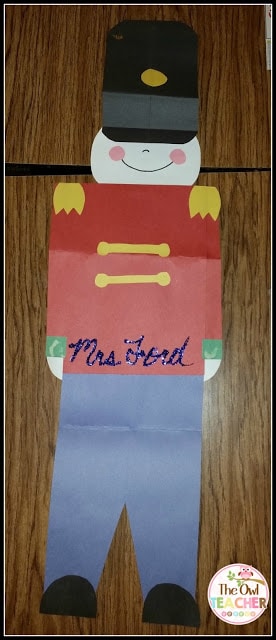 These soldiers are a fun way to practice symmetry and of course those fine motor skills through all the cutting. To make the soldiers, you will need the following construction paper dimensions (Click here for a downloadable version of the paper dimensions).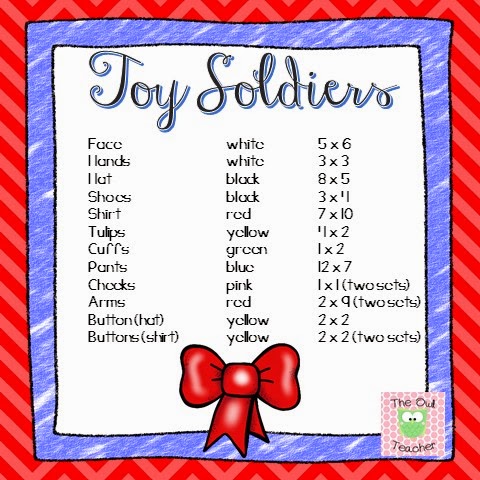 To start, have students fold the large blue rectangle in half, hot dog style. Then have students cut an angle while folded on the fold. When it opens up, it should create the split in the pants. Next, glue this piece of paper to the large red rectangle. Attach the two red arms (smaller red rectangles) to the large red rectangle shirt. I tuck each red arm halfway behind the back. I do this because the green square that represents the cuff is small and would look funny if it's not tucked enough. Then I have students take the larger white square, fold it in half hamburger style, and round the corners to create the head of the soldier. We glue this on. After that, I have students do the same with the larger black square, representing the hat. We also fold up the bottom of the hat to create a bill. Students next fold the smaller pieces of white and black in half and cut two pieces out to create the feet and hands of the soldier. The hands get tucked behind also. We then cut the cuffs by folding the paper and cutting it in half. We fold the pink in half and round the corners creating two circles for the face. We also do the same with the yellow to create the shoulder tulips. I have my students fold it in half and cut a design in it. Typically, we make tulips, but we have branched out. Then we create a small yellow circle for the hat and to make the parts of the shirt. Students draw faces on their soldiers, and lastly, we simply add our names in glitter!
2nd of the Holiday Crafts: Stained Glass Windows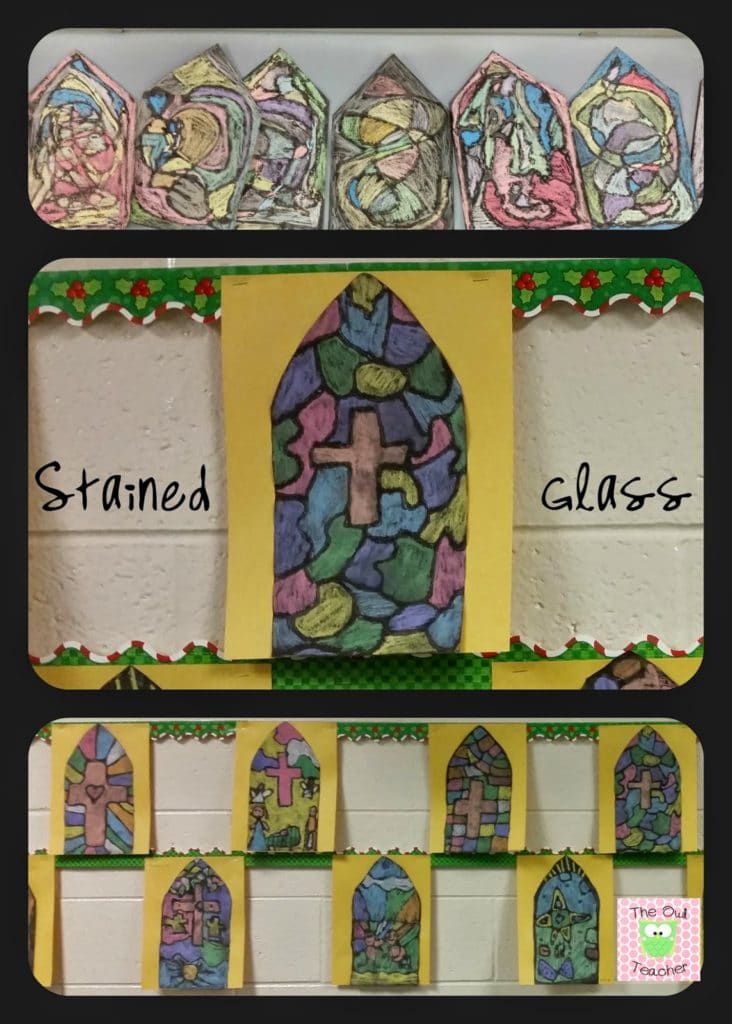 This holiday craft was really easy! Students take a piece of black construction paper and trim it in the shape of a stained glass window. I have a template ready ahead of time and simply copy it on to paper on the copy machine. You could also do it with cardboard cutouts that students trace. Then I have students use glue to create a design. They can make the design abstract, or they can draw in a design of their choice. We set it aside and wait for the glue to dry. Upon return later, we use various colors of chalk to color in each space. I don't like to have a lot of black space. Then we attach it to a yellow piece of construction paper. Voila!
3rd of the Holiday Crafts: Gingerbread Houses & Stories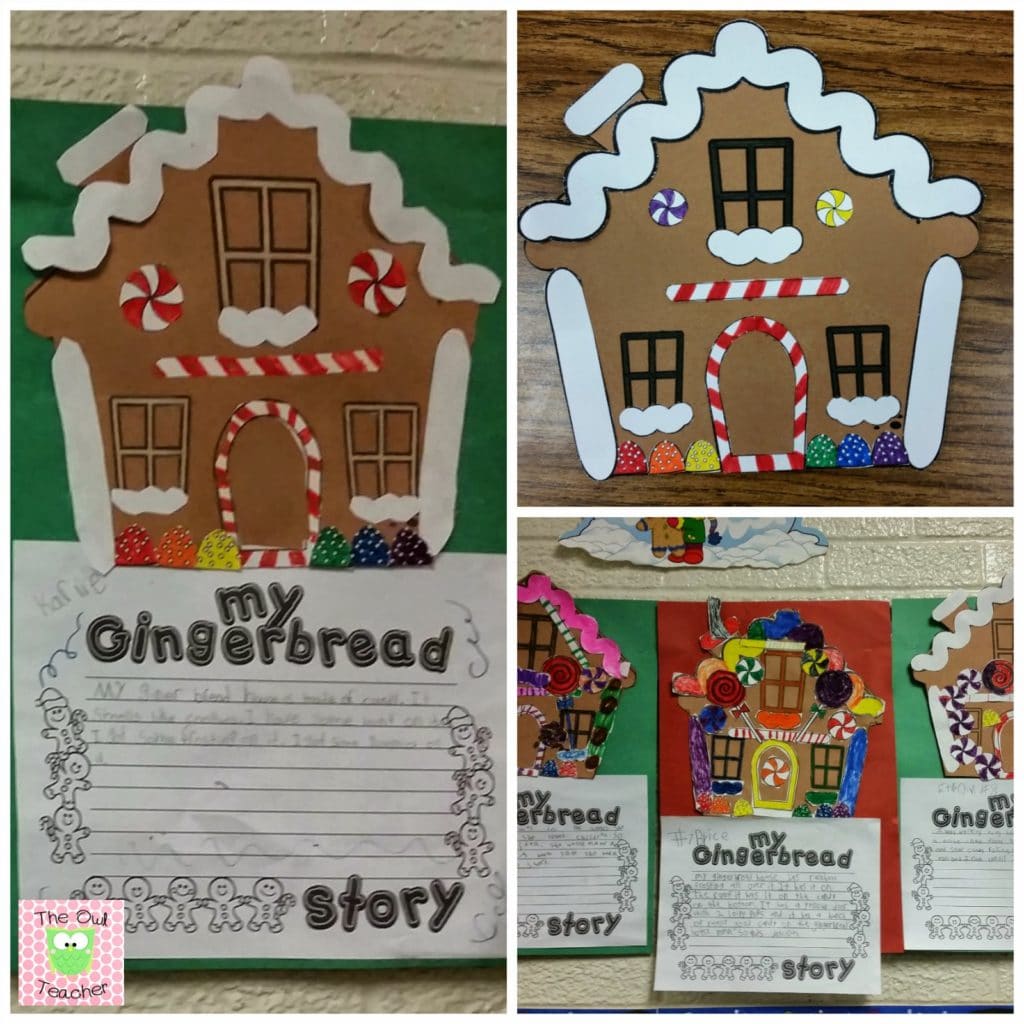 We created the gingerbread houses from Kari Bolt's Clip Art, found here. I then placed all the materials on the copy machine, copying them onto brown paper and white paper. Students then cut, colored, and assembled. We then attached a description of our Gingerbread houses (though some got really creative and wrote actual stories about their houses).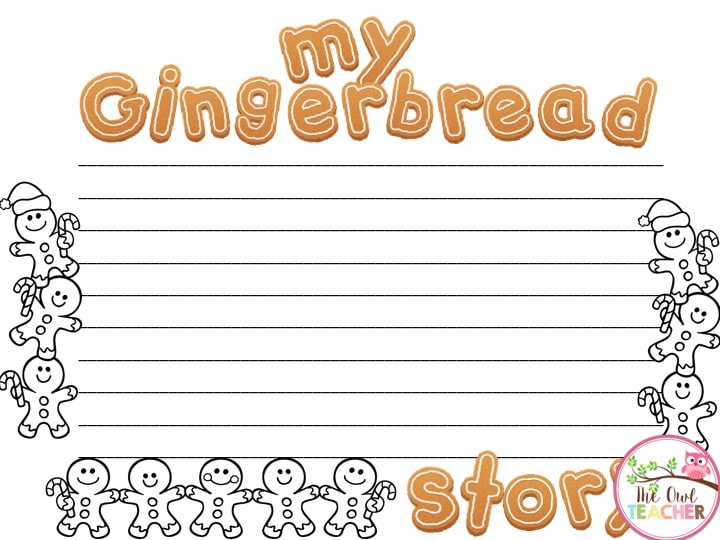 You can download the "My Gingerbread Story" Sheets for FREE by clicking here!
For a parent holiday craft… Snowmen Socks! Be sure to check that post out. If you are looking for other craft ideas, take a look at my "It's Beginning to Look a Lot Like Christmas" post where we made hanging reindeer and beautiful spoon snowmen. For academic ideas, feel free to head over to my 12 days of Holiday Science post and read all about how I engaged my students with Christmas Science!
Until then… May your days be merry!

Get Weekly Freebies!
Sign up for our short & sweet newsletter to get a freebie each week! It's quick and to the point, because you are busy!