Last year, I saw these adorable snowmen craft all around Pinterest! They were way too cute and I just had to give it a try. I really enjoyed creating them and so that was our gift to the parents last year for the holidays. It's relatively inexpensive and everyone really seemed to enjoy them.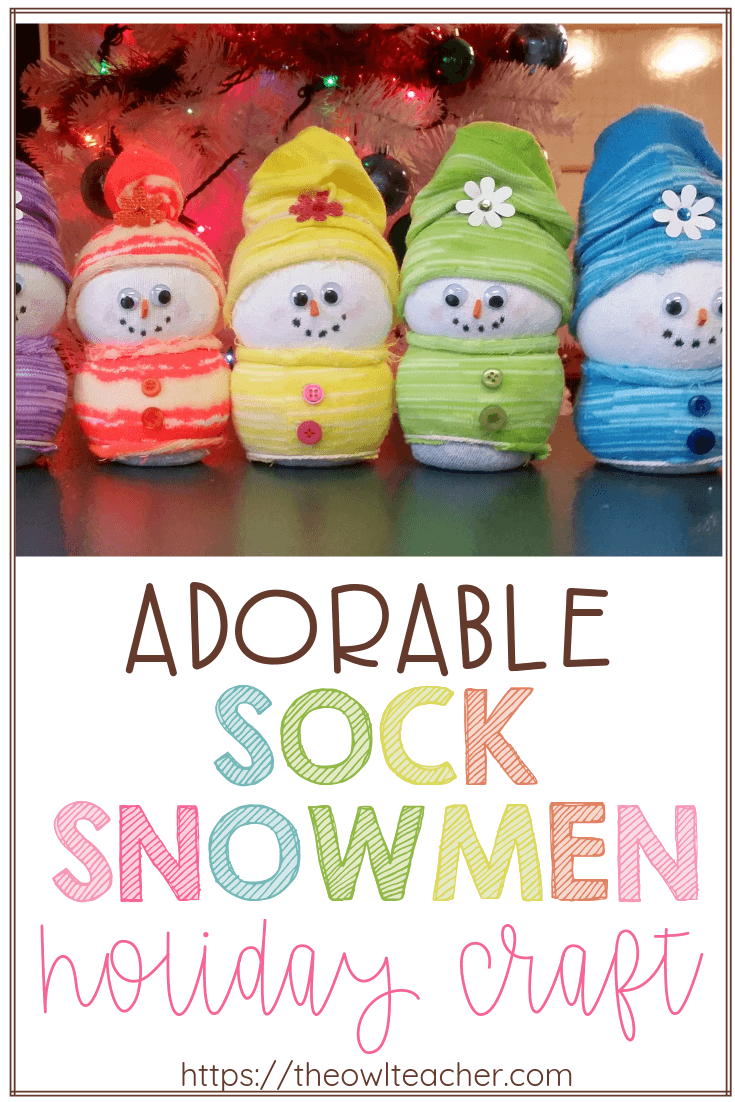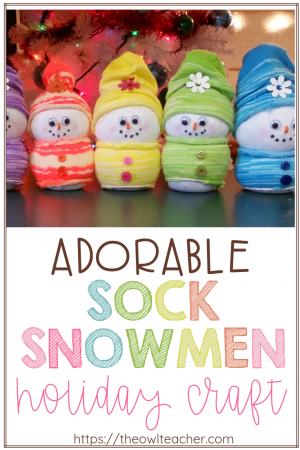 Most of the materials you are likely to find at your local dollar store. I bought several pair of colored socks at the dollar store and had old white socks laying around. Since I'm a regular crafter, I had many of the items such as buttons, the flower, string, and foam laying around. You really can't be an elementary teacher without googly eyes and markers, and I found rice in my cupboard. Of course, you can modify it to your liking! (I did! The ones I saw on the internet didn't have the cute pink hue for cheeks- I added that!)
Creating the Snowmen Holiday Craft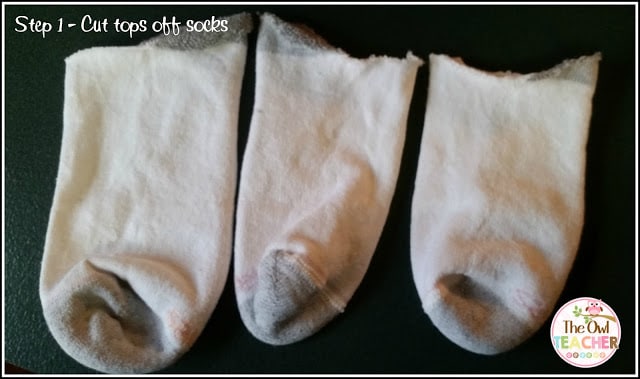 Step 1 – you are going to take your old white socks and cute off the ankle part. It's okay if you don't have a straight line or if they curl up. This is when you find out just how sharp your scissors are.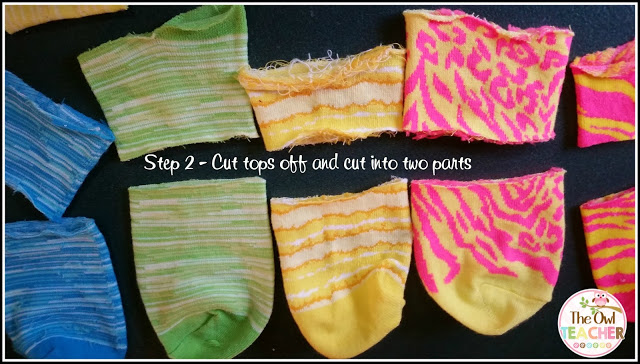 Step 2 – you take your colored socks of choice and not only cut off the ankle part like in step one, but you also cut it into two pieces. I can tell you the first time I did this, I cut one piece too small. The top part- the part with an opening on both ends will be the outfit or shirt of your snowman. You don't want it too small because it will likely disappear with the girth of the snowman, but you don't want it too big or your snowman's hat will look strange. I did a little over an inch to get it close to being right. If you don't get it "just right" you can be a little creative later.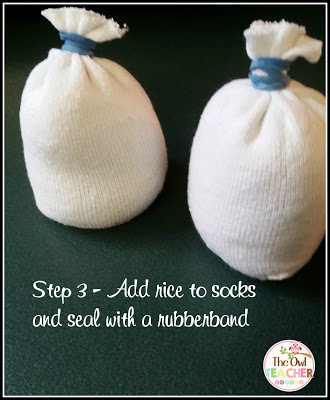 Step 3 – I suppose step 2 and step 3 don't really matter on the order. I took my two white socks and dumped in lots of rice. I used a rubber band to seal the deal. Since I knew there was a possibility of my third graders using this as a football, I wanted to make sure they were sealed good! Then cut off any remaining top. These make nice stress "balls" too. If you don't have rice, I'm sure beans or something similar will work.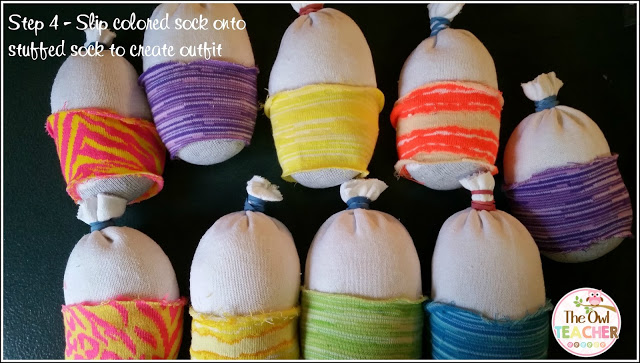 Step 4 – Now it's time to slip on the colored sock that has both ends open. Again, this is the outfit or clothing it will wear. I wouldn't worry if it curls up too much. However, make sure you are leaving room for your face and of course the hat covers the rubber band part. (Is it just me, still not over summer, picturing water balloons here?)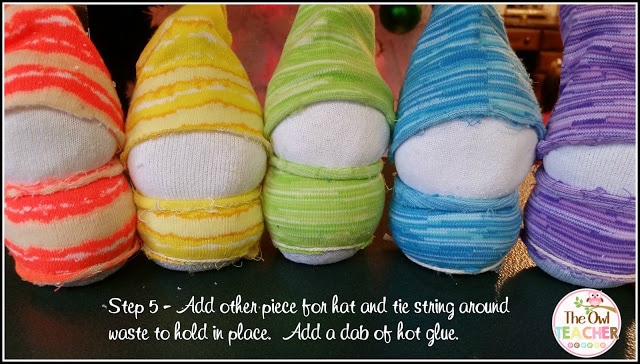 Step 5 – Take the other piece of the sock- the toe part – and place it over the tied up part. Slide it more around back and pull up so you have a little bit of slack on the "hat." You will fold that down a bit later to give it more of hat appearance. I then took a piece of string and tied it around the waist a little tight to give the distinct look of two body parts. I also placed it along the bottom of my snowmen because it was curling up a bit. I noticed this curling up thing was actually making it look more like a scarf around the neck (which you could easily add another piece of cloth for if desired). I added some hot glue to hold everything in place. I love my hot glue, even if I do burn myself EVERY TIME!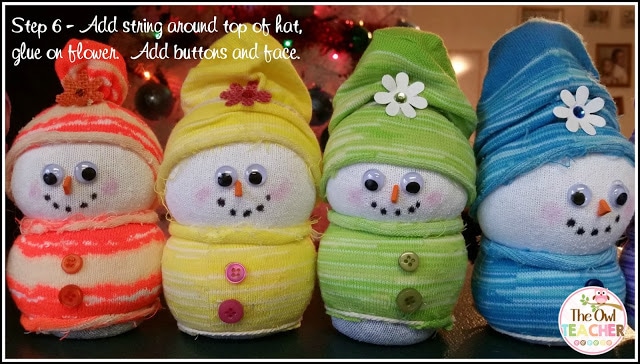 Step 6 – Now all that is left is to jazz up the hat and put on the face. I use the string again and tied it loosely around the hat (as you can see in the picture, the orange snowman's string is tighter). Then after hot gluing it, I added my flower. then I hot glued the googly eyes, cut a small triangle from foam for a nose, and glued them on. Don't forget to add buttons to the outfit! I then took a black marker to create the mouth dots and used a pink oil pastel for the cheeks. Of course a marker will also work well or anything with a pink hue.
Here is a closer look at the finished snowman craft: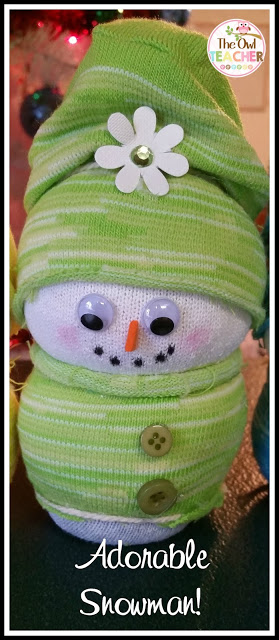 I really had a lot of fun, and was really impressed last year with how well my third graders did at making them on their own. The parents loved them and it made the perfect gift!
Are you looking for some other holiday crafts for the classroom? Check out my Ho-Ho Holiday Crafts Post where you can make symmetrical toy soldiers and stained glass windows or my "It's Beginning to Look a Lot Like Christmas" Post where we created an adorable spoon snowman and a hanging reindeer. If you're looking for holiday educational activities, check out my 12 days of Holiday Science post!