This post contains aff. links.
As Halloween approaches, you are likely wondering what you can do to help your students stay on task, but integrate a little bit of the Halloween spirit into the classroom. I'm sure you know that around this time of the year, students start focusing a bit more on the trick-or-treating and become restless. To help you get ready for this exciting–but crazy, time of the year, I have some engaging Halloween science activities for you!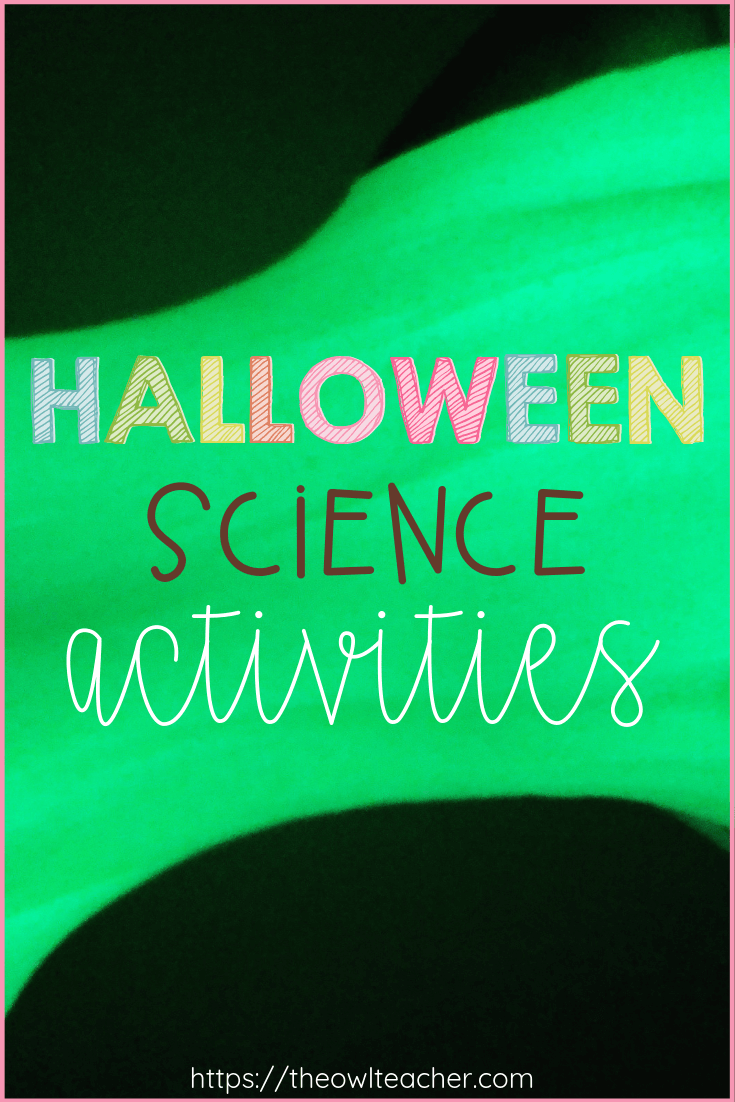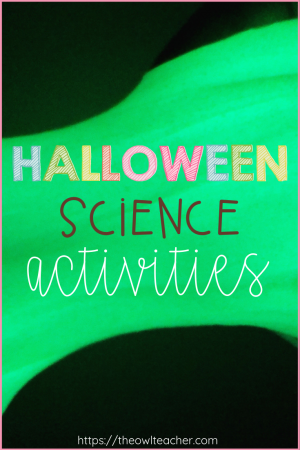 Halloween Science Activities
All of these activities that I'm going to describe below can quickly be used in the elementary science classroom and most with normal everyday items. Of course, if you prefer to save some time (and who wouldn't!) you can find step-by-step directions, student recording sheets, and more in my Halloween Resource Packet here in my personal store or on Teachers Pay Teachers.
1.) Rising Zombies. One Halloween science activity that I love to do (and is extremely easy) is called Rising Zombies. This activity comes alive when students build up electric charges on a balloon and then moves in on a tissue-paper "zombie." The attraction is static!
Just grab a balloon, green tissue paper, and some tape. Have your students draw or trace a zombie on the tissue paper and then tape it to their desk. Next, have students charge up the balloon with wool or, my favorite, their hair. After that, they merely move the balloon close to the tissue paper, and it'll attract to the balloon. This looks like the "zombie" is rising from the dead. It's a great introduction to discussing static electricity!
2.) Lifting Hands. I think every teacher has at one point in their science teaching career completed a baking soda and vinegar investigation. But, put a Halloween spin on it, and you've got a Halloween science idea ready to go!
I decided to use a doctor's latex glove and say that a hand is rising similar to all those creepy illustrations of hands in a bowl, but you could easily use an orange balloon and draw a face of a pumpkin on it instead.
Fill your beaker with a little bit of vinegar, put some baking soda in your balloon, then carefully attach the mouth of the balloon to the opening of your beaker. Next, lift up the balloon (or in my case, the creepy hand) and Viola! You'll get quite the reaction.
Of course, if you put too much of vinegar or baking soda, you may end up with this…
Instead, it really should look like this…
3.) Squealing Balloon. Want to really impress your students? Bring out a balloon and a hex nut. Place the hex nut inside the balloon, blow it up and tie it off, then start swirling it around. You can tell them that ufos are coming, or its the invasion of the bees. It's a great set up for a story — after you explore the science in it, right? This one will perk their ears!
4.) Rubbery Bones. This activity I remembered from when I was a child myself. I remembered being so fascinated with it. No bones about it, your kiddos will find it just as fascinating as I did.
Take a normal chicken leg bone (or any bone) and place it in vinegar. The longer it is in the vinegar, the better. After five days check it. You should find that it's mostly rubbery! In this video below, if I had just waited one more day, it would have been entirely rubbery. This is perfect for discussing the importance of calcium and nutrition.
5.) Black Flower of Death. Take a white flower from your local supermarket, cut off the tip of the stem, and then place it in a cup of water with a little black food coloring. This Halloween science investigation helps you not only explore capillary action, but you can also discuss the various parts and functions of the plant. Plus, you can talk to your students why it is that the flower is also turning green in some areas instead of black.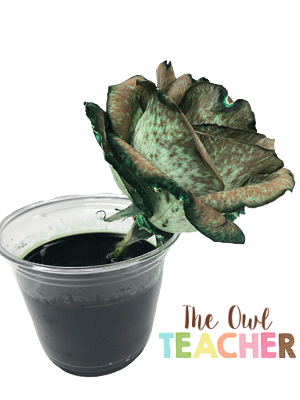 6.) Frankenblubber. It just isn't Halloween if you aren't letting your little tricksters play with some slime! Besides my 18 different ways you can use slime in the classroom, students can create Frankenblubber. This Halloween science activity involves glow in the dark glue, saline solution, baking soda, and of course water. When you mix it all you have a new creation that will brighten your students' day and all you need to do is state what matters — if you catch my drift!
Slime has many things you can explore with it in the classroom–and it's all the rage right now!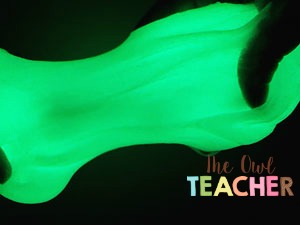 7.) Vanishing Eyeballs. Oh, and they are squishy. This engaging activity will help your students explore light and refraction. Grab some jelly marbles or water beads, which you can find in most dollar stores, or you can grab them on (aff. link) Amazon here for relatively cheap. Then pour about 1/4 a teaspoon (more or less if you desire) into a 9 oz cup of water and wait. But you don't have to wait long.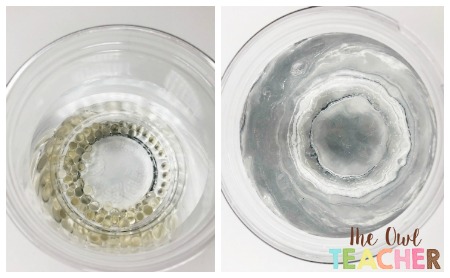 Students can see them in just the right angle, but not very well. And if they pull them out, they are squishy. A lot like touching eyeballs!
8.) Bubble, Bubble. Grab a small container of warm water, a small amount of dry ice, and those bubbles that kids always enjoy blowing. Once you drop that dry ice into the warm water, it's going to create a cool fog that students will enjoy. But the Halloween science fun isn't over yet with this one. You can do one of two things (or like me, BOTH!). Have your students blow a bubble over the dry ice fog and watch it hover. What's happening? It's a little thing called density!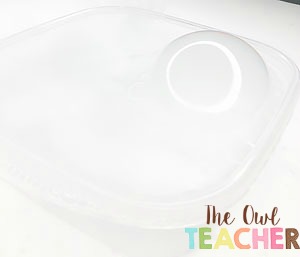 Or, instead, pour some of the bubbles into the container that is fogging up and see what occurs. Then have students explain this bubble, bubble, toil, and trouble!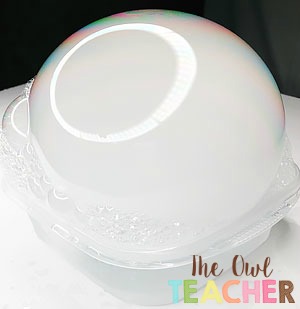 8.) Magic Potion. Now, do you have to call it a magic potion? Of course not. You can call it whatever you wish. Bring back out that baking soda and this time grab some pop rocks, food coloring, and lemon juice. First, inside a test tube, a 9 oz cup, or these cool-looking baby soda pop bottles (which is what I use to create the potion-like feel), fill it halfway with water. Then pour in all of your pop rock candy (most dollar stores have them). Next, have students put in a teaspoon of baking soda and stir. Add any food coloring you'd like now. It's already starting to crackle and pop, but once you add that lemon juice it's going to bubble over, so be ready! Now add some lemon juice and voila! Your potion is complete.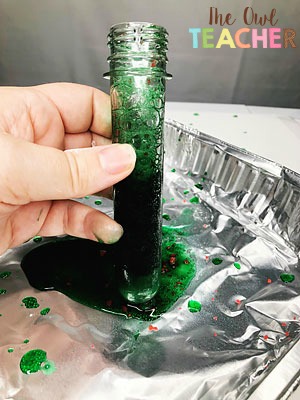 Now, of course, I have more in my Halloween Science Packet! There's a total of 13 – you know… 13. The superstitious number 13. Bahawahhaha. If you need more Halloween activities, check out these Halloween ideas.
These Halloween science activities are sure to help engage your students while saving you time lesson planning! Just head to my store here on my website (TpT here), add it to your cart, and you'll be ready to get started on taking back your weekends without sacrificing quality teaching!