Regardless of whether your school is teaching virtual, in-person, or somewhere in-between, there are still school districts that are testing their students. Maybe these districts are only doing the ITBS/CoGat testing at the beginning of the year, while others are doing their own benchmark assessments. Yet, even still there are districts doing the annual state standardized testing, regardless of the current circumstances and learning environments.
The goal of this post is to provide you with resources to help you and your students have everything you need to prepare for any "testing" season in your district, whether it's online, a standardized assessment, or a regular unit test. Let's get started.
The Must-Do Testing Preparation List
#1 Have the Right Mindset for Testing Season
Having the right mindset is crucial. Students can immediately pick up on any anxiety you may be feeling regarding the test. They are already feeling some stress. Try to be positive, laid back, and most importantly, try not to stress about the test. (Easier said than done, I know!) At the end of the day, the reality is, the test doesn't reflect who you are as a teacher. If your district doesn't understand that, they are not a district you want to work for. I guarantee you will find another place – a better place- to work for.
In my post, Getting Through Testing Season, I provide four other tips.
#2 Teach the Test Genre
While I know that this could be referred to as "teaching the test." I look at it very differently. We teach students how to read a variety of genres in reading. Why? Because of how they are formatted. Because they have different characteristics. I look at tests the same way. It is a genre that students need to develop skills for. It is not something that will one day be thrown out. Students need to learn how to read test questions, understand what is being asked, how to use the online tools for tests, and so much more. We are not teaching the test, but how to take a test.
Tammy, from the Tarheelstate Teacher, does this really well with hands-on activities. In her post found here, she teaches students how to think about the types of questions that are on a reading test. Students work together to sort questions by QAR into categories. Another great resource that helps with teaching like this is the Reading Test Prep101 by the Teacher Trap. You can find that resource by clicking here.
#3 Provide Test-Taking Tips & Strategies
Once students understand how to read a test, provide them with test-taking tips and strategies. This includes things like how to bubble in the tests, how to check things over carefully, and so on. You can grab this FREE test-taking strategies and tips from Rockin' Resources here. In my post, Preparing Students for Testing, I provide a hand-out for free that also includes a Test-Taking Kit. Check that post out here. Lastly, if you're in need of tips for online testing, check out this post from Talented in Third. She even offers a free download of the tips for your students! After you have taught all the test-taking tips and strategies (or use it to teach them so it's engaging!), consider Think-Tank Too's Test-Taking Tips Escape Room. It's a fun way to see if students really got it!
#4 Practice, Practice, Practice.
When I first started teaching (long ago!), I remember that we would complete practice tests. I thought it was so incredibly dumb and boooooorrrring (just being honest) for these poor kids. Not only did they have to suffer through it the official time, but we tortured them through it twice!
I understand it a bit more now. The purpose of the practice tests are to help students become familiar with the genre. It's similar to when we introduce the genre of mystery and then practice reading mysteries. It's not the length of the testing or the content that matters as much as making sure they understand how to do the test, to apply what we just taught them above (the genre, the skills, the strategies!).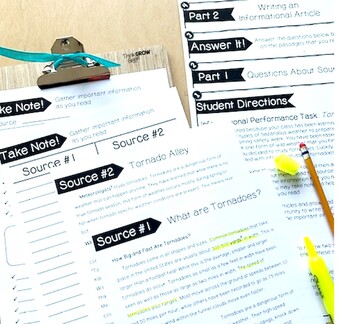 This is even more important as your students are moving from paper tests to online testing. They need to know how to manipulate the tools. If your students have never experienced performance tasks, they need to understand how that works, what's expected, and so on. There are lots of great practice materials online, such as tests from the previous year released and on TpT by great authors. For instance, Jeanine from Third Grade Giggles offers a fantastic ELA Performance Task on Tornadoes. If you're looking for math performance tasks, check out this FREE multiplication and division one from Talented in Third, or this FREE digital one from Math MindEd Teaching.
#5 Review the Content Before the Test
It can get a bit boring to review everything your students have learned. One way to engage your students while reviewing is through the use of games. I have several blog posts that have super ideas that you'll definitely want to try in your classroom- if not for testing, for any time you need to review.
Alyssa from Teaching in the Fast Lane writes about 4 hot review games that her students really love! Hot stew review and stinky feet are her kiddos favorites! They are easy to prep, help build collaboration, and teach students to slow down and take their time so they don't make mistakes. In the post, she offers a FREE Stinky feet activity. You can check out these games and the post here.
Leigh from the Applicious Teacher likes to have a Test Prep Olympics. These cute centers are engaging and so much fun. Her students really enjoy these activities and ask for more. She then follows it up with Test Prep Jeopardy. In the post, she offers a FREE Math Jeopardy Review. Click here to check out that post.
In my blog post, Engaging Test Prep Ideas, I provide several ideas to help you review content. You can check that post out here.
#6 Increase Motivation Before and During Testing
The thought of hours-long, numb-minding testing isn't exactly motivating. That's why it's important to motivate our students; pump them up. As the days of testing march on, we need to increase that motivation so that they are giving it all they got, not "pooping out."
Check out these ideas from the Calmish Teacher. She has a lot of great ideas such as using motivational videos, personalized notes, a web of love, a dance party, and my personal favorite- fear notes! Another great idea is to consider placing positive mindset posters all throughout your classroom year-long. On testing days, use test-taking motivators, like the ones mentioned in this post.
Sarah, from Simply Steam loves to provide a box with a note on it that creates intrigue and interest. It's a "do not open until…" box that is not opened until after testing is over. It helps motivate students to put forth their best effort. You can learn more by checking this out.
These 6 test preparation tips are important to apply when you are getting your students ready for testing of any sort. When implementing these test prep ideas, your students are bound to be confident and successful when they are taking their tests.