Do you need a good book to use as a mentor text in reading this week? This week, my mentor text is "Our Tree Named Steve" by Alan Zweibel.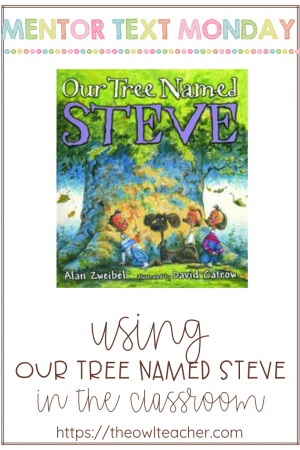 This is a story about a family that was clearing land to build a house when the children of the family fell in love with a large tree. This large tree was given the name Steve and ultimately was saved from destruction during this land clearing. As the years progressed, not only did the family grow but so did the tree. The focus of the story is on the purpose of the tree and how it worked its way into the lives of this family. It was there for the crushes, the family visits and pictures, playtime on the swing, lazy afternoons, and so on. Toward the end, the tree actually ends up reciprocating the love by saving the family's house during a storm. Unfortunately, the tree did not survive in its full form of a tree but was still involved in the family's lives as he was converted to a tree house.
Right away as I was reading the story, I noticed how much it reminded me (aff. link) of The Giving Tree. (One of my favorite books!) That's a text to text connection and could also easily lend itself to other connections such as a text to self or text to world. We could probably easily make a connection to a favorite plant or tree in our yards and most definitely to the world with the forests being destroyed, including the rain forests. In fact, off the top of my head, I'm thinking (aff. link) the Great Kapok Tree would also be a great text to text connection.
But perhaps you want to go a bit deeper than just simple connections. Why not focus on the theme or main idea with this book. It would definitely require students to think a bit more about the theme or main idea. While the ending is the only part where inference is very obvious, it still could be used as a text for inference. In the end, it does not state directly how the tree is still involved, but you do infer that it becomes the tree house.
While there is no personification in the text, it could easily be created through a writing project by having students write what they think the tree feels during each experience. (I guess you could even call that point of view).
Overall, Our Tree Named Steve is an excellent story that should be considered in your classroom, even if it's only for Earth Day.
Grab this book (aff. link), Our Tree Named Steve, for your classroom today!

Get Weekly Freebies!
Sign up for our short & sweet newsletter to get a freebie each week! It's quick and to the point, because you are busy!