Let's face it! Every teacher has at least one student in his or her class that is a bit, shall we say, challenging. That challenging little guy or gal doesn't mean to be. It's all about your approach. Start by determining what the underlying reason is. Is it organization? Does the child struggle with turning things in because he or she is just unorganized? Is the precious little one simply forgetful? One of the ways I have successfully helped students remember their homework or improve their behavior is by utilizing an educational contract and parental reports. It's all about reporting behavior and academics!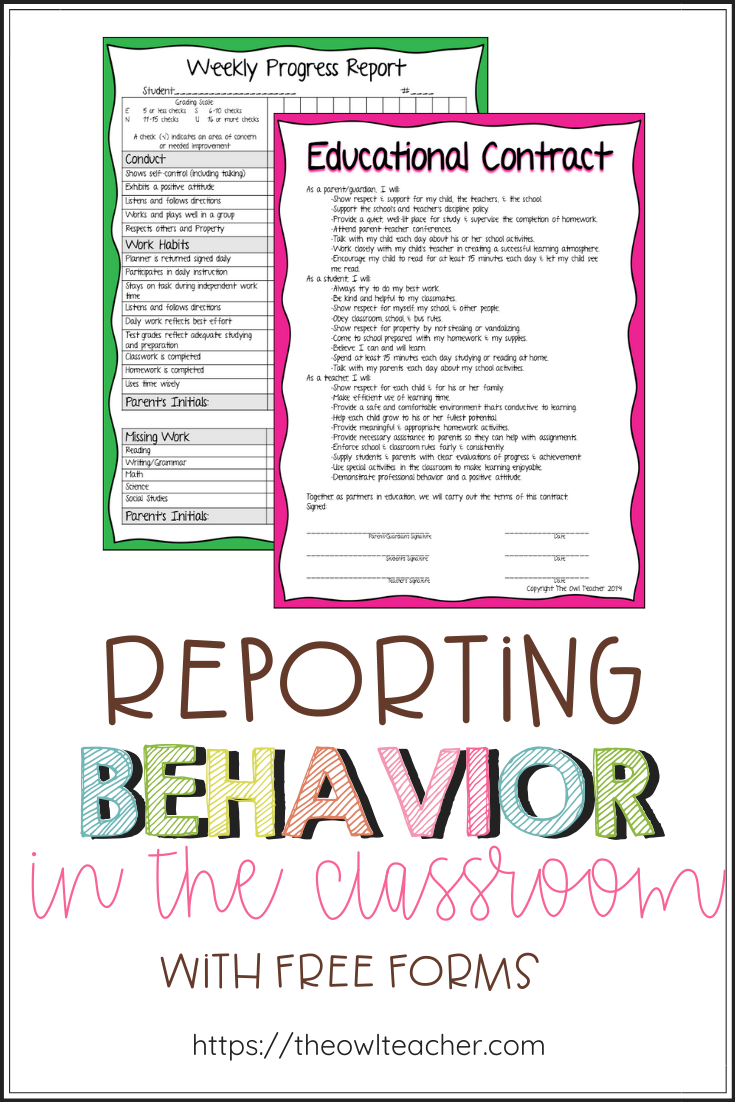 The Educational Contract
At the beginning of the year, I have my families and students sign an educational contract. Most people will be a bit more accountable if they have a "contract" to abide by.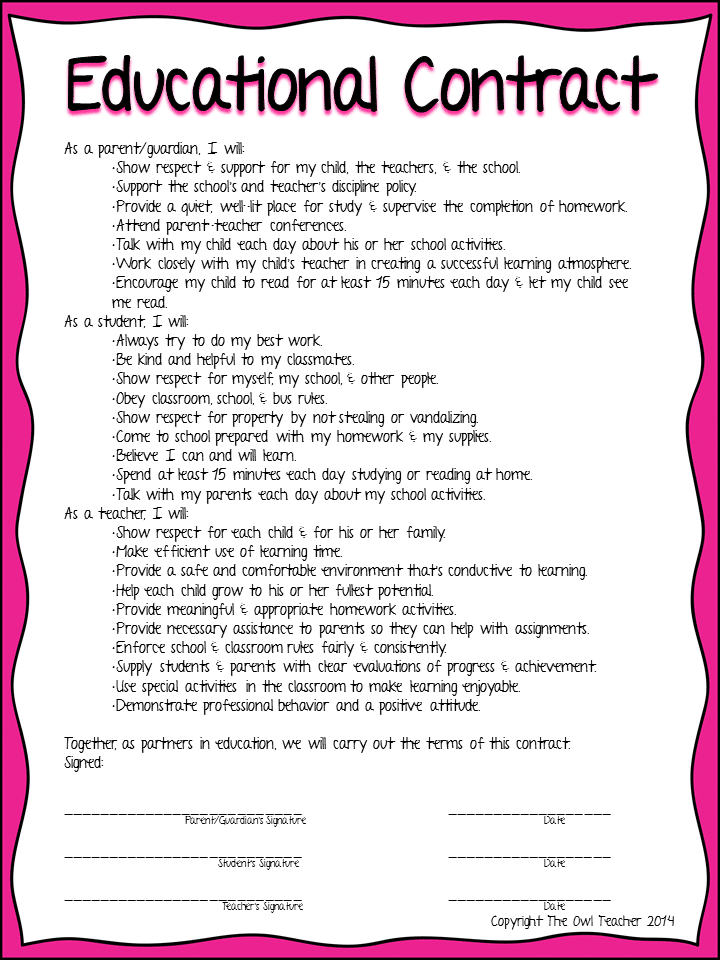 Reporting Behavior to Parents Daily

On the sheet below, I would place a check mark in the appropriate box to indicate what the student needed to improve upon that day. I would also write any comments in the daily box regarding what specifically was occurring, if needed. This would go home nightly for parents to initial stating they were aware of the behavior. I would collect it on Monday from the child and place it in his or her file for reference later. This sheet is also a great documenting tool for when you need it during your child studies. You can see if the child improved or not.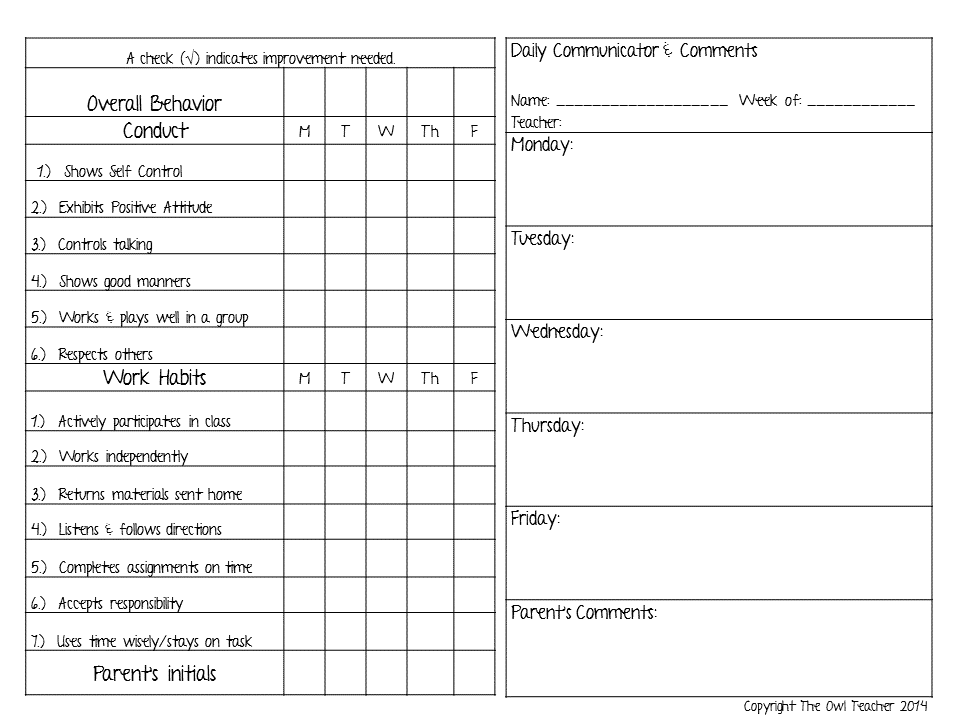 Reporting Behavior and Homework

I would use this daily report below to list what we were working on in each specific subject area during the day. I would then place a checkmark in the "In" box if it was completed and turned in. I could also add any comments or behavior issues (such as the student didn't complete the work because he/she was off task). The students would then use the daily report to determine what was needed to be taken home to be finished. This report would need to be seen by the parent and initialed anywhere on the report. Then the next day I would use it to help the child see what was or was not turned in.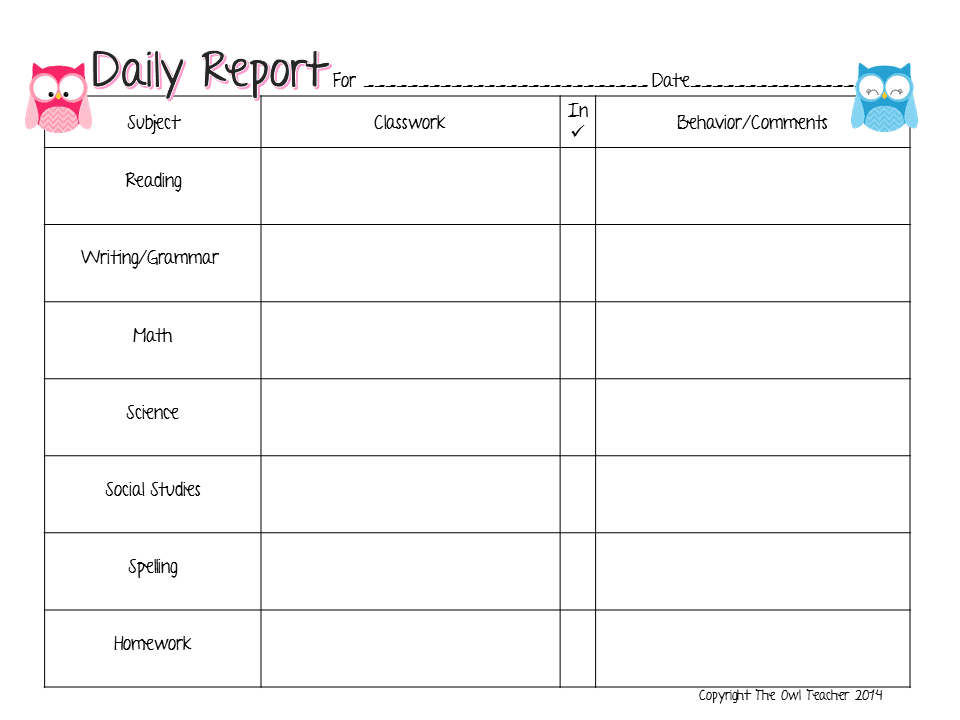 Reporting Behavior and Homework Weekly

I like to send home Friday Folders each week with information regarding how each child behaved during the week and whether work is missing. I do this so parents are aware weekly and not shocked come conferences or report times. I staple this weekly progress report on the left inside each student's folder. Then each week I just mark it. I write the date, place a check in any box a child struggled with that week, and highlight where a parent needs to initial. I give a checkmark for each occurrence. For example, the "shows self-control" box may have 2 checks in it for struggling with this twice that week. I also check off any subject area a student has missing work in. If a student has no checks, I place a sticker in each category. I count up the checkmarks at the end of the week and give a grade for that week according to the grading scale. I provide a grade for conduct and work habits. I do not give a missing work grade. Then at the end of a marking period, I use this to average out and determine what grade goes on the report card. You could easily convert the E to an A, S to a B, so on. I do this with all the students. My Friday Folders also contain graded work, my newsletter, and important school fliers. It returns every Monday.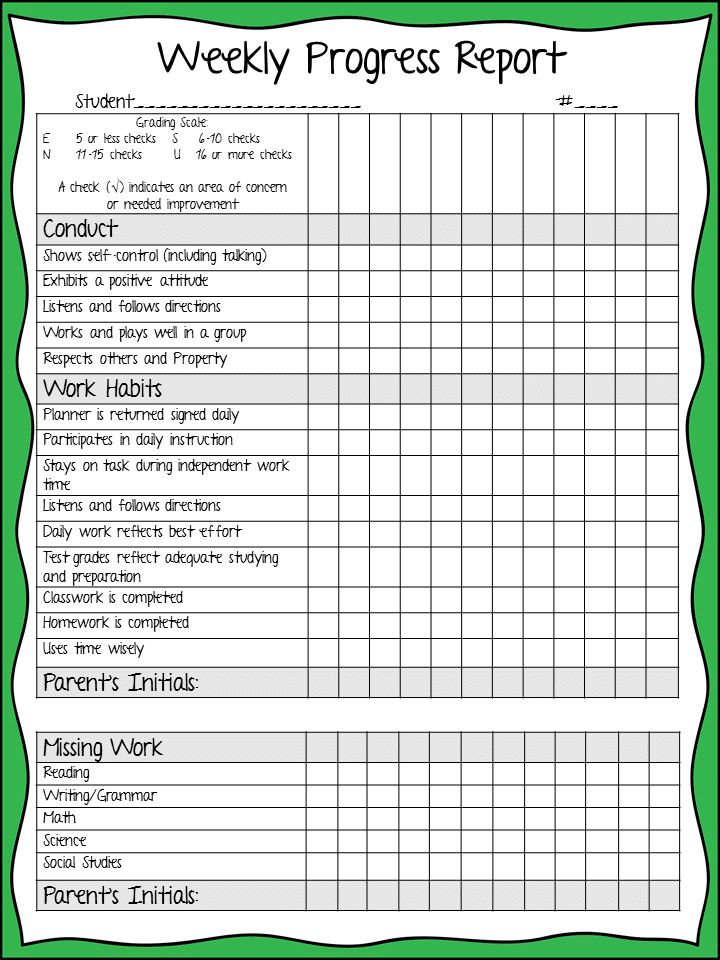 How to Get the Behavior Forms for FREE (READ CAREFULLY):
To get these forms, you'll be taken to a Google Drive Folder. You will then click on the forms you want to download. You will see these forms are in view-only mode. You will need to click on File and then Make a Copy to get them. This was intentionally done so that these forms can not be edited before a person can get their own personal copy. After you have made your own copy, then you can edit it all you want.
DO NOT request access to these files. The directions are above. If you can't access the files, it may be because you didn't make a copy or because you are trying to get access to them from a school email or server. If you have tried making a copy and accessing from a personal email and you have no luck, then email me at [email protected] and I'll gladly help you.
All pictures can be downloaded free. I have also included editable versions of these behavior sheets. These sheets can easily be edited by adding a text box where you would like to add text or type in the boxes that say "Type Text Here." You must have PowerPoint or use Google Slides to open these.
Click here to get the forms – AFTER reading the above!
~Happy Teaching!

For more ideas on behavior, click HERE.