I love when I can find nonfiction texts that can be used in both reading and in other curricular areas, such as science. Today's mentor text, No Monkeys, No Chocolate, does just that!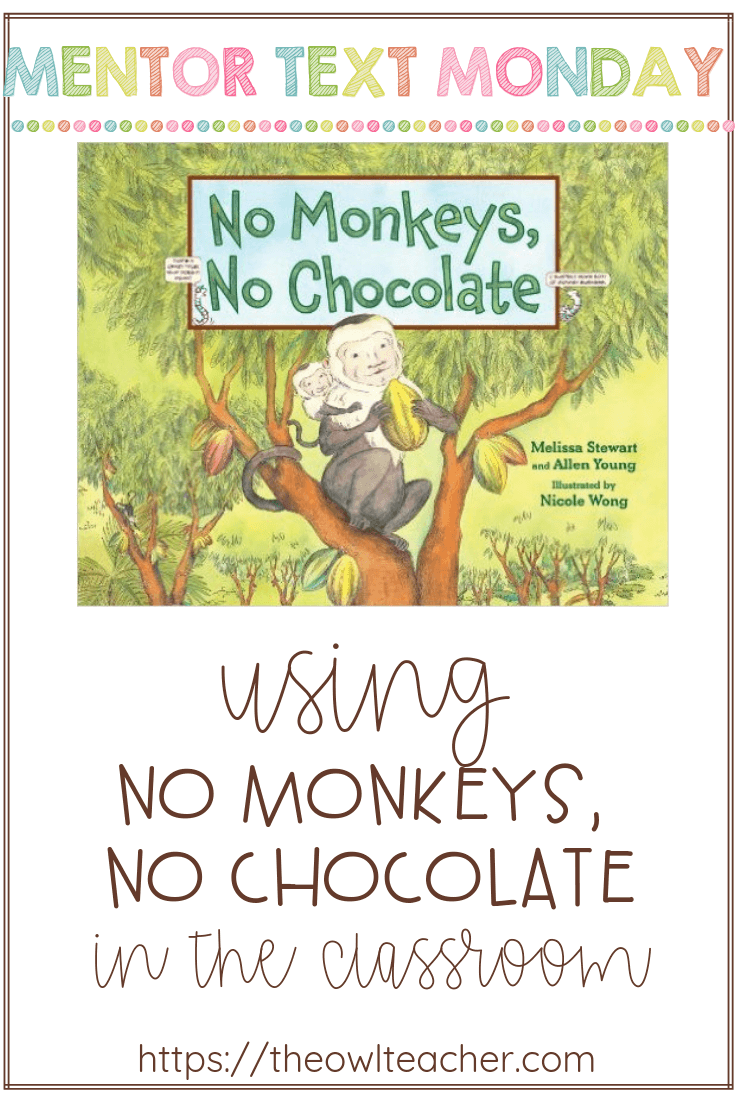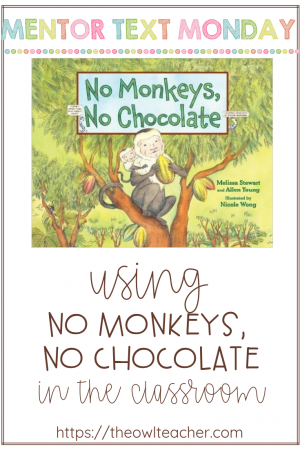 My mentor text this week is called No Monkeys, No Chocolate by Melissa Stewart and Allen Young. This reading book explores the relationship between the trees and the animals (and other living things) in the rainforest habitat. It points out just how important it is that they help one another and the roles they play. Ultimately, it points out that we would not have chocolate if it weren't for the monkeys and other living things of this habitat.
What I like about this book, is first the cute adorable worms (who would have thought worms were cute?) in the bottom corner with some commentary throughout the book. It's adorable and sure to engage students. I also like that this text can be used for teaching about habitats and about the dependence of one another on all living things within it. It's similar to the food chain concept – if you remove one factor…
This text can be used in the classroom to teach about cause and effect. You could have students create a t-chart and list the various causes and effects. I have a cause and effect activity where students use sticky notes and paper clips to create cause and effect chains.
This book can also be used for teaching chronological order, as it teaches the process of how chocolate is made. There was definitely a lot of interesting facts. For example, did you know that chocolate cannot be without maggots? (EW! If I could remind myself of that when I want chocolate, I could finally lose weight! HA!)
Finally, this book would also make a great mentor text for when you are discussing the structure and functions of a plant. It discusses the functions of stems, leaves, roots, and more!
Head to (aff. link) Amazon to purchase No Monkeys, No Chocolate for your classroom today!