We all know teachers aren't exactly made of money, time, and, well… energy. Thankfully, these DIY (Do-It-Yourself) teacher hacks don't require a whole lot of any of those! Here are a few tips to make your career a little bit easier.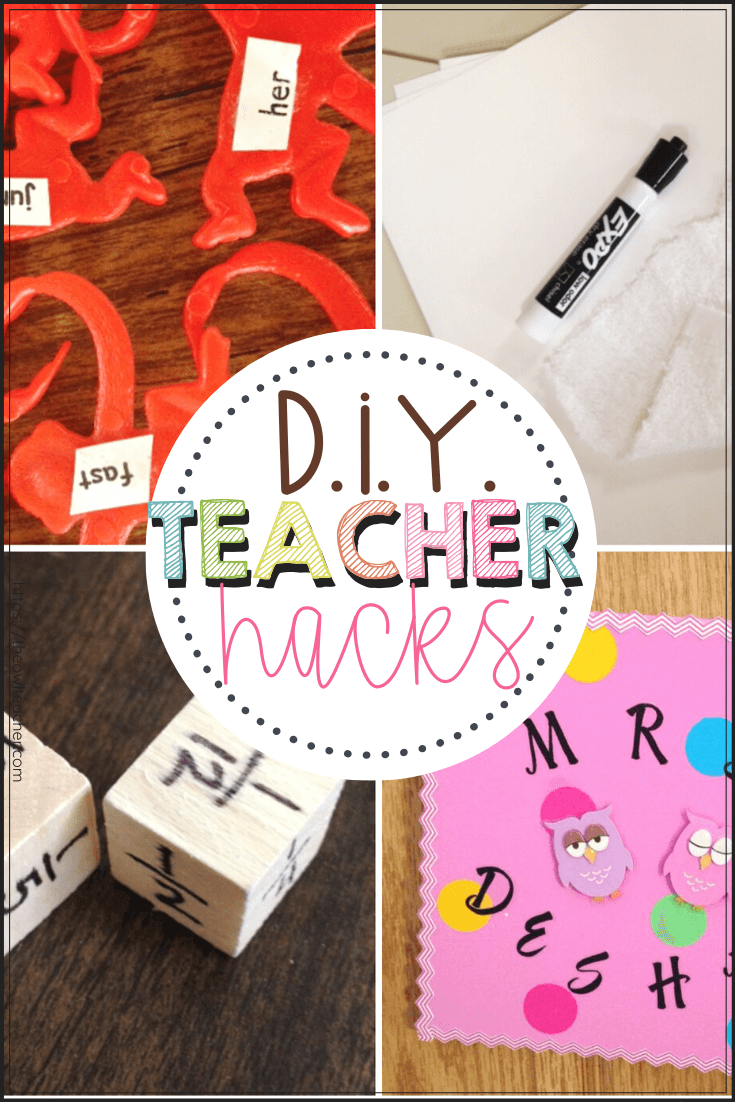 Teacher Hack #1: Dice
I am always running out of dice, so I like to make my own! I go to Michael's or Hobby Lobby and buy these wooden blocks and a Sharpie. Then I just write whatever facts on them that I desire! It's nice because then I can make fractions for comparing, adding, ordering, and multiplying. I can also create dice with operations, dice for decimals, etc.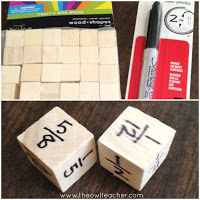 Teacher Hack #2: Whiteboards
Continuing on my "trying to save money" trend, I make inexpensive whiteboards. I buy white card stock, sheet protectors, washcloths (buy a pack at the dollar store!), and Expo markers. I slide a white card stock sheet inside the sheet protector. Then I cut up a washcloth into four small pieces for erasers. (I've heard dryer sheets work well too!) What's nice about this idea is that when you work with students you can easily pull these teacher hacks out and slide in a worksheet to practice on. I can't tell you how many times I have only had one copy left, and this was a lifesaver!

Teacher Hack #3: Barrel of Monkeys Game
I love to monkey around! No, really, I do. I used to love that Barrel of Monkeys game! Do you remember that? Or am I showing my age? I just can't let kids today not experience such an amazing game! So, to make sure they enjoy something way more exciting than any electronic app, I created this cute game.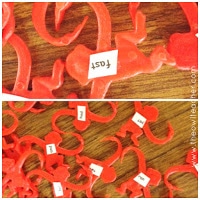 Just print out your desired words or numbers and glue to their belly. Then students play the game as it's intended but looking for a match. For instance, you can glue multiplication problems on its belly (5×7) and the answer (35) on a different monkey's belly. Students then look for the match and pick it up with the arms of the monkey only. You can use various parts of speech and have students only hook all verbs. The ideas are limitless and fun — it's like several teacher hacks rolled into one!
Teacher Hack #4: Name Display
Just for fun, I created a name display for my door that I found on Pinterest. I don't remember where I saw it or who did it (if it was you, please let me know so I can give you proper credit!). Either way, I loved it and decided to create it myself—with just a bit of a tweak! I bought a small 8×8 canvas and painted it pink (you guessed it — my favorite color!). I bought scrapbook solid colors and hole-punched 1-inch circles. These were then glued on randomly. Then I bought scrapbooking stickers to add the lettering, owls, and border. After decorating it my way, I added some ribbon to hang it.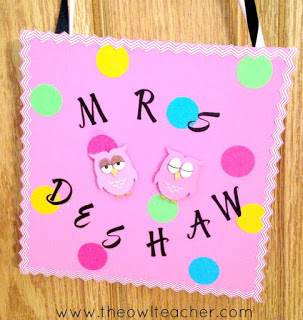 While these teacher hacks may not be the fanciest around, they're certainly cute, inexpensive, and they get the job done! They are always a hit in my classroom, and I have no doubt they will be in yours too.
Interested in more great ideas for your classroom? Click HERE to see ideas on my blog.  Also, be sure to head on over to my TpT store for engaging products that are sure to save you time as well!
~Happy Teaching!