Since the month of October is bullying prevention month, I thought I'd start right away with that theme. In fact, all my posts this week are related to that. So this week's book is an older one but a good one – Just Kidding by Trudy Ludwig.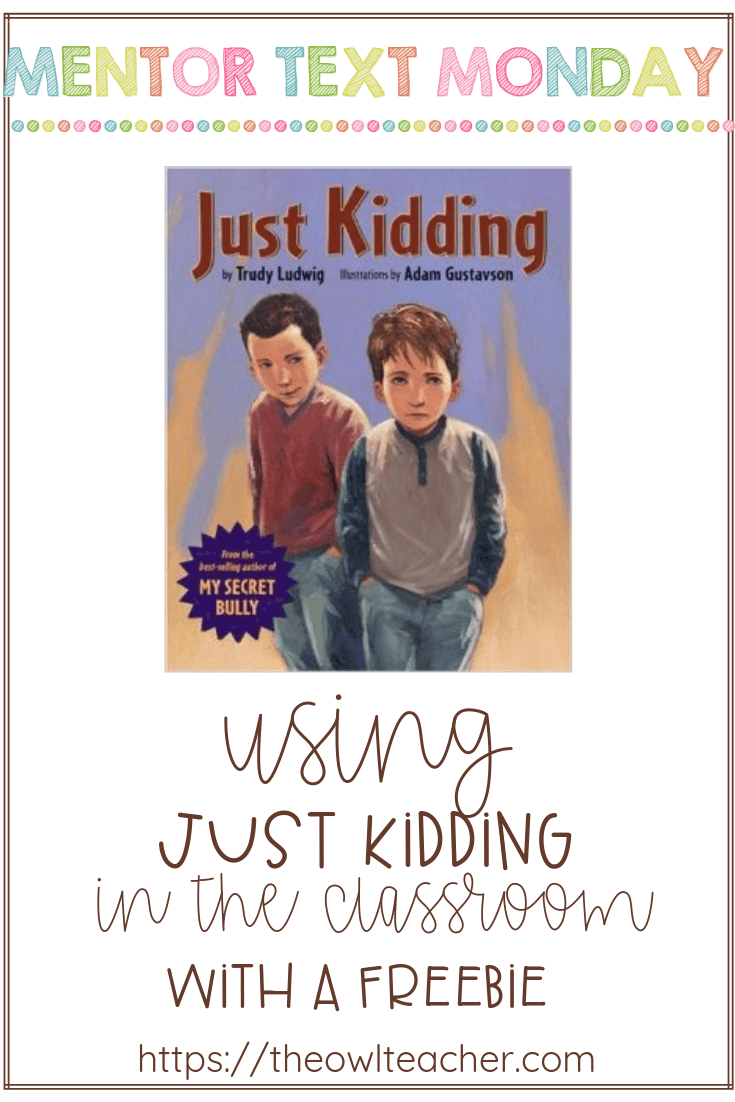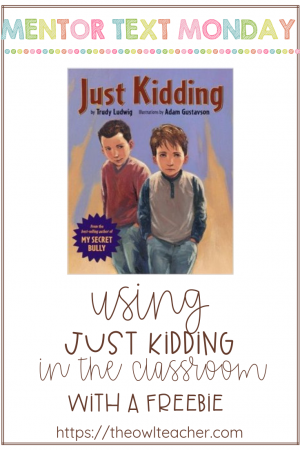 This story is about a boy named D.J. who is being regularly teased and harassed by another person named Vince who claims to be his friend. Every time that D.J. tries to take action regarding the way that Vince treats him, Vince just claims that he is kidding. It brings to the surface the feelings of being bullied, along with actions to take when being treated this way. Additionally, it focuses on when teasing crosses the line and becomes more than just kidding around.
Of course, this text could easily be used for cause and effect as there are many examples of that. It also has a moment in the story when the main character is experiencing a flashback. It is written in the first person, so therefore it could be used to discuss the point of view.
What I like to do when using this mentor text is to focus on the main theme of the story about when teasing goes too far. I'm sure we can all make connections to this. I use this as a springboard for discussing the actions that can be identified as bullying, along with the actions to take when feeling this way and to discuss the differences between reporting and tattling. I also like to use this book to discuss with students the feelings that it invokes in all people — the bully (power) and the victim (helplessness) along with the self-esteem aspects.
I first read it aloud while students just listen and jot any notes on Post-Its as I read. Then I break students up into groups and provide each group with a copy of the mentor text and the sheet below. I have them work on the sheet independently and share out as a group. We then discuss.
GRAB YOUR FREEBIE!
I have provided the sheet that I use when reading this mentor text with my students.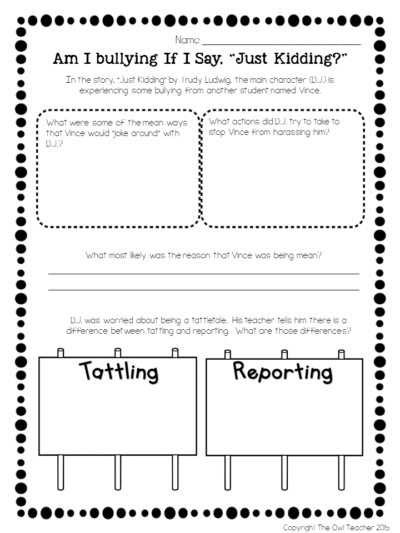 Download your freebie and then head to Amazon (aff. link) to purchase the book, Just Kidding by clicking here.