One thing that I love to have my students do when I teach my rocks and minerals unit, is to create a crystal garden. This is a very easy activity that yields excitement and quick results. This activity creates engagement and motivation for science that I'm always trying to produce.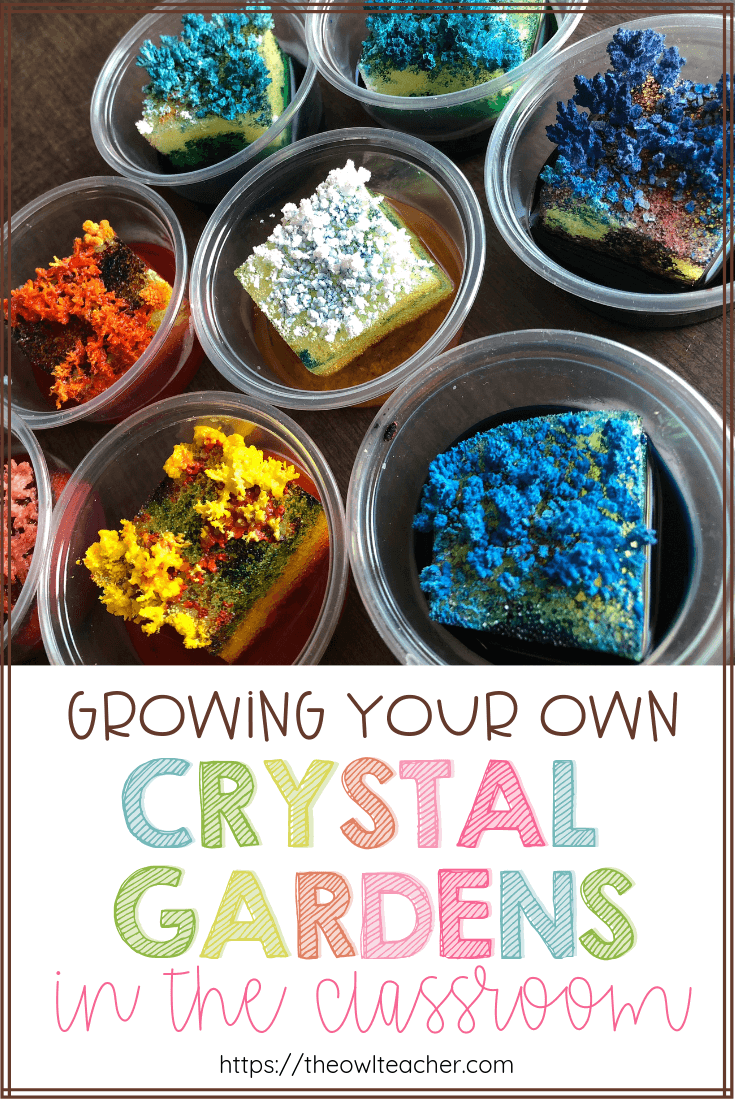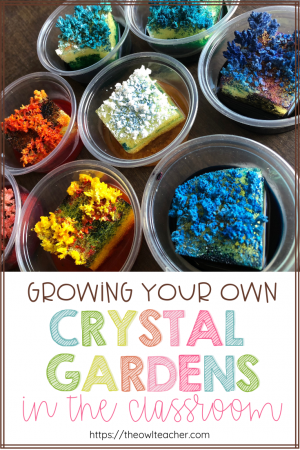 Materials Needed for Your Crystal Garden
As part of my Rocks and Minerals Unit, I am often asked questions about how exactly do I produce the crystal garden activity. For this activity, you will need (Aff. Links):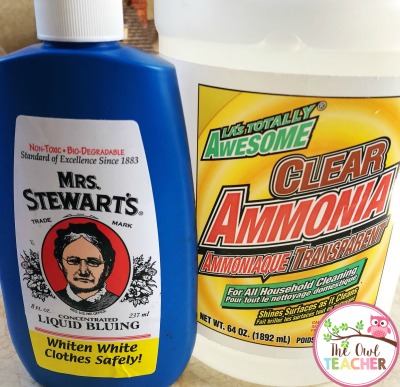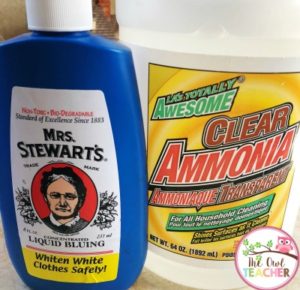 Most often from my experience, the problem of crystal gardens NOT growing is due to the type of sponge a person gets. Many sponges come with soap in it or something in it to prevent bacteria growth. Grabbing a sponge for the kitchen will have this material in it. These sponges will take forever to grow minerals, or they will only grow along the outside edges.
Instead, you want to choose a sponge that is not for the kitchen. When I first began this experiment years ago, I experimented with a variety of sponges. I tried make-up sponges, sponges for your kitchen, sponges for your bath, and sponges for your car. I was surprised by the results.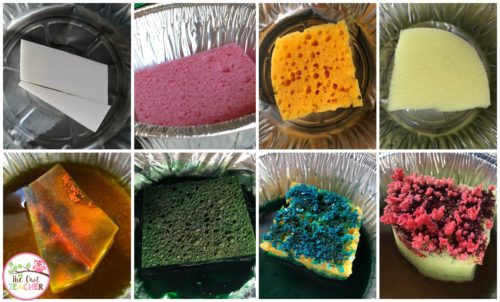 As you can see in the image above, the makeup sponges and kitchen sponges did nothing, while the other two did. The sponge for your bath did start producing crystals but at a much slower rate. The sponge that you use to clean your car worked instantly! The best part is, I found this sponge at The Dollar Tree (by the automobile materials) and was able to cut it into many pieces for my students' use.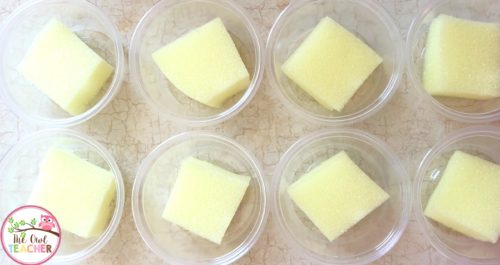 Creating the Crystal Garden
Once you have all the materials ready, now you must prepare the solution. I don't have students mix the liquids, but that is up to you personally. The solution is mixing equal parts of the ammonia with the bluing agent. This means that if you use one cup of ammonia, you will also use one cup of the bluing agent.
After mixing the ammonia and bluing agent in a container, begin pouring it over the sponges into the cups. I leave a little in each cup along the bottom. It doesn't need to be a ton, but enough to cover the bottom. To make sure the sponges are covered, I give my students plastic spoons and have them flip the sponge over and coat it well on both sides.
Next students are provided with the kosher salt and they sprinkle it over the top of the sponge. I suggest a thin layer rather than a thick pile (both work, but create different looking crystals). If desired, then you can provide students with food coloring to "color" their crystals. They would just place a few drops around on the salt-covered sponge.

Typically the crystal garden begins growing right away. I have seen some start sprouting up later that evening and definitely by the next day. It doesn't take very long. You will notice the blue of the liquid change to an orange color. That is completely normal. The growth of the crystals depends on a few factors (besides the sponge factor above), and evaporation and temperature of your classroom environment is part of it. One option is to place them outdoors (but watch for rain!).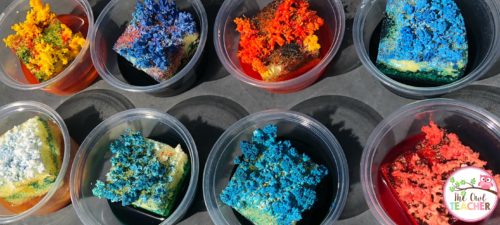 As they grow, have students record what they observe each day. Also, have students create drawings of their crystal garden. Drawing in science is very important! Here are some examples of crystal gardens.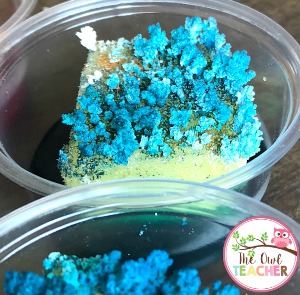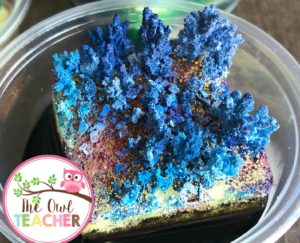 Help students be aware that the crystals (or minerals, if you prefer) are very soft. If you were to touch them with your finger, they would fall apart instantly like ash. Students want to be very gentle around them. You can choose to have students toss them after or take them home.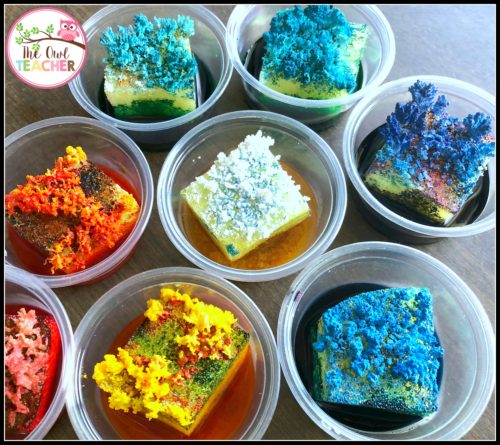 Overall, this investigation is an engaging one that your students will love to watch unfold as you explore rocks and minerals!
Do you want more engaging teaching ideas for rocks and minerals? Check out my blog post about using crayons to teach rocks and minerals!

Check out these related resources!