Sometimes trying to come up with the money to purchase the supplies for engaging science projects, demonstrations, and STEM can be a bit of a challenge, especially if you work in a district where funding is tight. Teachers already spend a great deal of their own money to purchase classroom supplies. How can a classroom teacher find more funding for science and STEM without using money out of his or her own pocket?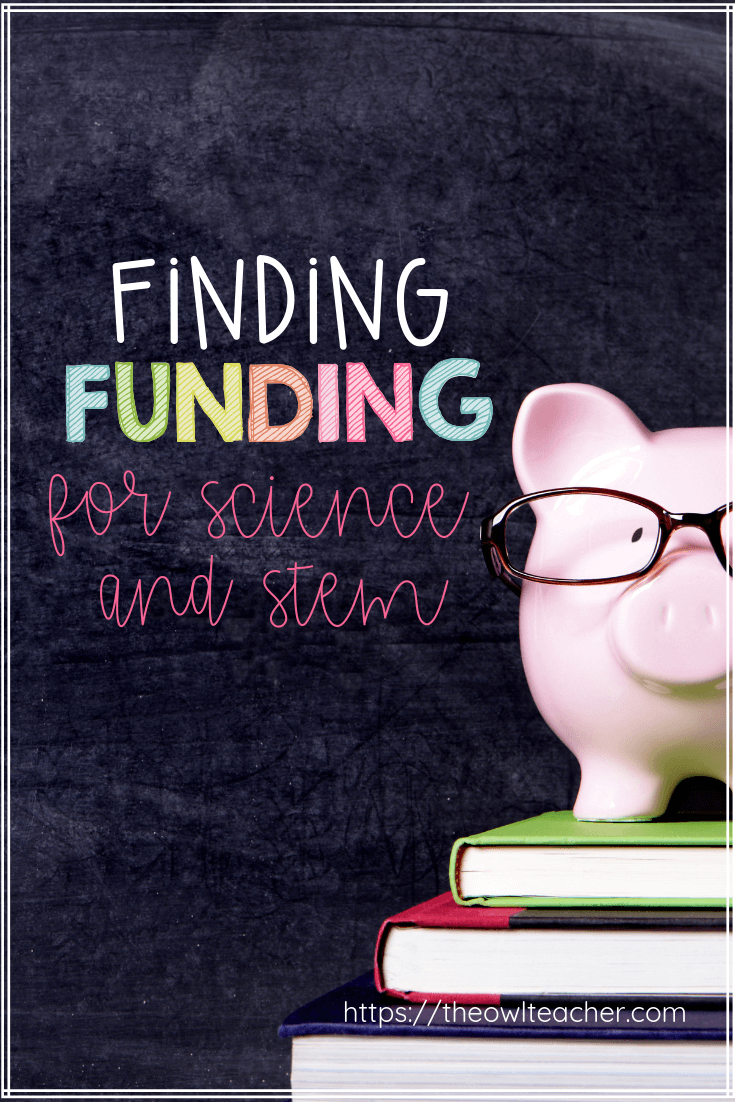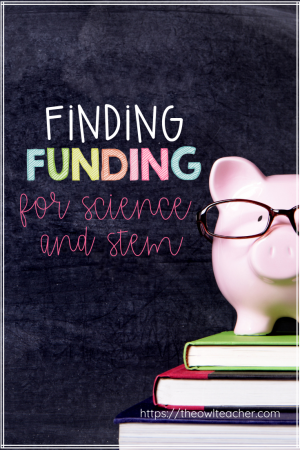 Finding Funding for Science and STEM
Some of these ideas you may have considered before, while others may be new. When combining them all together, you should be able to make funding for science and STEM much easier.
1.) Check out your "neighbors." Local universities, hospitals, and other nearby companies are always upgrading equipment and materials. Check with them to see if they have any used equipment that they are no longer using or willing to donate. You will be surprised how many of them are more than willing to donate items to your classroom, especially knowing that you are a teacher/district in need. Many times in the past, I have been able to get plastic containers from my local deli for science activities, plant donations from my local Wal-Mart, and even living organisms from a local pet store. (Some don't always donate for free, but do offer items for an even bigger discount.)
2.) Consider writing a grant. Once you get the hang of it, writing grants aren't too hard and it can be well worth it in the end. If you aren't familiar with writing grants, find out who in your school or district is a regular grant writer and visit him or her for tips. Check with local organizations, your union, or even the National Science Teachers Association (NSTA) for opportunities. When visiting NSTA, type "grants" into the search bar to get information. This provides more than funding for science – grants can cover a variety of areas.
3.) Check out retiring colleagues. Don't just check out people retiring in your school. Be on the lookout for anyone retiring in your district. They may have just the items you need- don't assume just because they aren't your grade level they won't have stuff you need. Often times you can even find a "retiring teacher" sale online or nearby with a yard sale. This is like finding a golden treasure!
4.) Trash to Treasure. Speaking of treasure. You often have a treasure that can be used in your classroom as substitutes for the expensive stuff. Instead of getting funding for science materials such as standard masses for weighing, use substitutes that weigh nearly the same such as paperclips, staples, toothpicks, small uniform tiles, full aluminum soft drink cans, and/or coins. Instead of purchasing funnels, use the top of a 2-Liter bottle. Create microscope slides using a small strip of an index card with a hole punched in it and a piece of transparent tape over the hole. Consider using wooden tongue depressors (wooden craft sticks) for spoons and drinking straws for droppers. The list could really go on and on. Get creative!
5.) DonorsChoose.org. At DonorsChoose.org, teachers can post descriptions of class projects they need money for and donors can pledge money to those projects. Not too long ago, a donor pledged a ton of money and funded MANY projects at once. It was incredible!
6.) Parental Donations. Since I'm already talking about donations, why not consider making a list of inexpensive common items or supplies that parents could consider donating for your classroom. While you are there, ask if any of your parents or friends of parents work in the science field. This could score you a guest speaker or a field trip!
7.) PTO/PTA. Sometimes visiting your local PTO/PTA is a great place to ask for help with funding for science. I have had success many times with my PTO.
8.) Stores. I have found many things I have needed for my science classroom at the dollar store. Especially for the recyclables that we use in STEM. You can also find many great things online via E-bay, Amazon (used are inexpensive often), and even Craigslist. Just be sure to really understand what you're getting and use caution with Craigslist.
9.) Conferences & Workshops. I have many times won items at a workshop or conference that I have attended. Sometimes you will even get freebies in sessions. These are exciting and a great way to build up some of your resources.
10.) Social Media. Yes, consider posting on social media asking if anyone has _____ (what you need)___. You may be surprised! Network- you may find what you need, or know someone who can help you get it!
Ultimately, when it comes to finding funding for science and STEM, it's more about looking in the right places (see above), a little bit of work, and putting yourself out there to ask! It's totally worth it– you can do it!
How do you get funding for your classroom? Let me know below. I'd love to hear– and so would others!