One of the most difficult things with teaching is being able to leave work early! It's hard to not sit there hours after the kids have gone home, still working on all the duties that call. Yet, it's very, very necessary to pack up your things and leave. You just can't stay all day and all night because really, no matter what, that long (and always growing) list will always be there.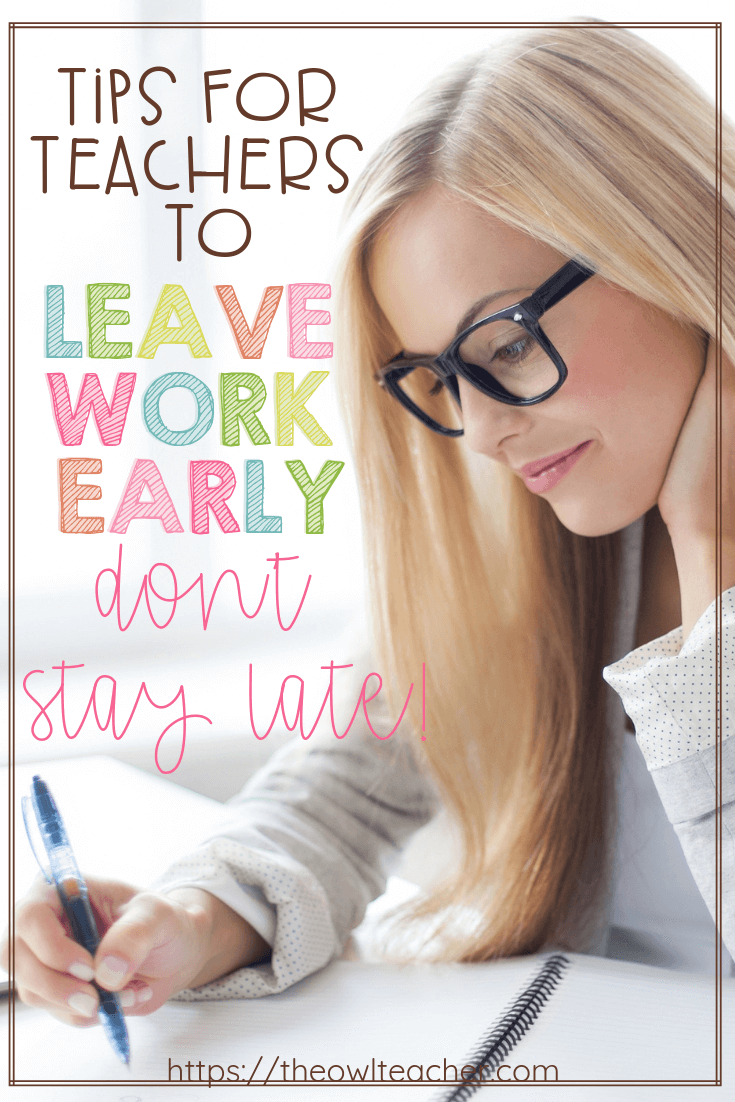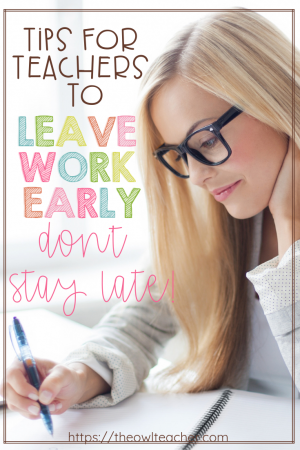 It took me years to learn that the work of a teacher is never really finished. Even when you complete that checklist at the end of the year, and you hand it in as you are heading out the door for summer break, it's still not finished. Why? Because really, you spend some of your summers thinking about the next school year, what you want to do differently, and so on.
Tips to Leave Work Early
1.) With that said above, if you do nothing but this, it will save you time. Accept that there will always be a list of things to do – ALWAYS! Once you accept that, you'll learn that you don't need to stay for hours and hours day and night to try to get more done. That will burn you out – and you still won't get everything done! (And ask yourself, "Will it directly benefit my students?" If not, then let it go!)
2.) When you do decide to work at work, shut the door and work. Actually, work! What I mean is that sometimes we intend to use our planning time to work, but instead we end up chatting with our great friend Lou Ann. Lou Ann is great, but she isn't getting you out the door early. I wrote a wonderful post on how to tell Lou Ann that you love her but you need to work called "Hiding From Coworkers During Planning?" that you can check out if you need ideas.
3.) Learn time management skills, organization skills, and stress relief skills. They will help you free up some time and, of course, benefit you in multiple faucets of your life!
4.) Set a schedule and actually stick to it. If you say that you are only going to work for one hour after school, then ONLY work one hour after school. For me, it was one of those situations where I'd say, "I'm going to look online for a cute craft idea for *insert holiday.*" Three hours later, I'm wondering where the time went and how I got nothing done (including not settling on which craft idea I wanted to do!). Sometimes that means you need to say, "I'm setting the timer in my phone for thirty minutes, and I'm going to look for a craft. I have 30 minutes to cruise Pinterest and find something cute. I better hurry because what I find in 30 minutes is it!" (Then you stick to it, even if it is somewhat ugly. I guess you should follow cute boards like mine to save time, huh? Oops, shameless plug! How does that keep happening?!)
5.) With that said, stay away from social media, email, and your phone. I know as soon as my kiddos go out that door, I am quick to pick up my phone and see what I missed during the day. (And sadly, it's usually nothing super fantastic that couldn't wait a few more hours.) These are time-suckers! (Yes, I'm aware you'll need to check your work email for important messages, but glance it over for things that can't wait. Take care of those, and then save the others for LATER!)
6.) I always do things in groups. I bet if you think about, you do, too. Each time you need a copy, you probably don't walk to the copy machine one paper at a time. You likely save up until you have a few things that need to be copied and walk down all at once and make the copies together – it saves you time, right? (Plus, that's a lot of walking if you went for each individual paper needed! Whew!) So, do the same with work. It's called bundling or batching. When you plan, plan all your language art lessons and then all your math lessons for the week. Then, take care of all the paperwork at the same time, then make all your copies at the same time, then gather all your materials at the same time, and so on. I think you are understanding…
7.) Get help. Please don't be one of those people who have too much pride or are afraid it will make them look bad if they ask for help. Ask an experienced teacher for ideas. They are usually very excited to share. Check out TpT for amazing lesson plans or activities. Have your students help out with cleaning up the room, organizing, and running small errands. If you have kids (or nieces or nephews), then put them to work! I have even occasionally had my husband help out with cutting laminated materials.
8.) Lesson plan more hands-on activities that do not require a lot of papers. That means less copying, less collecting, less grading. And here is the best part – MORE learning. Yes, it can get noisy. Yes, students can get out of control, but that is all about classroom management. You can have your cake and eat it, too.
9.) Do NOT grade everything. Seriously. Don't. When I first started teaching I thought I had to have an assignment every day for every subject. That was like 35 assignments a week, times 30 kids…ugh. I shudder at that thought now. That was crazy. I didn't know. I hated grading. Then, one day someone told me that you should only grade something after they have had enough practice with the concepts. So, sometimes I give checks for doing it, sometimes students check their own work, sometimes we check in class, sometimes I check as they do it, sometimes I accidentally drop it in the trash can and forget to get it out before the janitor arrives, and so on.
Teaching is a demanding job that requires a lot of our time. There is no way that you can avoid taking home work from school (that I know of – if you know the secret, then you need to share!), but maybe these few tips can help you shed some time off being in the classroom after school each day. Just don't be like me where you take the bag home, intending to do work, but never open it! 🙂

Get Weekly Freebies!
Sign up for our short & sweet newsletter to get a freebie each week! It's quick and to the point, because you are busy!