As your students return to school, it's possible that your open house or back to school night may take place online. You can still have a positive experience getting to know parents and kids with a virtual back to school night. Here are some tips to get you started.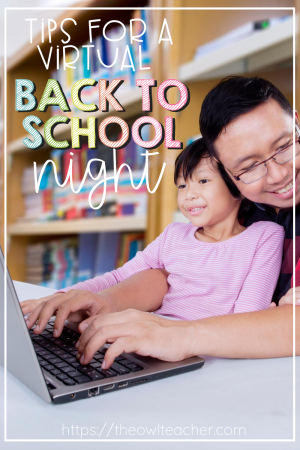 1.) Ask for questions ahead of time
Before you have a virtual back to school night, consider providing parents with a Google Form link to ask all the questions they have ahead of time. This will allow you to know what questions and concerns they are really focused on. Then you can focus on answering these during your planned event. Any questions that don't get answered, you can allow parents to set up times to follow-up (during your paid hours) via Zoom, phone, or email.
2.) Make it a pre-recorded virtual back to school night.
First, allow parents and students to log in and view your virtual back to school night materials at their convenience. A class Zoom meeting is better for students once school starts. Your virtual back to school night should really be about introducing yourself and letting students and parents know how the year will begin and what's in store.
Introduce yourself.
To begin, think about why parents and students really come to back to school night. They want to meet the teacher! Showcase yourself by sharing a short video or Google Slide presentation on Google Classroom or SeeSaw to help families get to know a bit about you. You may want to include:
your teaching background
about your family
pets
favorite books
favorite treats/snacks
interests
hobbies
Overall, these things will all help your students and families relate to you and know who to expect when students return to school (on or offline).
3.) Provide reassurance.
Parents, students, and teachers are nervous about the upcoming school year. Your virtual back to school night can provide reassurance by sharing the plan in place for your classroom. Whether offline, online, or a hybrid, your families want to know that plan. Of course, work with your school officials to understand what's to come, and then share the resources that families need to have a successful school year.
This would also be a great time to remind parents that you are a team and together you will get through this difficult time. You can also use this time to introduce some technology that may be used, how students will be receiving work and turning it in, and how to keep in regular contact with you.
4.) Share a special virtual back to school night treat.
No one is expecting you to blow your budget on mailings for virtual back to school night. However, simply sending a small card or note with a sticker or piece of candy in the mail can go a long way to let your new students and families know you're thinking of them and excited to have them in class. Consider making your own printable Bitmoji to send to your students. It gives them a little visual of you. Also, you can invite them to make their own drawing or Bitmoji to share with you.
5.) Consider creating an activity
When we have our students attend an in-person back to school night, we often have our students complete a scavenger hunt or something similar. Why not consider creating a similar idea just online? Create an activity for your students and/or parents to do on their own time for fun but will also familiarize them with the technology platforms that they will be using during the school year. This would also allow them to practice logging in (if you gave the usernames and passwords ahead of time) and the chance to give you a heads up of any potential problems before school starts.
The idea of going back to school has teachers, students, and parents anxious. Traditionally, an in-person back to school night is a way to calm some of those nerves. However, if your school or district is planning for a virtual back to school night, you can still take some steps to get to know your children and families.