Your students are headed back to school, and this time online learning is all about learning new grade-level content. For teachers participating in online learning, teaching new material can definitely pose some challenges. Having a few tips and tricks ready to present new curriculum is so important! Here are some strategies to present new material during online learning.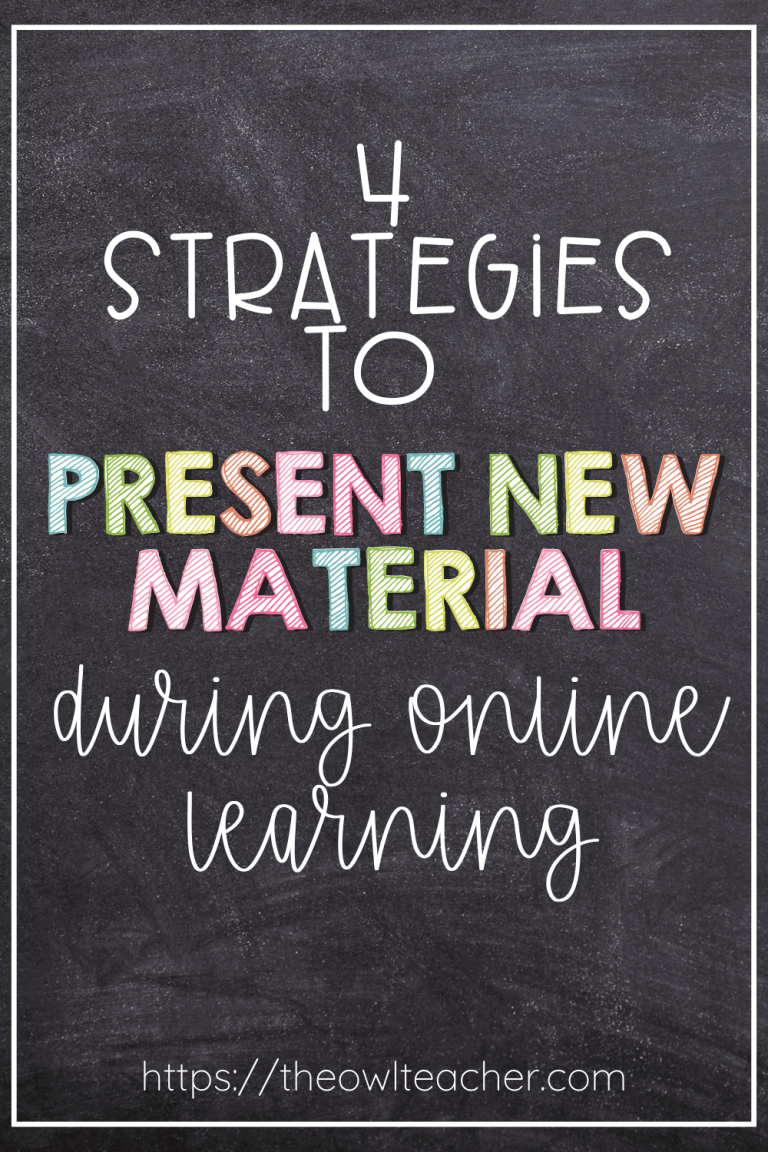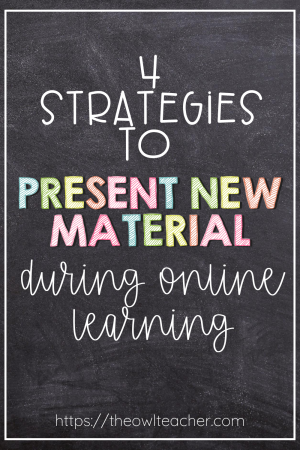 1.) Begin with Pre-Assessment
Before you present new material, find out what your students already know about the topic. Give pre-assessments online with Google Forms. These forms can be created directly in Google Classroom or uploaded from Google Drive. For example, ask questions about the scientific method in Google Forms before sharing the scientific method unit online.
After pre-assessing your students, you'll know what information they already know about the content. Next, you'll be able to focus all your lessons on the new content while briefly reviewing the standards your students have already covered.
2.) Stick with a Few Tools
Another reason for presenting new material during online learning can be difficult is that there are so many new tech tools for students (and teachers) to learn! Instead of overloading yourself and your students with every website and app you discovered during distance learning, focus on a few tools to use during online learning.
First, try an online presentation platform like Zoom to host meetings with your students. Next, have a place to share materials, handouts, and assignments. One platform I love is Google Classroom. Classroom integrates with Google products, so there aren't a lot of new tricks and tools to learn. Then, begin with some sites or apps students used in the past or that have simple learning curves like Kahoot!
It's important to focus on one new thing at a time. If you are presenting new material during online learning, use a tried and true tech tool. On the other hand, if it's time for review, it's OK to try a new website, app, or add-on.
3.) Chunk New Material During Online Learning
Don't feel like you have to present a whole lesson at once. When presenting new content, it's OK to share things in steps. For example, if you're teaching about volcanoes, break it down into short topics that you can share and discuss with your students in 10 minute (or less) videos or live lessons.
You can span the volcano info over several lessons. For example, teach your students the following:
Terms such as dormant, lava, magma, and much more
Causes and effects of volcanoes erupting
Building (constructive processes) and destroying (destructive processes) of volcanoes during natural disasters
Difference between dormant and active
Where most volcanoes are found
Advantages and disadvantages of volcanoes
Keep in mind that introducing new material during online learning is not the same as teaching new material in-person. Fostering online student engagement can be difficult, but one way to help keep students engaged is by keeping lessons short and succinct.
4.) Use Videos to Present New Material During Online Learning
All of your teachings does not have to be live! Share videos (either ones you've created or found online) to help present new material during online learning. Share the videos on Google Classroom or Seesaw, and have your students watch the lessons before meeting live. When you have your Zoom meetings, students can ask questions about the new content. Videos are an excellent tool to share new content with your students. You could even personalize the videos for individual students as if you are right there having a one-on-one conference. This is a great way to differentiate your online instruction!
These strategies to present new material during online learning will help your students have a successful year of online and/or in-person learning.