I inherited a wooden easel long ago when I first began teaching. It was fabulous and worked well, but after many years of use, it began falling apart. Because I used my easel for reading workshop, writer's workshop, math workshop, and science workshop, I needed an easel. I needed an easel desperately! Originally, I never would've considered a DIY easel, but…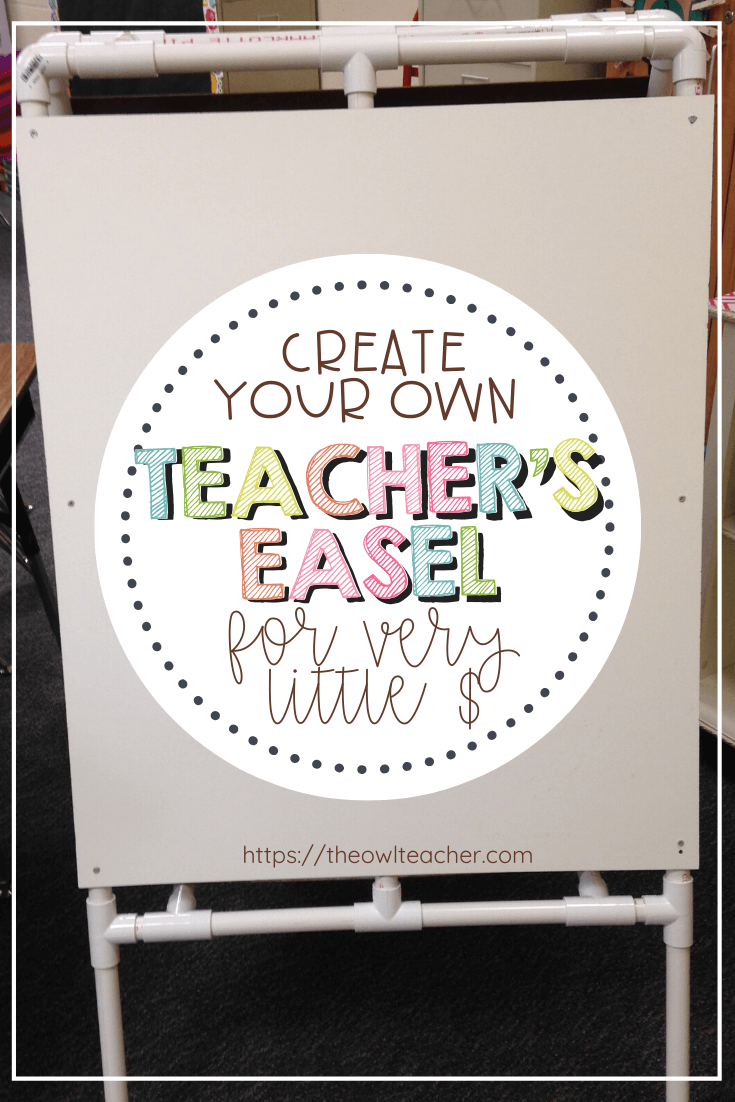 After spending hours cruising Amazon and other school supply stores, I had no luck. Oh, I saw easels, just not easels I wanted to pay for. What teacher has $300+ to spend on an easel?
It wasn't that long ago I saw an idea on Pinterest that created a mini-anchor chart out of PVC piping. I absolutely loved it, and my husband quickly put one together for me! That's when it hit me…  If my husband could easily make that, what else could we make out of PVC pipes? Could he make me a DIY easel too?
You won't believe it… he did it!! He's amazing! And the best part? It was waaaaaaaaaaaaay cheaper. It cost about $25 total!
Creating the DIY Easel For Your Classroom
Before you purchase these parts individually, please read the post entirely. We bought longer pieces of piping that we could cut up into the smaller quantity described below (kind of like when you buy bulk and break it up into servings). I can't remember how long those pieces were, but my husband believes they were quite a few feet that he cut up and that is why I mentioned cutting them up in Step 1.
Materials needed:
| | | | |
| --- | --- | --- | --- |
| Detail  # | QTY. | Description | Size |
| 1 | 6 | PIPE | 0.75 x 36.0 |
| 2 | 2 | PIPE | 0.75 x 28.0 |
| 3 | 4 | PIPE | 0.75 x 12.0 |
| 4 | 8 | PIPE | 0.75 x 8.5 |
| 5 | 10 | PIPE | 0.75 x 2.25 |
| 6 | 16 | TEE | 0.75 |
| 7 | 4 | 90° ELBOW | 0.75 |
| 8 | 4 | CAP | 0.75 |
| 9 | 2 | DRY ERASE BOARD | 33 x 28 x 0.125 |
| 10 | 1 | SHELF | 25 x 21 x 0.125 |
| 11 | 4 | SHOWER RING |   |
How To Read the Materials Chart:
The first number in the size box is the diameter and the second number is the length in inches. For example, the first pipe is 3/4 diameter (or 0.75) and 36 inches long. On the dry erase board and shelf, the first number is the length, the second is the width, and the last number is the thickness (but the thickness will vary based on the manufacturer).
The piping with thicker sidewalls works best. He used something called TrueFit System. These fit snugly, so there's no need for glue.
DIY Easel Directions:
Step 1:
Cut all your pipe to the size necessary (see materials). He cut largest to smallest, but the order doesn't matter. You can use a hacksaw to cut it, but my husband recommends using a PVC pipe cutter because it's much easier and faster.
Step 2:
Assemble the front and back sides of this DIY easel. It should look like the picture below when done. Being a designer, he was able to whip this together on his designing software first. The numbers match the materials list.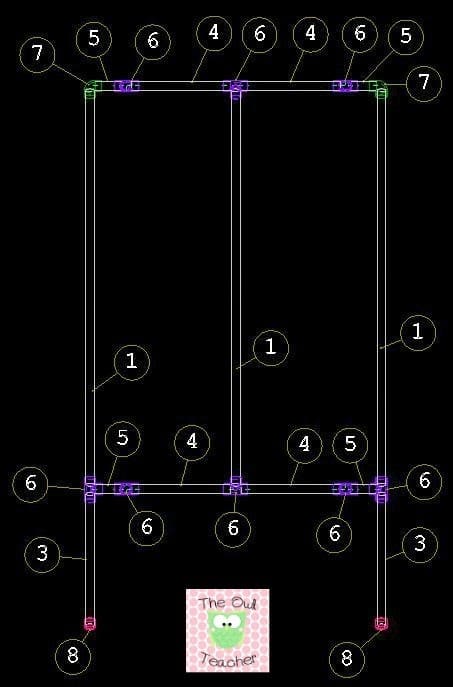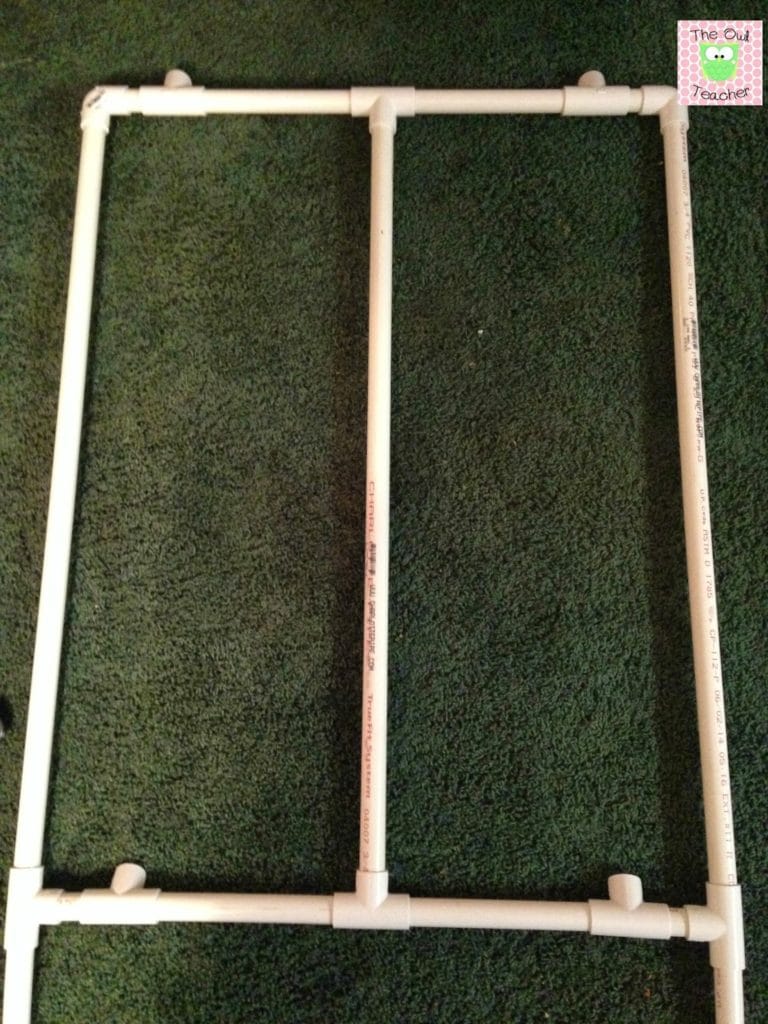 Step 3:
Assemble the front to the back (see picture below).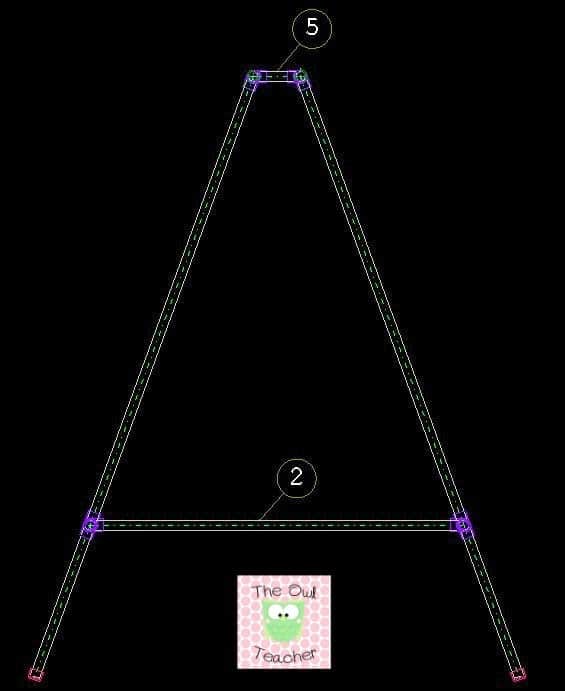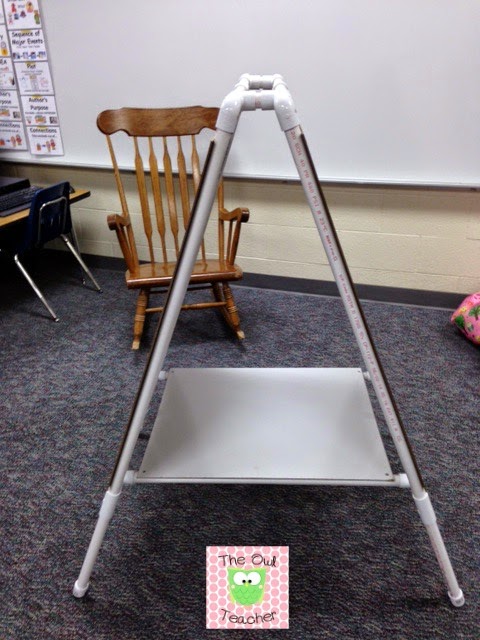 Step 4:
Attach the dry erase board with sheet metal screws. If you purchase your dry erase board from Home Depot, they will cut it to size for you. You will have to buy a 4×8 sheet. Since there is leftover dry erase board, use the extra to create the bottom shelf.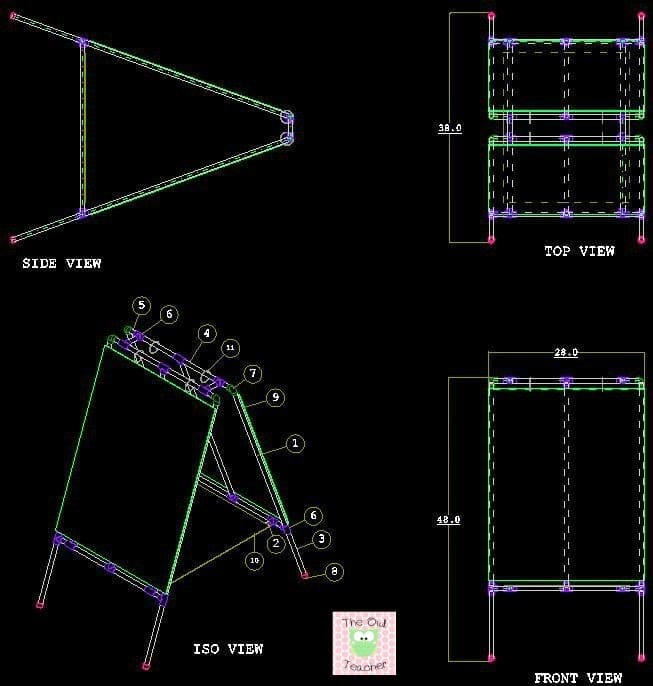 Step 5:
Add the shower rings to the top of the easel around the PVC to hold your chart paper or pocket charts!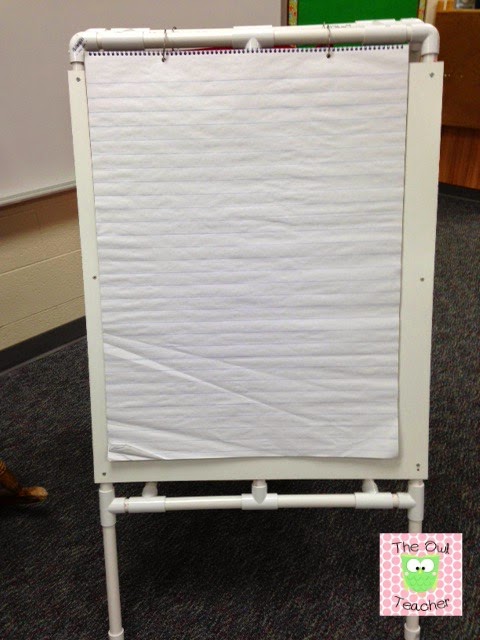 I love my new easel. The only thing I would modify is I would ask my husband to design a way to fold it down if needed. That's the only disadvantage- but compared to $300+, beggars can't be choosers. 🙂
Love DIY projects for your classroom? Check out these other ideas such as creating a DIY classroom calendar, DIY lunch tags, a DIY bingo review game, and other DIY teacher hacks.