Being The Owl Teacher, it is only natural that I would desire to have everything in my room decorated with an owl. My lunch tags are no exception. I racked my brain trying to decide how I could adorn these with an owl theme, yet be durable for a long year ahead. Then the idea struck me!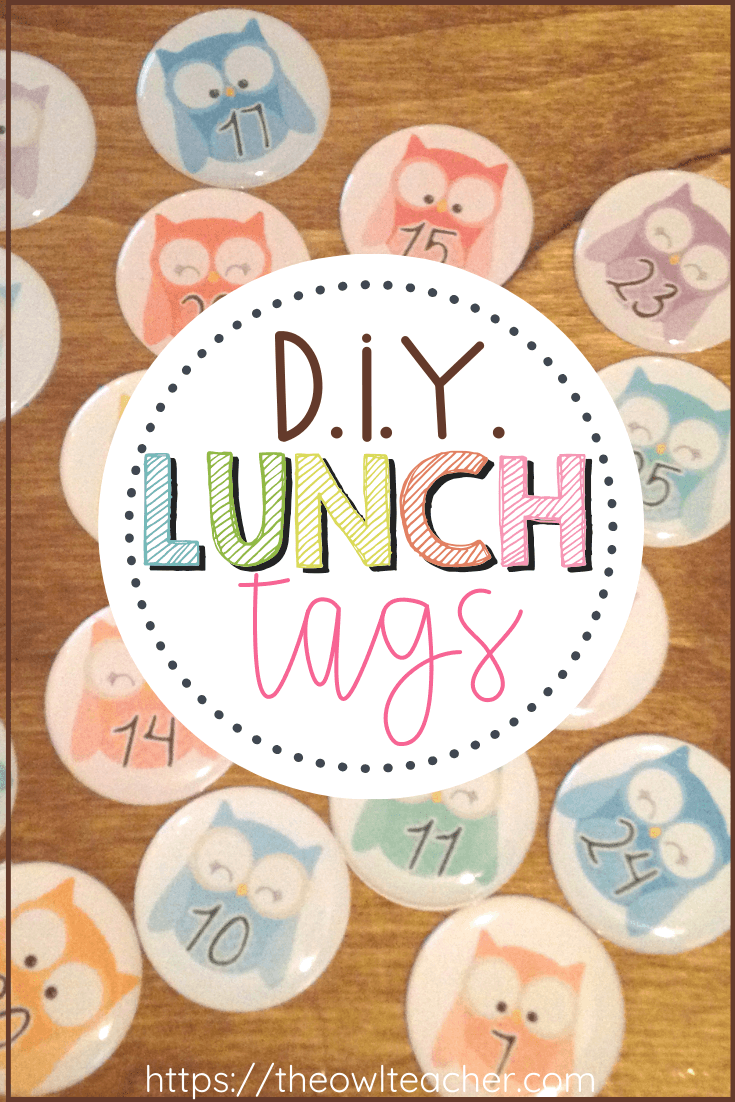 How to Make the Lunch Tags
I saw an idea on Pinterest for something completely different, but it was enough to spark my thoughts and get the wheels turning. I started my hunt for materials. It was a short hunt. I'm completely obsessed with Amazon, and the day they gave me an Amazon credit card it all went downhill! This was no exception.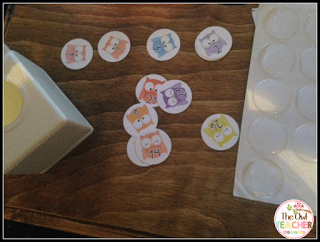 I found these inexpensive, clear, plastic, bubble-like stickers (affiliate link) here. I then went to my printer and created owls using clip art and simple text boxes to add numbers. You can download that here for free. After many attempts to determine the correct size for my bubble-like stickers (I'm sure there was a faster way, but I didn't know it!), I punched them out with the 1-inch hole puncher that I purchased at a craft store long ago. I then put the epoxy sticker over the clip art. I didn't want the back to just be paper, so I decided to add another epoxy sticker. Now my sticker bubbles were an owl clip art sandwich! Last but not least, I just pulled out my hot glue gun and glued on some magnets. Voila! I now have cute lunch tags—with OWLS!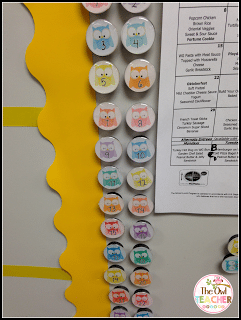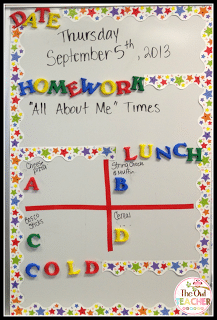 These tags stay on my whiteboard and on the side of my lunch board. The picture on the right is from 2014, and the picture on the left is 2013. I couldn't find the full picture from 2013, but it's the same concept just with different borders. (I also want to note that I love using letter magnets for my boards!)  When students arrive at school in the morning, they simply move their lunch tags to either A lunch, B lunch, C lunch, D lunch or Cold Lunch. Then the magnets remaining on the side quickly tell me who is absent (after gentle reminders if students forget to move theirs).

For more great ideas and FREEBIES, visit this section of my blog!