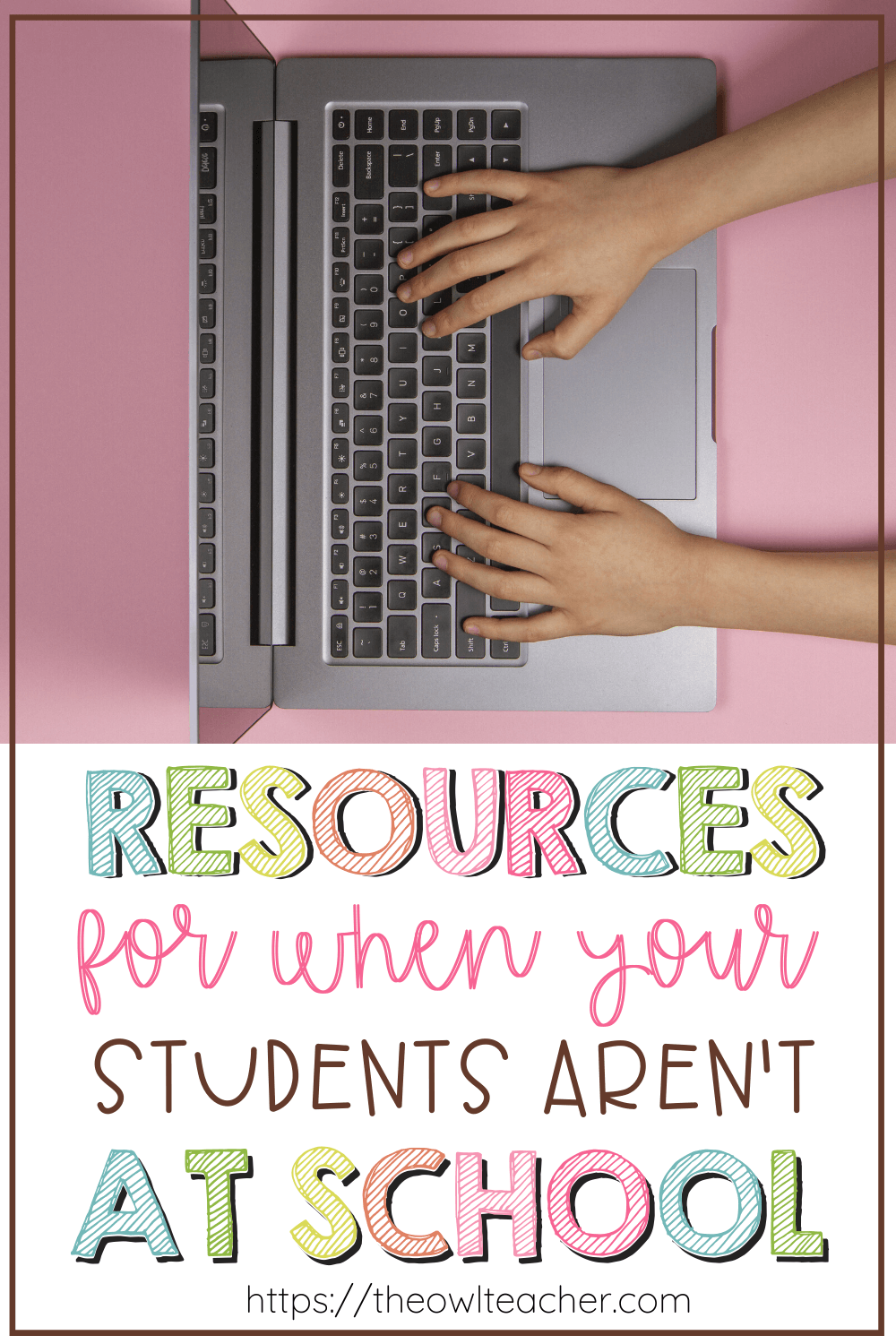 The most recent events have caused the majority of the school districts in the United States to close, providing teachers with last-minute notice and students at home for several weeks. Many of those schools are asking teachers to provide students with some learning opportunities at home, whether it be remote learning, distance learning, printed packets, or something similar. This left me wondering, what if there is a future occurrence where we need resources for our students who aren't at school for an extended period of time? How can we be better prepared?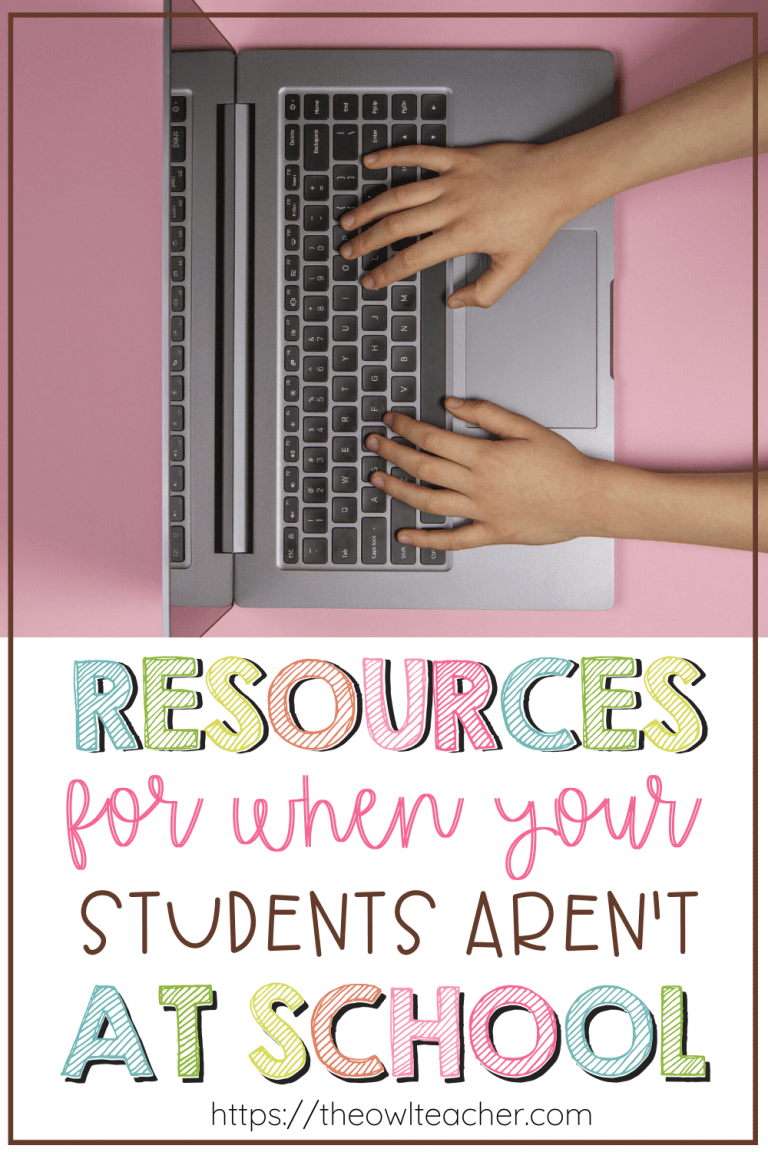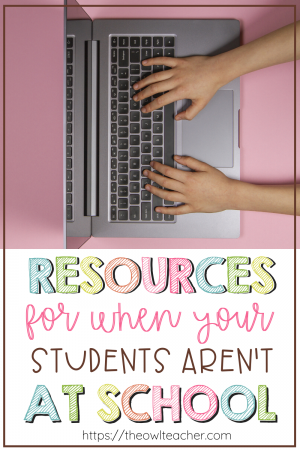 I want to provide resources not only for this current situation (distance learning) with the coronavirus but also for any future cases when we may need them. For instance, if a student is missing two weeks of school because his or her tonsils are being removed. Or for any school breaks or summer recommendations so that students do not succumb to the summer slide. It would also work wonders for students who are looking for enrichment or students who need extra remediation.
Distance Learning Resources for Offline Learning
I want to first start with students who will not have access to technology. There are still many students who do not have access to computers, or the internet. This makes it hard for them to participate in distance learning if the teachers are requesting online activities to complete. For instance, I live in a rural area and I have satellite internet. It is horrible. We pay well over $100 a month, have data caps, and extremely s-l-o-w service. It's nearly impossible to watch a simple YouTube video without it continually buffering. Streaming? Ha! Not even a possibility! If students live in an area like this, they may not have internet, or access is horrible. Some homes may only have one device and older children have a higher priority. We just never know the situation.
It's always best to consider ALL your options (and your students!) when assigning work at home.
Indoor Activities. This website by The Best Ideas for Kids has ideas that provide ideas for when students are indoors. These activities range from sensory play, crafts, activities, games, and educational activities. It is for lower elementary and some upper elementary.
Journaling. Have students journal about different topics. Consider sending home a list of questions that they have to answer or record their thoughts while justifying their answers.
Book bags. Consider sending home gallon ziplock bags with books in it, whether these be printed paper books from Reading A-Z or actual books from your library. Depending on the situation, some students may have access to their local library. (Of course, during the Coronavirus, students shouldn't be going out. I'm referring to other times.) You can also create your own digital books by going to Book Creator.
Project-Based Learning. Consider printing project-based learning activities and send these home for students to work on. These activities span over several days typically, cover multiple subjects and involve critical thinking. You can find project-based activities on TpT. Some are free and others cost. I even have some in my store. You can find them here.
Independent Work Packets. While I know that these aren't always ideal, if a student doesn't have access to the internet or a computer, this may be your best option. Providing students with packets or workbooks that break down information step-by-step and then provides extra practice could help. These resources can be found on TpT. Many resources are free, but some are paid. Consider letting parents know about this resource for those that do have access.
Games. Consider teaching your students basic math games each week. Then during downtime, they can still play these games with family members for additional practice. Most students have at least one die and a deck of cards. If you're concerned they don't, consider purchasing one for each student around the holidays from your local dollar store. They can create vocabulary cards (one card with the term and another with the matching definition) to play memory also!
Reading Challenges. This a great time to consider sending home reading challenges for your students so they are still reading and feel the excitement of a reading challenge. For instance, there is the 7 Day Read the Rainbow Challenge, Spring 2020 5 x 5 Reading Challenge, or my personal nonfiction reading challenge that you can read about. You can also find free and paid reading challenges here on TpT.
Distance Learning Resources for Online Learning
Online Reading Books. There are a lot of places you can engage your readers online. There is the website, Storyline Online, where celebrities are reading storybooks to children. A lot of professional authors read aloud their stories on their YouTube Channel, Instagram page, or Facebook Page. There are also podcasts of children's stories that are great for introducing children to podcasts and perfect for practicing listening skills.
Virtual Field Trips. These are always a lot of fun. This a great way to see places that we can't easily travel too. I have gone on Google Earth with my kiddos to explore other cities to look at their architecture, visit art museums, zoos, visit an aquarium, or some other great location! This website post by Adventures in Familyhood has 20 different ideas to get you started.
Netflix. Netflix isn't just binge-watching your favorite show in the dark without kids. It also contains some great educational content. You can check out this list of over 150 different shows from Homeschool Hideout.
Content Websites.
WebQuests. WebQuests are a great way for students to explore content material and be actively engaged. For instance, you can find a WebQuest about the Water Cycle here, a math WebQuest called Fun with Fractions, or an English Language Arts WebQuest about Figurative Language. You can get an entire database of free WebQuests on WebQuests.org and even search by grade level or subject area. You can also find WebQuests for free or paid on TpT.
Simulations. Simulations are a great way to demonstrate how things work to students when you can't actually be there physically to demonstrate something. This website, PhET Simulations, has many simulations for both science and math that you can have your students watch to learn such concepts. You can also find great social studies simulations at the Playing History website and You Are There.
Hyperdocs. Hyperdocs is a google sheet that contains a lesson that with instructions, links, tasks, and many clever ways to get kids thinking. You can find many free examples on the Hyperdocs site. You can search with a simple search term such as 3rd grade, force and motion, or something similar. You can also find them free or paid on TpT.
There are definitely more resources that you can provide your students when they aren't at school, such as for when they are out for medical reasons, school breaks or need remote learning, distance learning, or virtual learning, but this extensive list will definitely get you started and pointed in the right direction!
If you're looking for ideas for hybrid teaching, check out that category in my TpT store. You can also access it by clicking here.