I am a product of praise.
It took me years to reverse the effects that praise had on me. But I do not speak of praise as though it's a bad thing. It can be used, in moderation.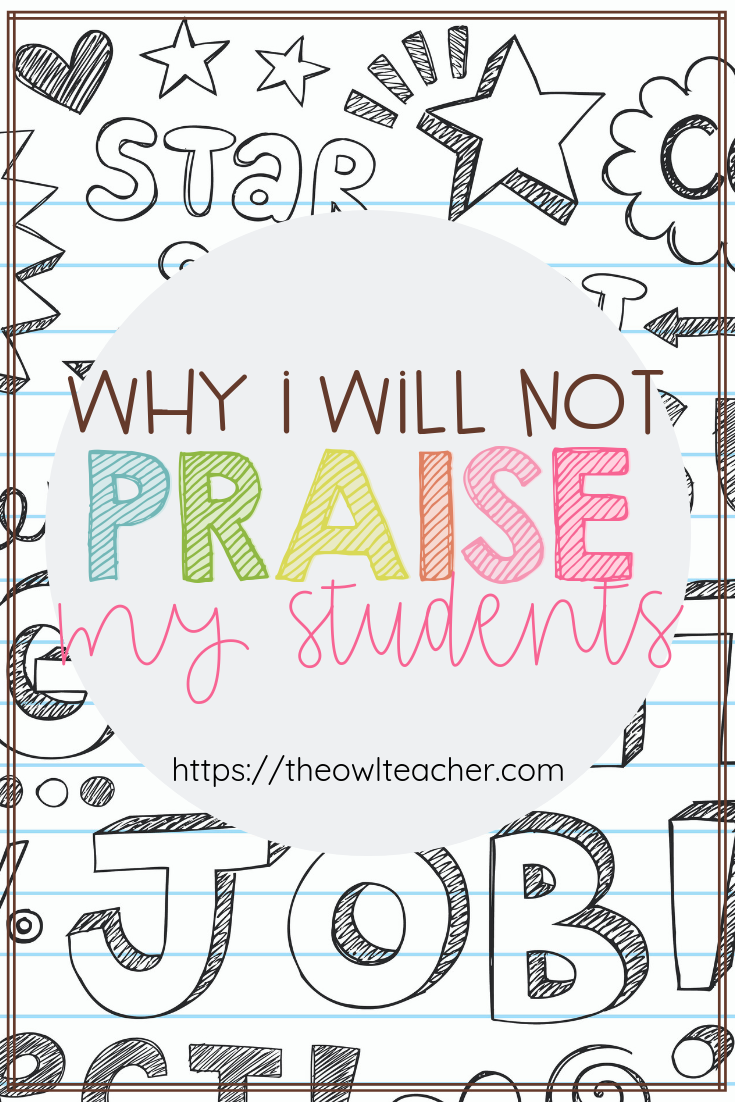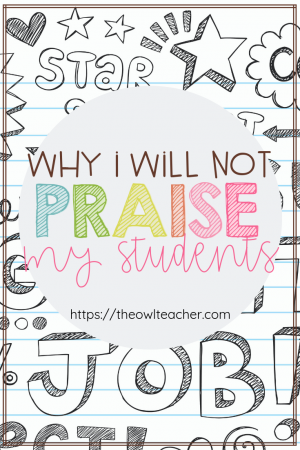 So what am I talking about exactly? Why am I speaking as though praise is a horrible drug that can lead you down a dark path of no return? Why do I refuse to use it in my classroom with my students? Well, let's go back into history…
The History of Praising
In the early '80s there was a major self-esteem movement. Some say it was more important than math or reading. The thought process was even if little Johnny couldn't read, at least he could feel better about who he was. The idea of competition was bad and everything began switching over to cooperative games and learning. Students were given awards for participating, "near-perfect" attendance, and there were no "wrong" answers. It was all about making sure that no child felt bad or left out. I could go on with this portion of history and even demonstrate how all of this led to our "age of entitlement," but that is not the focus of this blog post. I'll save that for another day. Anyway, this is where major praising began.
Understanding Praise and its Effects
At the time it didn't seem that praising children was a bad thing. They wanted them to feel good about themselves and build their confidence. We still do. Unfortunately, down the road, it led to some long term effects that weren't so great. In fact, it did the exact opposite of what they were hoping for.
Before I can go into the effects, I need to make sure we are all on the same page with what exactly praise is. According to the Google dictionary, it is: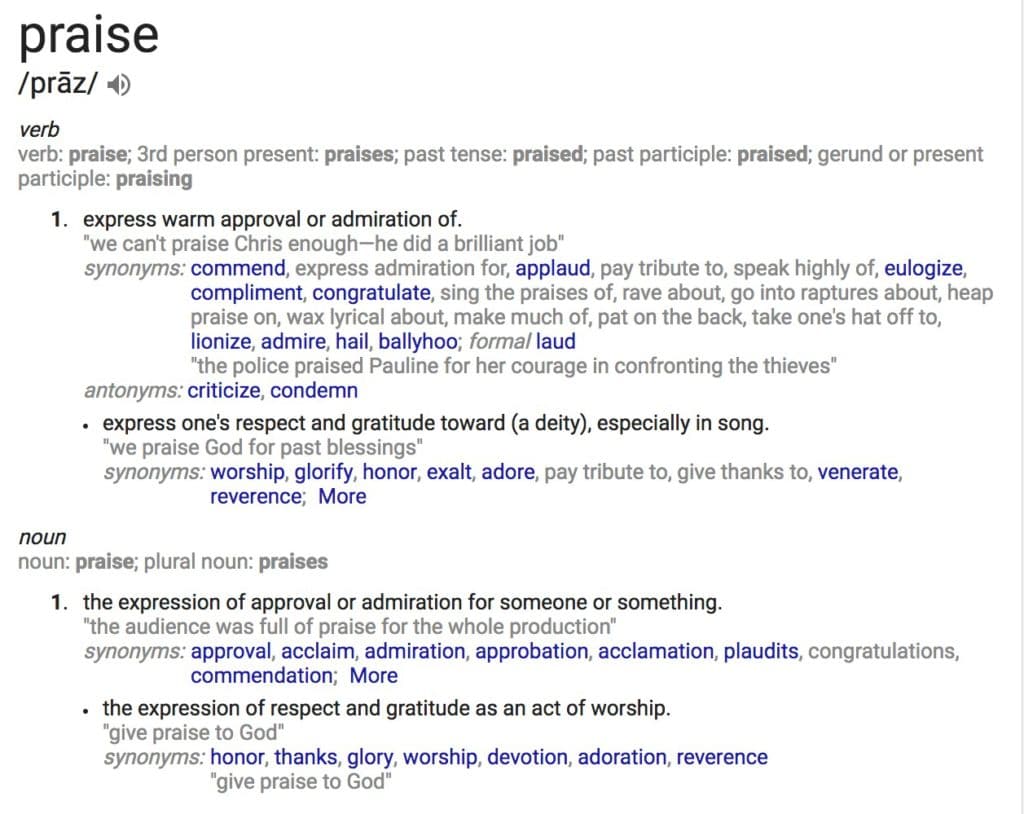 Notice that praise is an expression of approval. It could also be considered an expression of favorable judgment or glorification- especially by attribution of perfection. Does this sound like anyone we know? People, who are always in need of approval? Maybe need reassurance? Or perhaps feel the need to have things perfect?
People who are praised often end up dependent on others for what to think and for evaluation of themselves. They usually lack confidence, are afraid to take risks (for fear they'll make mistakes), and are "approval junkies." Unfortunately, they feel most worthwhile when others approve them.
This was me to a tee! In fact, if someone hadn't said anything to me in a while, I was instantly worried that I did something wrong. I constantly needed reassurance that I was doing okay. I had to learn how to stop being more focused on how others thought of me and become more focused on what I thought of myself.
Switching Gears to Encouragement
It is not always easy to change habits. It has to be taken one day at a time and we will make mistakes. But it's the effort that counts. This is an encouragement mindset. Just like before, according to Google dictionary: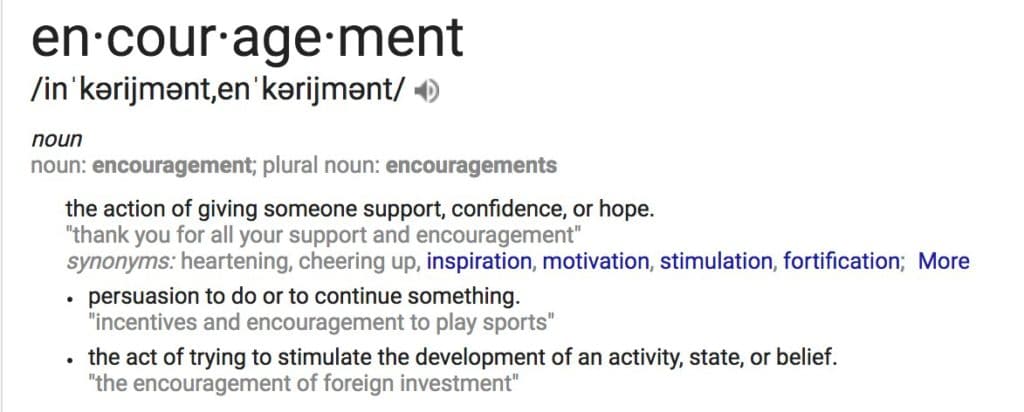 Notice that encouragement actually has the word courage in it. The definition actually states to give someone confidence and support! How awesome is that? I didn't see that in the definition of praise.
When people are encouraged they are the complete opposite of praise. They choose challenging tasks because they feel more confident. They are more independent (because no one wants to spoon feed our students right?), more self-reliant, and able to self-evaluate. They are capable of recognizing their own abilities and they have self-esteem!
The Language Differences
Typically when a person is praising another the language is more "person" focused. It often expresses a judgment on the part of the person saying the words and has a patronizing, manipulative tone. It is typically language that is used with a child and would never be used with an adult. For instance:
"Good girl/boy."
"I like the way Johnny is sitting."
"You did it right."
"Yes, it's beautiful."
"I'm proud of you."
The language of encouragement is more respectful and appreciative. It focuses more on deed, effort, and improvement. Typically questions are reflected back at the child, along with empathy. The idea is to teach students how to think, rather than what to think.
"Good job."
"Thanks for helping."
"What do you think/feel/learn?"
"Who can show me how we should be sitting now?"
"How do you feel about what you accomplished?"
Stop Praising, Start Encouraging
The best way to get started is by starting small. Try to leave out judgment words such as 'good,' 'bad,' 'perfect,' 'nice.' Try to use phrases such as "I noticed…", "I appreciate…", and "I know you can…". Just gradually try to catch your language. Don't give up if you have a day where you are praising more than you are encouraging. It takes time.
Try to think of praise as candy – it's sweet and wonderful but only on occasions. You wouldn't want to eat it as a meal each day.
Here is an infographic for you as a quick overview and reminder. You can download it here if you want it in PDF form.