We all have students who need to improve their writing skills, whether it's improving their ideas, grammar, or going all the way back to learning to write a paragraph. Today, I'm going to share with you 10 tips to help your students become better writers.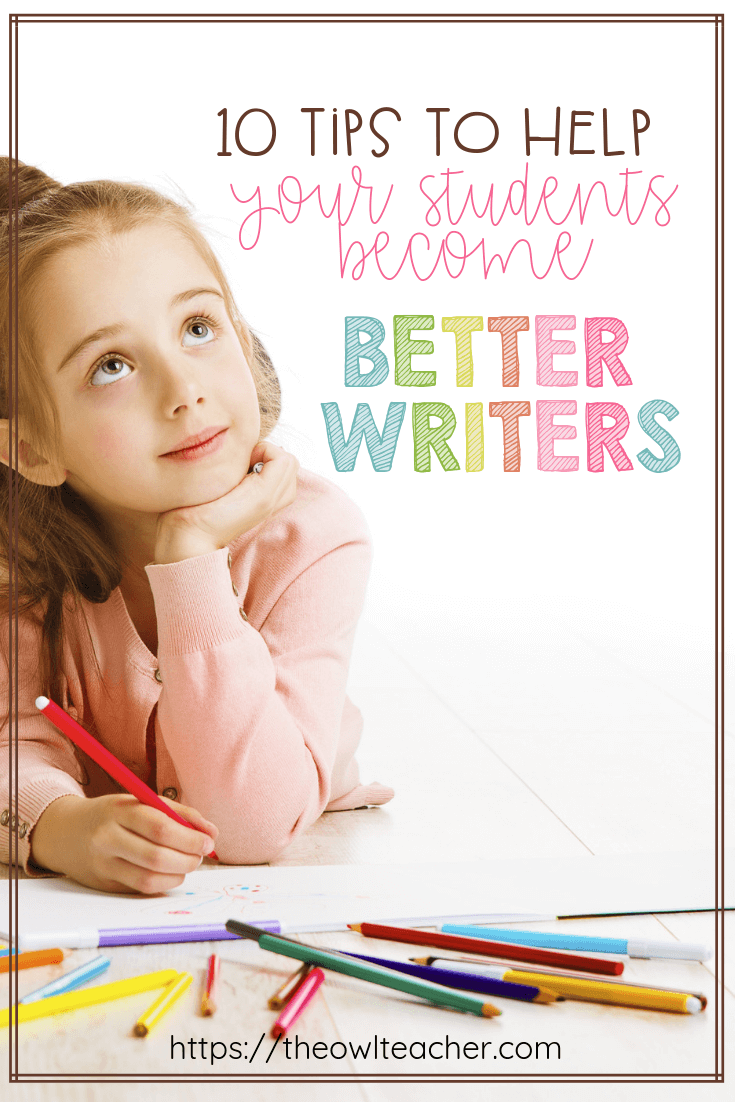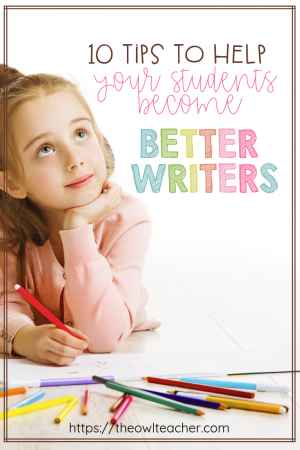 1.) Teach your students proper paragraph writing. When your students understand the proper structure of writing paragraphs, then they are ready to focus on ideas, word choice, and much more. It's very similar to reading. We can't teach comprehension before we teach decoding and fluency.
2.) Teach the 6 Traits of writing. In some form, teach the 6 Traits. This means teaching students about focusing on ideas, organization, word choice, voice, sentence fluency, and conventions. If you can only focus on a few of these, ideas are a huge priority often on writing tests along with word choice. Leads, transitions, and conclusions are lumped in with organization and that is a priority, too.
3.) Write in front of your students. When I first started teaching in writer's workshop, it was very difficult for me to write in front of my students off the top of my head. In fact, I hated it. So, I cheated a bit. I prewrote my material at home and then copied it as I wrote in front of my students. I still modeled my "think aloud" so that students could see what I was thinking during the time I was writing it (at home). I just couldn't write on the spot; It was too much pressure. Students really need to see your process of thinking as you write and see you write.
4.) Analyze writing pieces for their strengths and weaknesses. Regularly I provide my students with writing pieces. Sometimes it is a full piece, other times it is just a paragraph. In groups, students will analyze the piece for whatever concept we are working on. Then, they will separate it into categories of 'needs improvement' or 'good.' Students have to justify their reasoning and if it's a needs improvement piece, they have to rewrite it so it is good.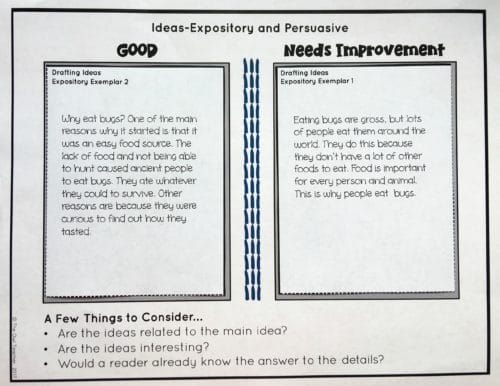 5.) Make writing a regular routine. It's easy to only write during the writing portion of the day and call it good. Instead, try to write across the curriculum. Extend writing into all subject areas (including math!) by having students summarize, compare and contrast ideas, or answer journal concepts. I've integrated writing into science with a variety of activities, implemented state research projects, and have engaged students with current events in the classroom. Students need to see writing in everything and begin to feel comfortable with it.
6.) Consider motivating factors – SIC. I remember when I first started teaching if I saw SIC, it meant Spelled Incorrectly. In this case, it means S-success, I-interest, C-choice. What I mean by this is students are motivated by their perceived ability of success. If they feel they can do something, they will be more motivated. If they are interested in the topic, they will be more motivated. If they have choice (narrow it if need be) they are more motivated. So, remember SIC.
---
Check out these related products
---
7.) Write MANY products of the focused genre to promote mastery. I have in the past (and heard of colleagues who have) taught a genre such as persuasion and students just wrote one major piece. Throughout that piece there were mini-lessons, but ultimately, one piece was written. Students need to write many products in the genre to get better at it. It doesn't need to be a perfect polished piece each time. Just like with math, the more we practice, the better we get.
8.) Teach students what is expected of them. Go over the rubric with students so they are aware of what you are grading them on in each piece. It would also be a good idea to encourage students to start reflecting on their own work and check it against the rubric before turning it in.
9.) Read regularly and use mentor texts frequently to model good writing concepts. I am a huge fan of picture books, even in the upper elementary classroom. You can teach many concepts using these books and they are perfect for helping students see first-hand great writing. When students read regularly they pick up the language, the style, and the vocabulary. It's easy for them to start mimicking it in their writing. My daughter is a fabulous writer and I strongly believe it is because she reads and reads and reads.
10.) Teach students the writing process. I know right now you are thinking "everyone probably teaches the writing process, nothing new here"- but hear me out. It's important that we teach the different phases, but sometimes students think they revise once and they are done. Nope. Famous writers revise and revise and revise and … I could really be here all day writing that. We need to help students understand that they don't just plan, write, revise, edit, and be done.
You can help your students become better writers. With these 10 tips, it is possible for your students to write for success!