We all have them, and we are all doing it: teaching with outdated textbooks. In fact, technology and our informational knowledge is on such an overload that it is often outdated or changed before the textbooks are published and shipped to the schools. While textbooks should NOT be driving our curriculum and should instead be used as a tool, they are still vital resources. When they're outdated, it can make planning a bit of a challenge. It's a good thing that teaching is more about our instructional practices and techniques!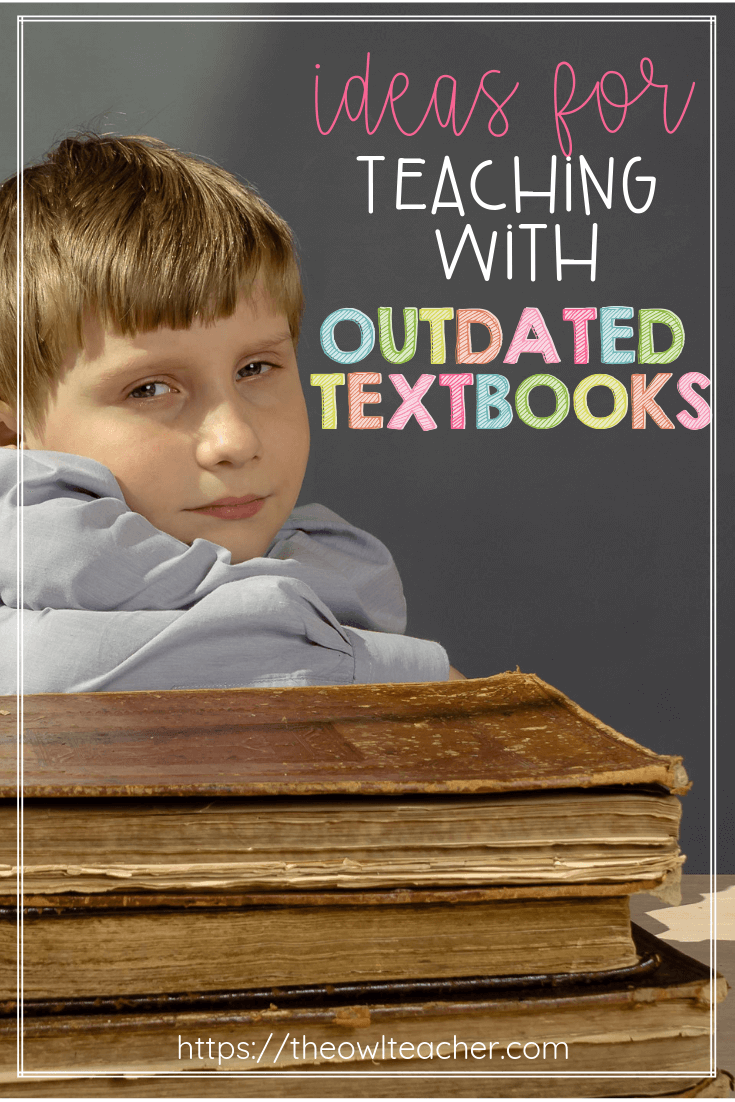 Below, I have created a list of ten ideas to help you teach with outdated textbooks – no matter how outdated they are. Add these to your instructional practices, and you're bound to still meet your curriculum goals while utilizing that old (and possibly falling apart) book that still calls Russia the USSR. 😉
10 Ideas for Teaching with Outdated Textbooks
1.) Consider supplementing with the internet. I know this isn't always possible in every school or classroom, but if you can get in some lab time, you can find lots of resources online, such as virtual field trips, online animations, demonstrations, and video clips. It's not just science-based. There are many content areas.
2.) Subscribe to magazines and/or online articles. Some articles are online for free – just print and copy for students or place on your projector. Time for Kids, Scholastic News, Storyworks, Reading A-Z, and Wonderopolis are just a few off the top of my head. There are many more!
3.) Of course, I couldn't go without putting in a plug for Teachers Pay Teachers! You can find so many great resources that are made by highly qualified teachers and that have personally been tested in their own classrooms! (It's not like when decisions are being made by people who are not in the classroom – ahem, politicians. These are created by people in the classroom – that's AWESOME!)
4.) Check out your local library for picture books and library books. Use trade books that you have lying around from current/past textbook resources. I have even used the local colleges to borrow materials. It's a little "leg" work at first, but it's worth it. It creates that "research/inquiry"-type environment (and it's more up-to-date!).
5.) There are lots of opportunities to write grants and/or participate in donation projects, such as DonorsChoose. I have also seen people create GoFundMe Accounts. Check with your administration to find out more about grants. I worked with one colleague who was incredibly skilled at getting grants!
6.) Consider using the workshop model for math, reading, and writing. This model doesn't usually use textbooks (but, of course, they can be used) and typically thrives off of mini-lessons and picture books to demonstrate the teaching point.
7.) Education is actually moving toward a more paperless trend, and utilizing technology, such as Google Docs, is becoming more and more common. Here you can post links, handouts, and other information you want your students to become familiar with related to your topic of study. Other types are Moodle, LiveBinders, or even class blogs.
8.) Some textbook companies will actually have online resources and materials. Some will be related to your textbook, while others will not. I have also seen some textbook companies place samplers online and some resources free. The only downside is you have to do some searching for them.
9.) Discovery Education is a fantastic resource, but it's not free. Most (though not all) school districts have a subscription or something similar to it. It's a video library that often comes with teacher discussion questions and other resource materials. You can sort based on grade level, content area, topic, and much more. Other alternatives are, of course, YouTube (be careful!), Teachertube, BrainPOP, LearnZillion, and Khan Academy.
10.) Lastly, go ahead and use the textbook! Teaching with outdated textbooks is not all bad! You could rewrite outdated parts as a class. Use it as a teachable moment to discuss how things have changed and evolved. Compare and contrast the textbook with the print materials/digital materials listed above.
If all else fails, instead of teaching with outdated textbooks, you could instead use the textbook as a guide for creating your own supplementary materials and "scope and sequence." Overall, my point is that just because the textbook is outdated doesn't mean you should just toss it aside and not utilize it. It definitely still can be used as a tool or resource!