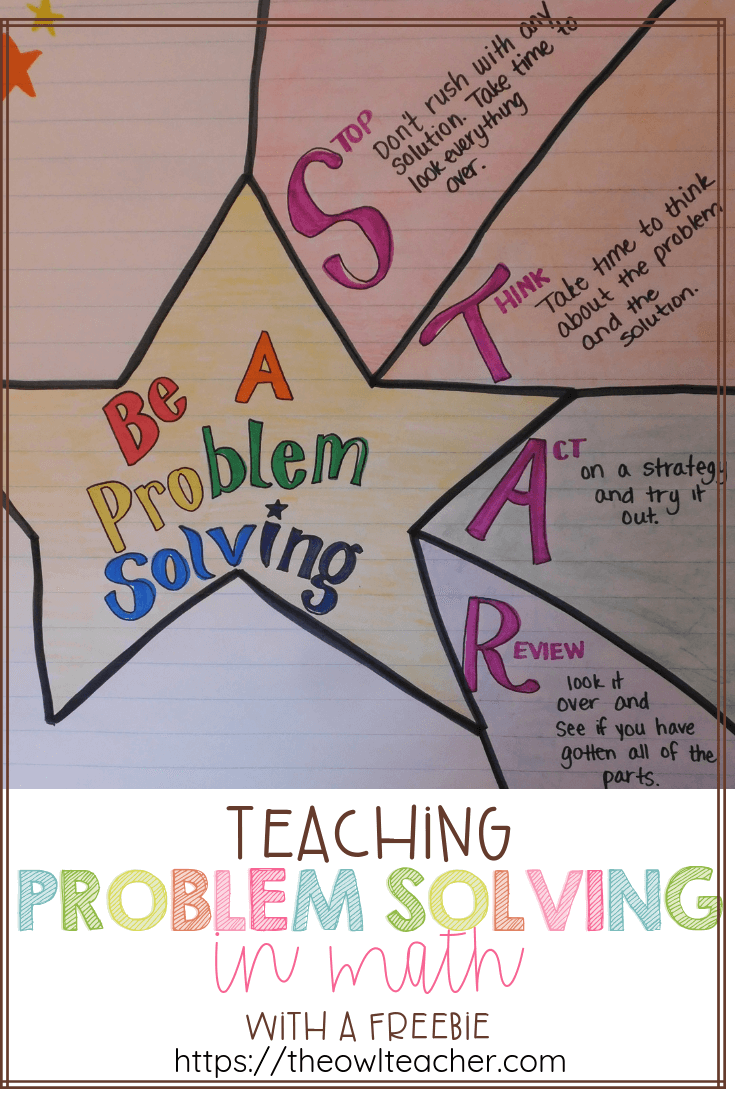 Every year my students can be fantastic at math…until they start to see math with words. For some reason, once math gets translated into reading, even my best readers start to panic. There is just something about word problems, or problem-solving, that causes children to think they don't know how to complete them.
Every year in math, I start off by teaching my students problem-solving skills and strategies. Every year they moan and groan that they know them. Every year – paragraph one above. It was a vicious cycle. I needed something new.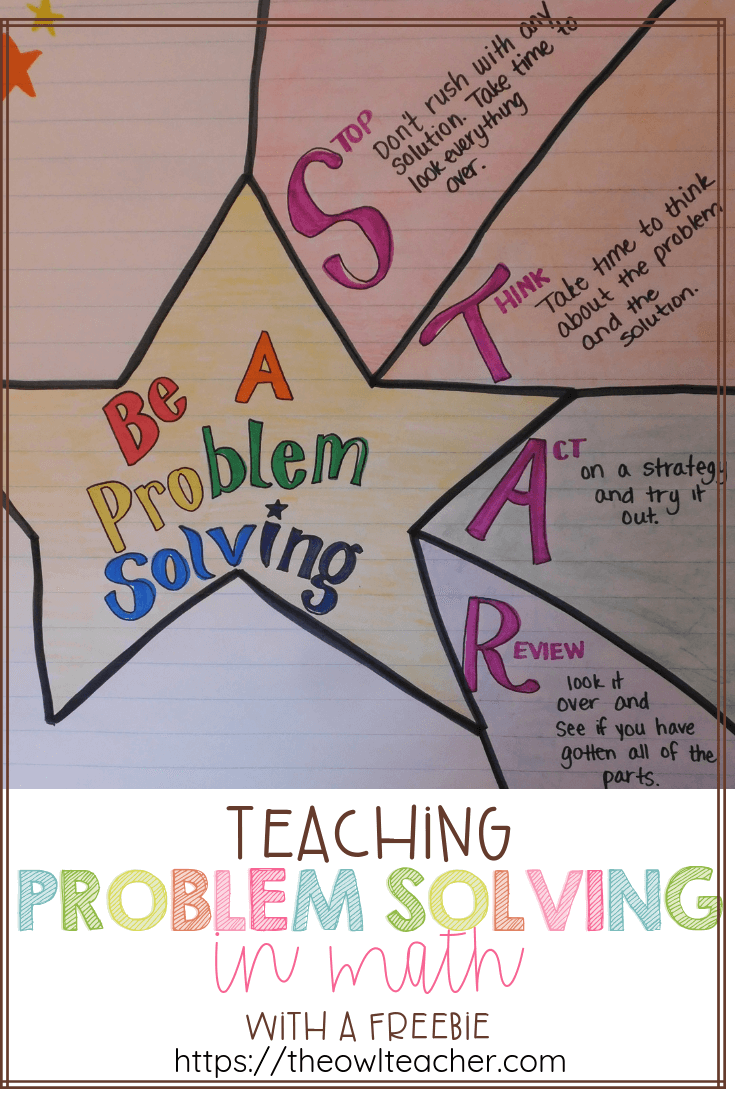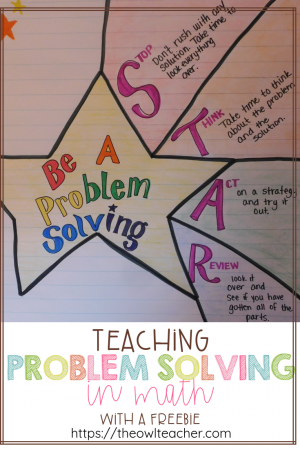 I put together a problem-solving unit that would focus a bit more on strategies and steps in hopes that that would create problem-solving stars.
The Problem Solving Strategies
First, I wanted to make sure my students all learned the different strategies to solve problems, such as guess-and-check, using visuals (draw a picture, act it out, and modeling it), working backward, and organizational methods (tables, charts, and lists). In the past, I had used worksheet pages that would introduce one and provide the students with plenty of problems practicing that one strategy. I did like that because students could focus more on practicing the strategy itself, but I also wanted students to know when to use it, too, so I made sure they had both to practice.
I provided students with plenty of practice of the strategies, such as in this guess-and-check game.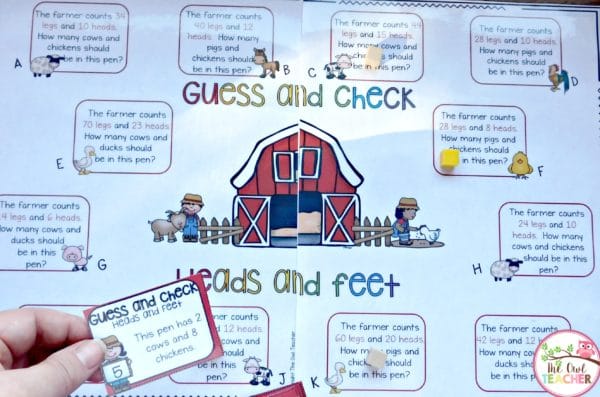 There's also this visuals strategy wheel practice.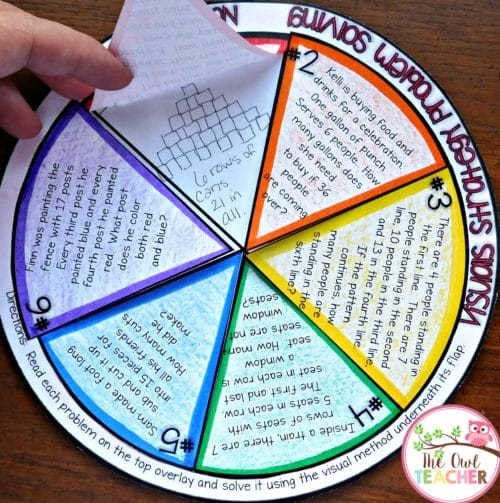 I also provided them with paper dolls and a variety of clothing to create an organized list to determine just how many outfits their "friend" would have.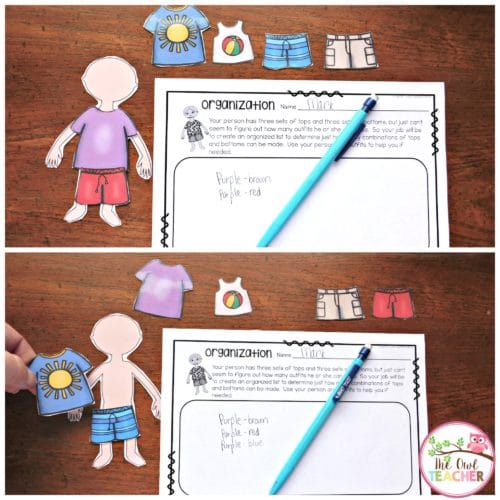 Then, as I said above, we practiced in a variety of ways to make sure we knew exactly when to use them. I really wanted to make sure they had this down!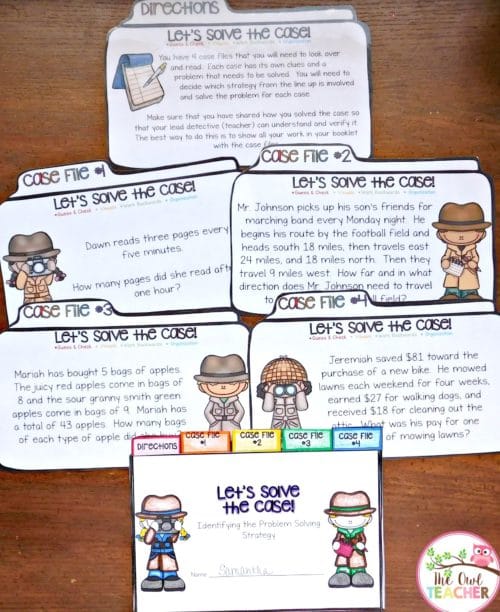 Anyway, after I knew they had down the various strategies and when to use them, then we went into the actual problem-solving steps.
The Problem Solving Steps
I wanted students to understand that when they see a story problem, it isn't scary. Really, it's just the equation written out in words in a real-life situation. Then, I provided them with the "keys to success."
Step 1 – Understand the Problem. To help students understand the problem, I provided them with sample problems, and together we did five important things:
read the problem carefully
restated the problem in our own words
crossed out unimportant information
circled any important information
stated the goal or question to be solved
We did this over and over with example problems.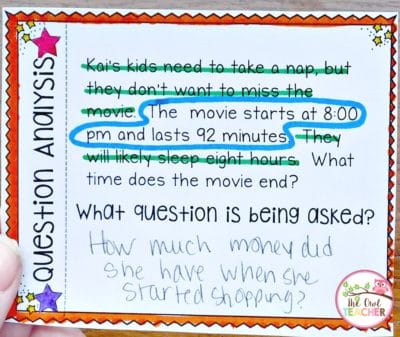 Once I felt the students had it down, we practiced it in a game of problem-solving relay. Students raced one another to see how quickly they could get down to the nitty-gritty of the word problems. We weren't solving the problems – yet.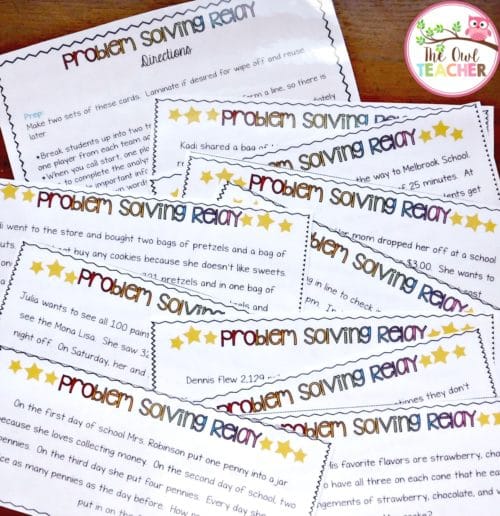 Then, we were on to Step 2 – Make a Plan. We talked about how this was where we were going to choose which strategy we were going to use. We also discussed how this was where we were going to figure out what operation to use. I taught the students Sheila Melton's operation concept map.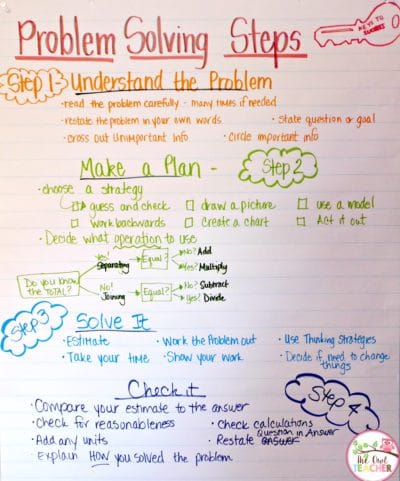 We talked about how if you know the total and know if it is equal or not, that will determine what operation you are doing. So, we took an example problem, such as:
Sheldon wants to make a cupcake for each of his 28 classmates. He can make 7 cupcakes with one box of cupcake mix. How many boxes will he need to buy?
We started off by asking ourselves, "Do we know the total?" We know there are a total of 28 classmates. So, yes, we are separating. Then, we ask, "Is it equal?" Yes, he wants to make a cupcake for EACH of his classmates. So, we are dividing: 28 divided by 7 = 4. He will need to buy 4 boxes. (I actually went ahead and solved it here – which is the next step, too.)
Step 3 – Solving the problem. We talked about how solving the problem involves the following:
taking our time
working the problem out
showing all our work
estimating the answer
using thinking strategies
We talked specifically about thinking strategies. Just like in reading, there are thinking strategies in math. I wanted students to be aware that sometimes when we are working on a problem, a particular strategy may not be working, and we may need to switch strategies. We also discussed that sometimes we may need to rethink the problem, to think of related content, or to even start over. We discussed these thinking strategies:
switch strategies or try a different one
rethink the problem
think of related content
start over
decide if you need to make changes
check your work
but most important…don't give up!
To make sure they were getting in practice utilizing these thinking strategies, I gave each group chart paper with a letter from a fellow "student" (not a real student), and they had to give advice on how to help them solve their problem using the thinking strategies above.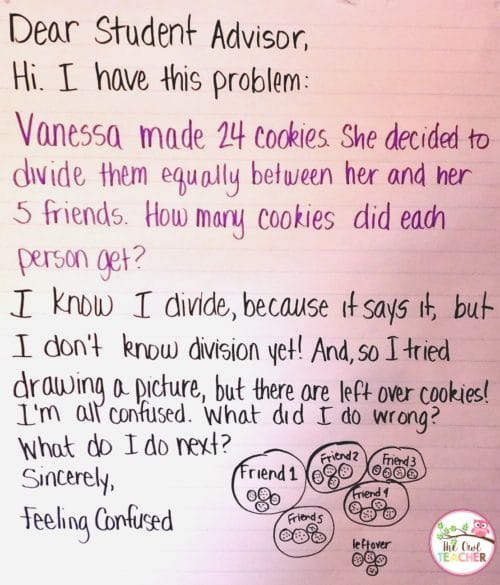 Finally, Step 4 – Check It. This is the step that students often miss. I wanted to emphasize just how important it is! I went over it with them, discussing that when they check their problems, they should always look for these things:
compare your answer to your estimate
check for reasonableness
check your calculations
add the units
restate the question in the answer
explain how you solved the problem
Then, I gave students practice cards. I provided them with example cards of "students" who had completed their assignments already, and I wanted them to be the teacher. They needed to check the work and make sure it was completed correctly. If it wasn't, then they needed to tell what they missed and correct it.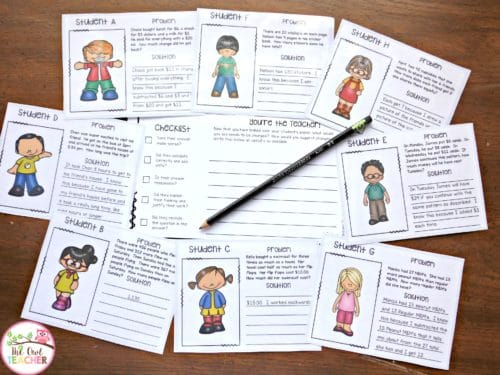 To demonstrate their understanding of the entire unit, we completed an adorable lap book (my first time ever putting together one or even creating one – I was surprised how well it turned out, actually). It was a great way to put everything we discussed in there.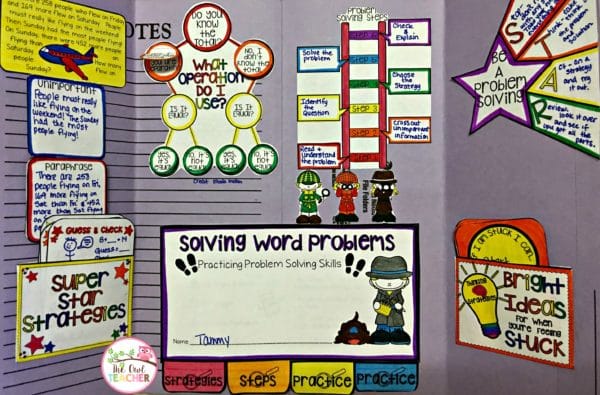 Once we were all done, students were officially Problem Solving S.T.A.R.S. I just reminded students frequently of this acronym.
Stop – Don't rush with any solution; just take your time and look everything over.
Think – Take your time to think about the problem and solution.
Act – Act on a strategy and try it out.
Review – Look it over and see if you got all the parts.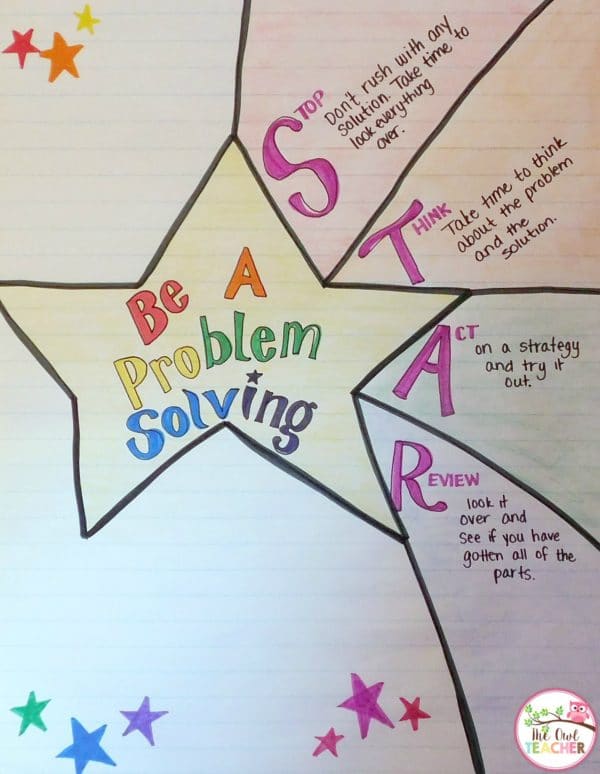 Wow, you are a true trooper sticking it out in this lengthy post! To sum up the majority of what I have written here, I have some problem-solving bookmarks FREE to help you remember and to help your students!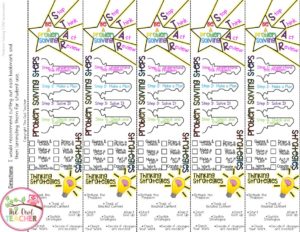 You can grab these problem-solving bookmarks for FREE by clicking here.
You can do any of these ideas without having to purchase anything. However, if you are looking to save some time and energy, then they are all found in my Math Workshop Problem Solving Unit. The unit is for grade three, but it may work for other grade levels. The practice problems are all for the early third-grade level.