If you're anything like me, the start of the school year can leave you with piles of papers, memos, and more. You may start out with a mission to stay uber-organized, but by the end of first quarter, you're a mess. Start out (and stay) strong with these teaching hacks to get you organized this school year.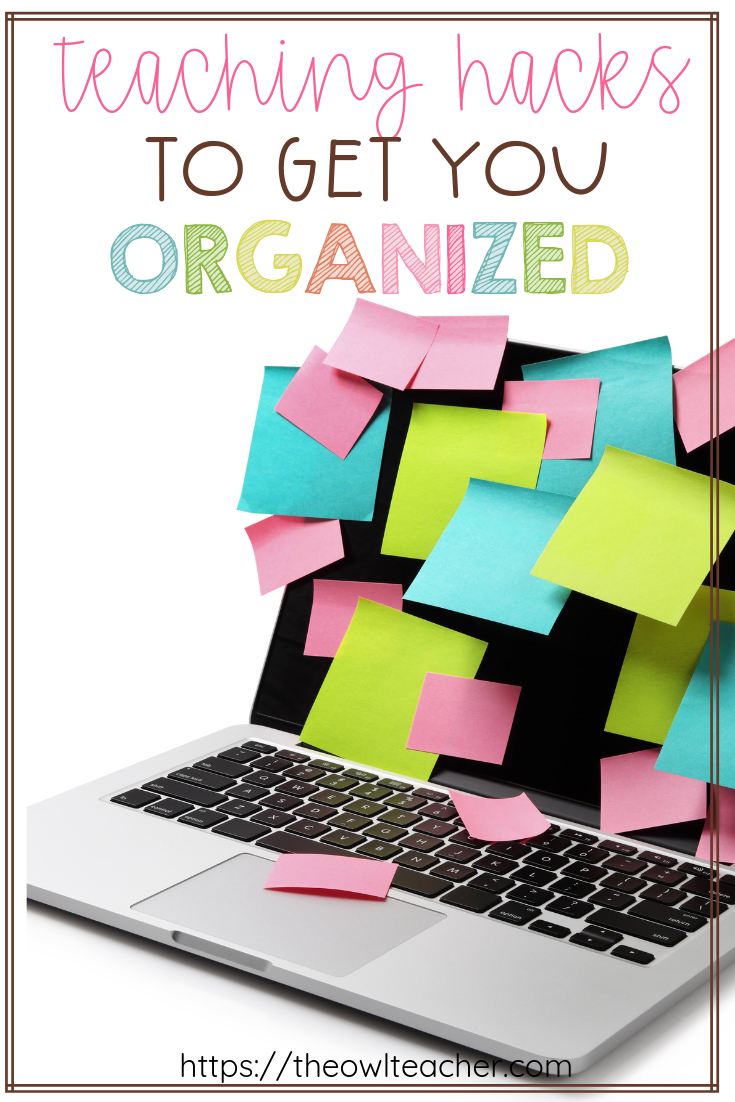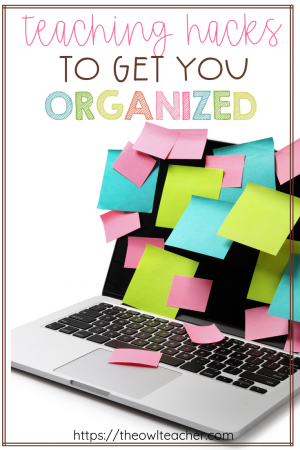 Check out these Teaching Hacks to Get You Organized
Ask yourself, "can I get it digitally?"
Whenever you receive a memo, want to file an original of a worksheet, or think about printing out lesson plans to save, consider whether or not you have a copy in a digital format. Organizing your Dropbox or Google Drive is less of a cluttered ordeal than filing away weeks, months, or even years worth of papers. Plus, pressing the delete button is much more environmentally friendly than placing a paper in the trashcan (or even the recycling bin).
Get it off your desk.
Get the folders with student work, writing utensils, and other supplies off your workspace. Hanging file folders on the wall make it easy to organize the papers to grade. Organizing by content area makes it a breeze to grab a folder, and leave a comment for your students before getting them off your desk once again. Travel makeup organizers are awesome for holding pens, pencils, paper clips, rubber bands, and other small items. Hang them on a removable hook on the wall, and your desk is free of clutter!
File those posters.
You have dozens of them. Inspirational, motivational, and every content area. . .your posters are taking over your closets and your classroom! Pick your favorites, then file the rest away. Check out my easy method of getting the posters under control with binder clips and files.
Have an absent student file.
Keeping track of what students need when they are not in school can leave you with mountains of paper and projects. Keep a file folder for each student at the front of your room in a bin. When the student is absent, stick the needed papers in their folder. The student can check the next day, and take everything they need to complete, whether it's papers to go home or classwork. You can even assign another student to put papers in the folders for missing classmates. For more ideas on managing absent students' work, check out this post.
Ask for help.
This may not seem like a hack, but it's so easy to forget that there are parents that really want to help keep your classroom running like a well-oiled machine. Enlist the help of volunteers to file materials, laminate bulletin board decor, check reading logs, or other tasks. This will keep these duties off your plate and help you concentrate on what really matters: building relationships with your students and helping them grow as learners!
These teaching hacks to get you organized will help keep the mess out of your classroom and your mind as you go forth and have a successful, productive school year.