On the hunt for a cute
St. Patrick's Day
activity? Why not have your students write a limerick, then attach it to an adorable lucky shamrock?
After teaching my students all about rhyme scheme and limericks, and brainstorming words that rhyme (so many got hung up on words that rhyme with clover… Spoiler alert: there aren't many), we became Irish Poets. We wrote our limericks on special green paper (come on, what's a St. Patrick's Day activity without green paper?!) and then attached it to a large cut out of a shamrock. Students then got creative by decorating their faces. I am always amazed by how many students decorate them with facial hair. It cracks me up every time! After decorating our hairy shamrocks, we created some accordion legs and arms, attached a smaller shamrock for hands and feet, and hung them up. As you can see, they truly got into the St Patrick's Day activity spirit! While often our students may associate holidays with candy and parties, this St. Patrick's Day activity was enough to keep them from requesting sweet treats!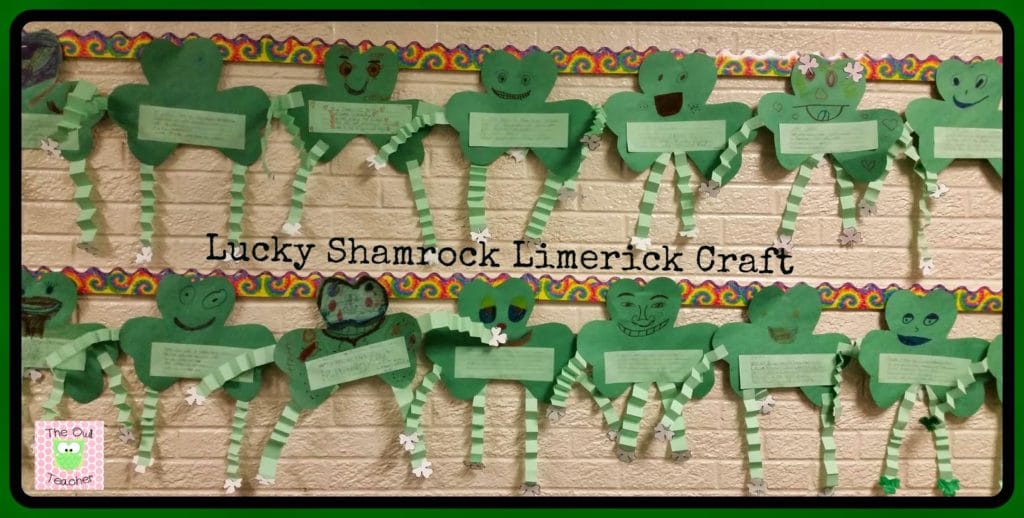 I'm sure your students would feel lucky to be able to do this fun craft. After all, you can't have St. Patrick's Day without a little luck! 🙂

Get Weekly Freebies!
Sign up for our short & sweet newsletter to get a freebie each week! It's quick and to the point, because you are busy!