All right, so we have spent the last few blog posts talking about what math workshop is (see post here), using math warm ups in math workshop as an opener, and the math tools every math workshop needs. Today, we are going to talk about the nitty gritty! We are going to talk about math workshop in action.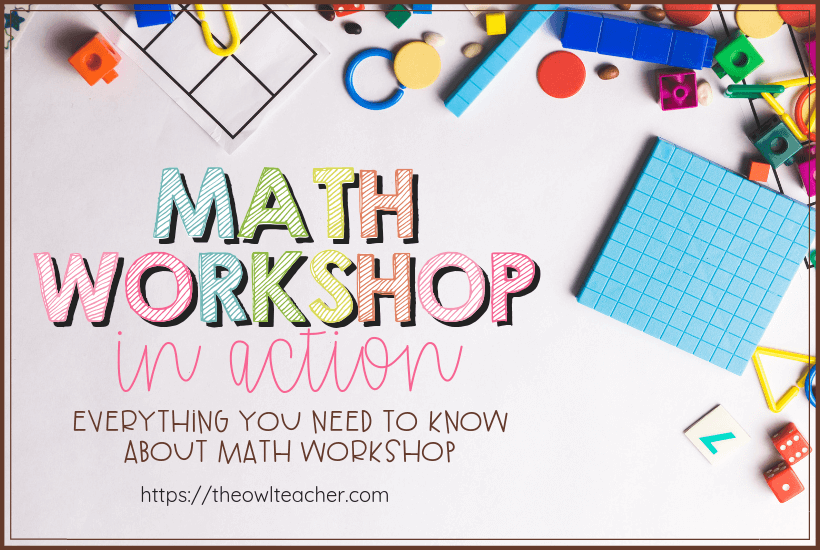 What You Need to Know About Math Workshop
Here's a very quick overview of workshop:

During my math period, I start off each math session with a ten minute warm-up. This varies based on my students' needs and my mood. Sometimes it is just a simple math stretcher (see a previous post about these
here
) or we practice fact fluency. Other times we may review the previous day's lesson.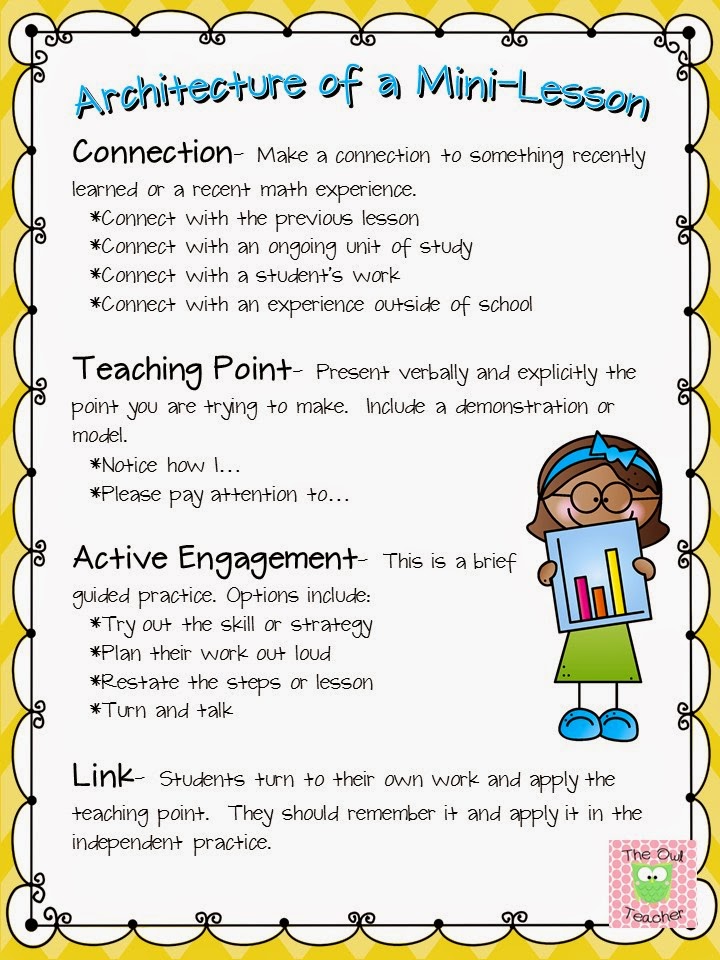 After our warm-up, I move into my mini-lesson. I actually pull all my students over to the easel with chart paper. The students bring their math notebooks where they take notes. I briefly go over vocabulary and concepts by modeling what to do and how to do it. Sometimes, if I have time, I will walk them through the problem again but ask what I should do next. I will then give students a math problem to try out themselves. They will copy it down in their notebook, writing it next to the notes they copied from the anchor chart as I was teaching the lesson. As they are trying out the problem, I will peek over their notebooks and watch them try it out. If I see anyone struggling to get started or having difficulty, I will write their number on my post-it note. These are the students I will watch more carefully during small group and possibly target during conferring time if they are still struggling after small groups. If I'm not able to get around and see everyone work through the first problem presented, I will try to give a second problem and then check on those I haven't seen yet. Each group will spend about 15 minutes in each rotation (so about 45 minutes total).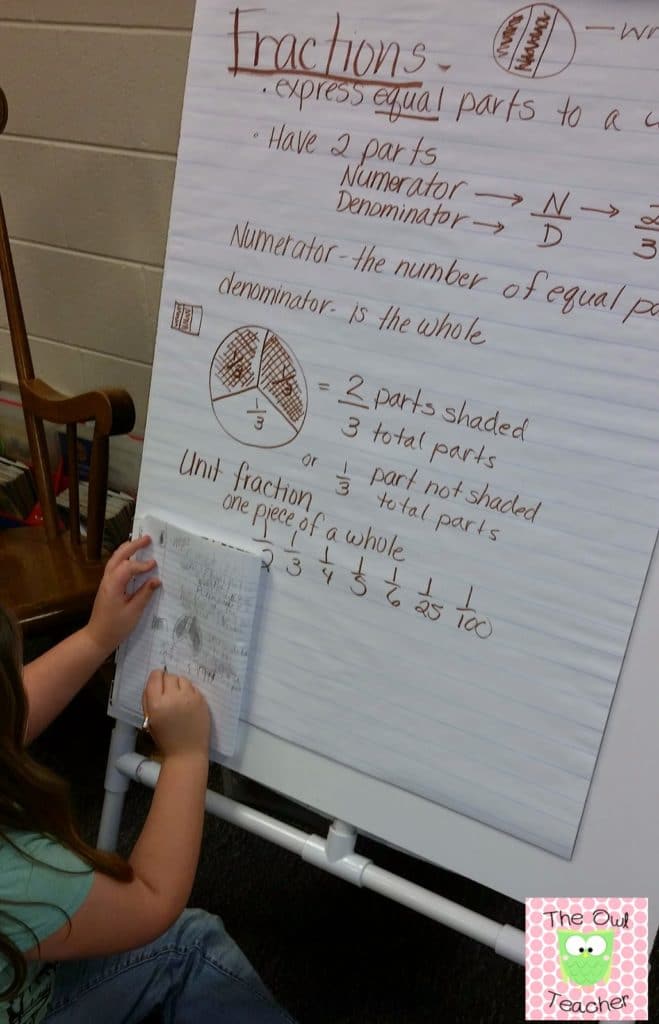 After my mini-lesson, I review where students are going and what they will be doing. Then I send them off. I used to have a rotation chart on chart paper that was pretty simple. This year I'm not using it. Instead, I just printed off where they were going during each rotation and gave that information to students. Some groups find all that information in the chart paper too distracting.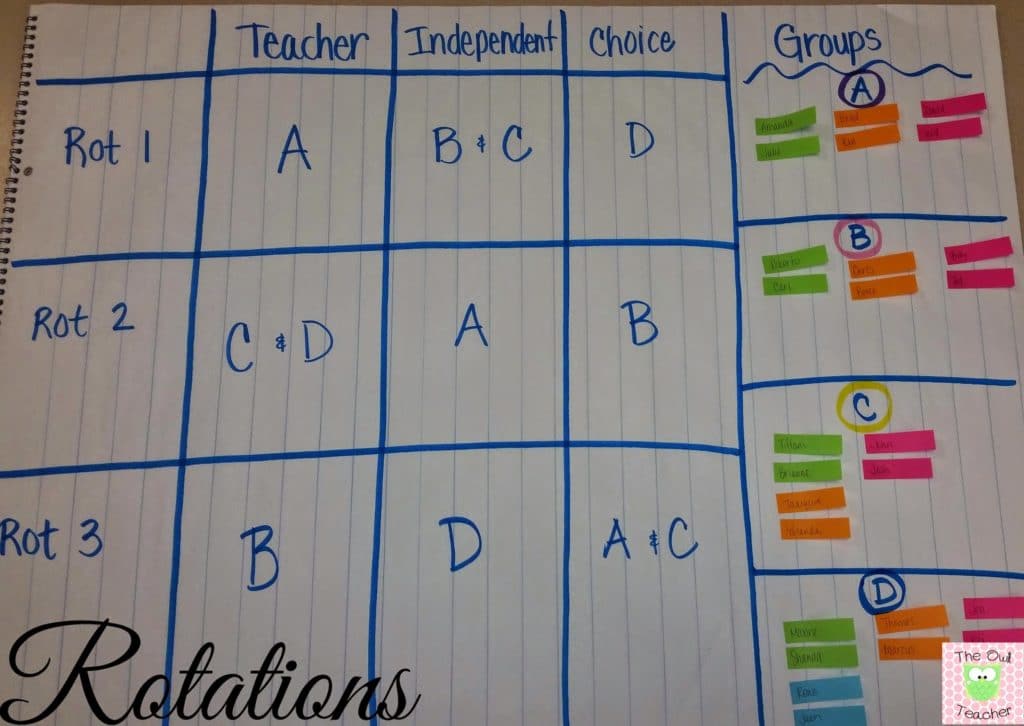 Some students will go to the independent station where they will practice skills from the mini-lesson I just presented. Since this station focuses on the lesson I just presented, my high group will go here first. All the other students in my class attend this station AFTER they have met with me in small groups. Usually my high flyers just need to see how to do something once or twice and they are good to go. This gives them an opportunity to get on it right away and frees up their group time for more enrichment. I do have a few rules for them if they aren't sure of something. If there is anything they don't know, they must first try it on their own. If they still can't get it, they may quietly ask a neighbor to help. Finally, if they are still struggling, they will circle the problem to ask about in small group. When this group comes to me later in small group, the first thing we do is check the work they did independently so I can decide if we need extra practice or if we can move on to something deeper.
While some students are in the independent station, other students are working with me. During the first rotation, I always have my lowest group meet with me first. I like to make sure I get a chance to work with them right away to reinforce anything they may need or fill in any gaps to understand the lesson. I also do this because if I feel any of them need to sit in on my next guided group rotation they can. I also like to make sure they get to practice the skill right away after meeting with me (instead of a gap between learning and practicing).
The final station that students have is the choice station. I like to give my students choices to give them some control, and it engages them more. At the beginning of the week, I provide students with a choice slip (click on the picture below to download it FREE!) of five different items that they have to have completed by the end of the week. They will work on these activities during this station. On this list, I add things that review previous concepts, such as games or practice sheets. I also include a fact fluency activity of some sort. Sometimes it will be a journal entry or hands-on activity. I have also left it open for students to write in an idea of their own. This is completely up to you.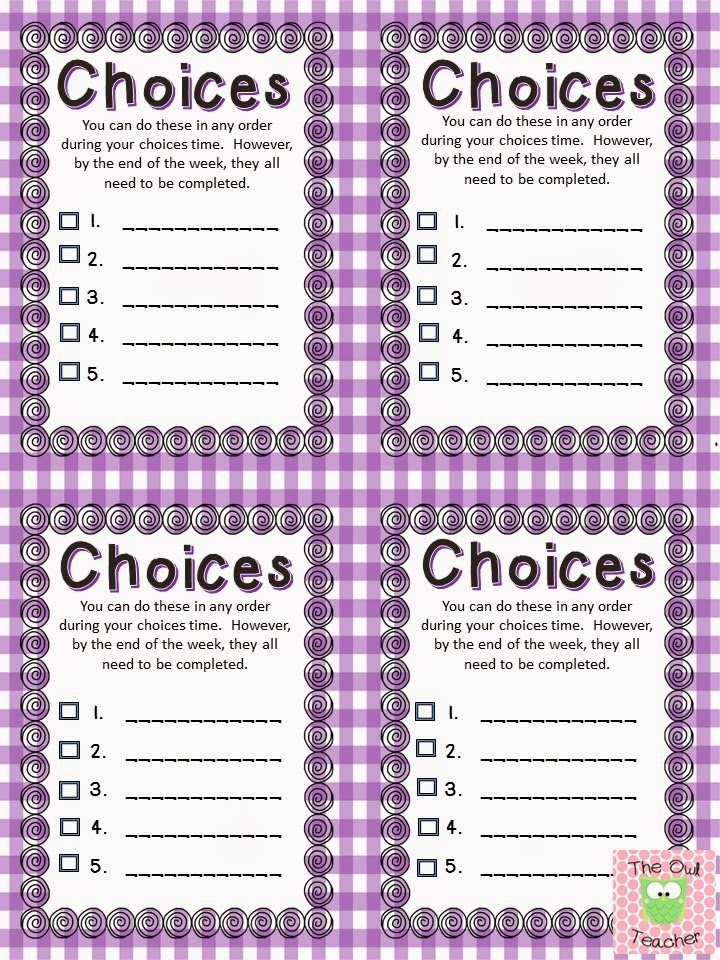 You can find my guided math workshop lesson plan units in my store. I'm constantly adding new units, so be sure to follow my store to receive the newest updates of new releases. You will also get the opportunity to buy my units half off for the first 48 hours after they are posted! Click on the picture below to download an information guide about my workshop units in complete detail. I currently have 3rd grade completed and am in progress with 4th and 5th grade. (You'll have to visit my store to see which units are currently completed for those grade levels.)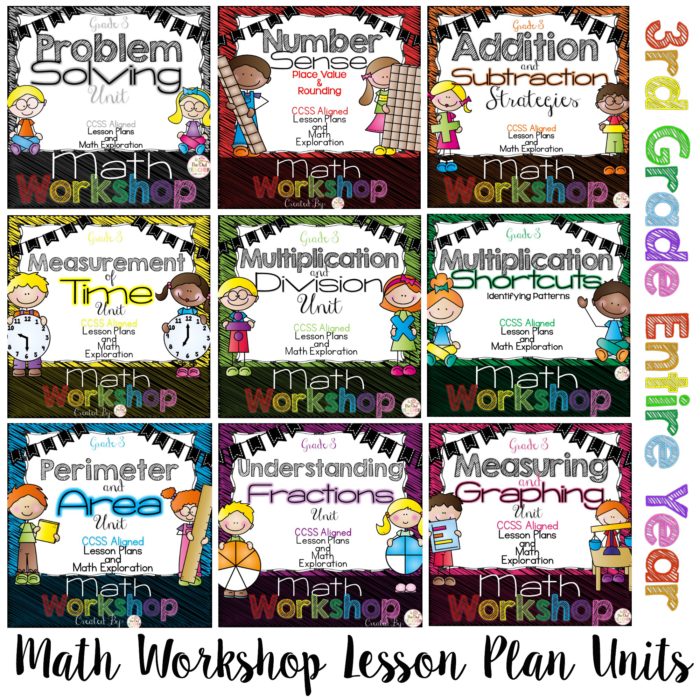 You can also download my FREE Sampler from the Multiplication and Division Math Workshop Unit to get an idea if this is a product for you.

The Nitty Gritty:
Math workshop begins with a 5-10 minute warm-up. This can be a math stretcher, fact fluency practice, or review of the previous lesson.
Next comes the mini-lesson which lasts 10-20 minutes. The teacher will discuss vocabulary and concepts and model how to do the math problems. Allow time for students to practice a problem or two. This gives the teacher the opportunity to observe who is understanding the concept and who needs more help.
Students go to their assigned stations after the mini-lesson. They do stations for 20-40 minutes and rotate during this time. The three stations are: independent, teacher, and choice.
During the independent station, students practice the skills from the mini-lesson they were just taught.
In the teacher station, the teacher works with students to ensure that they understand the concepts that were presented in the lesson.
The choice station has five different activities that students must have completed by the end of the week. The activities review previous concepts and practice fact fluency. They can include practice sheets, games, journal entries, hands-on activities, and student ideas.
Pin for Later: