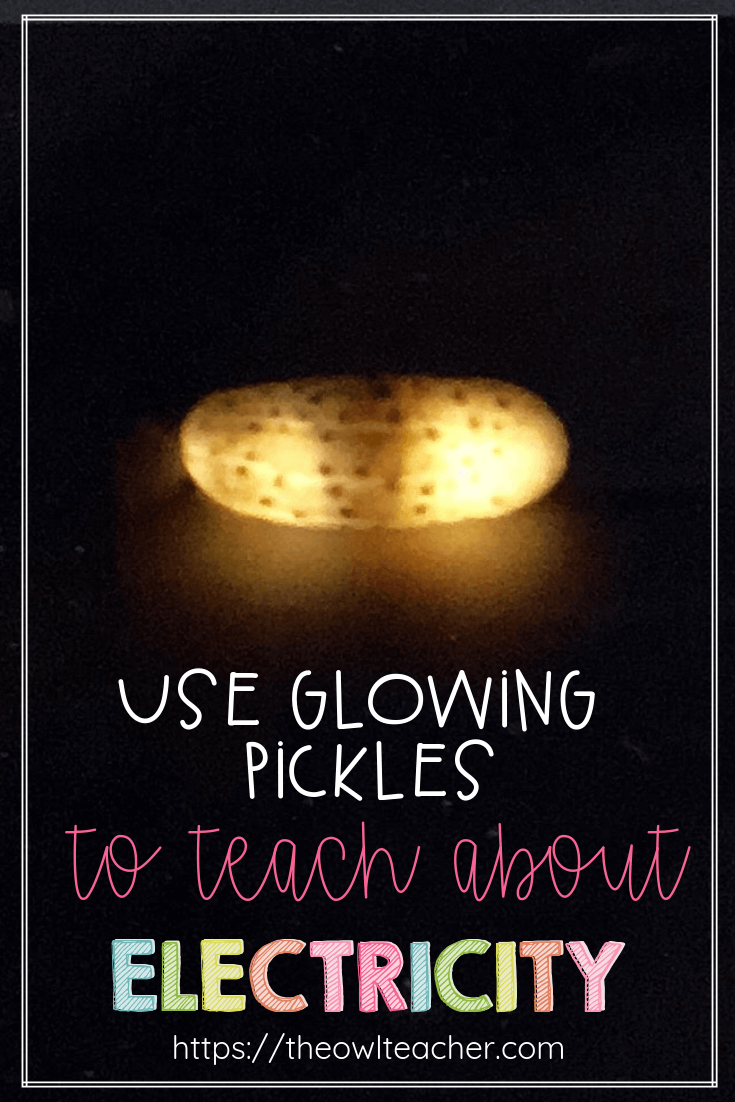 I'm a huge fan of anticipatory sets! I need to get their attention right away. To start teaching electricity, I really wanted something that would sizzle! Kids seem to know a lot about electricity already and have likely seen that after charging a balloon and placing it against a small light bulb, it would light. I wanted something different. It seemed I was in quite the pickle.
Then, I remembered in high school (or maybe it was college – the years start to blend together after a while) that an instructor did just that – electrocuted a pickle! That was what I was going to do! (With permission, of course.)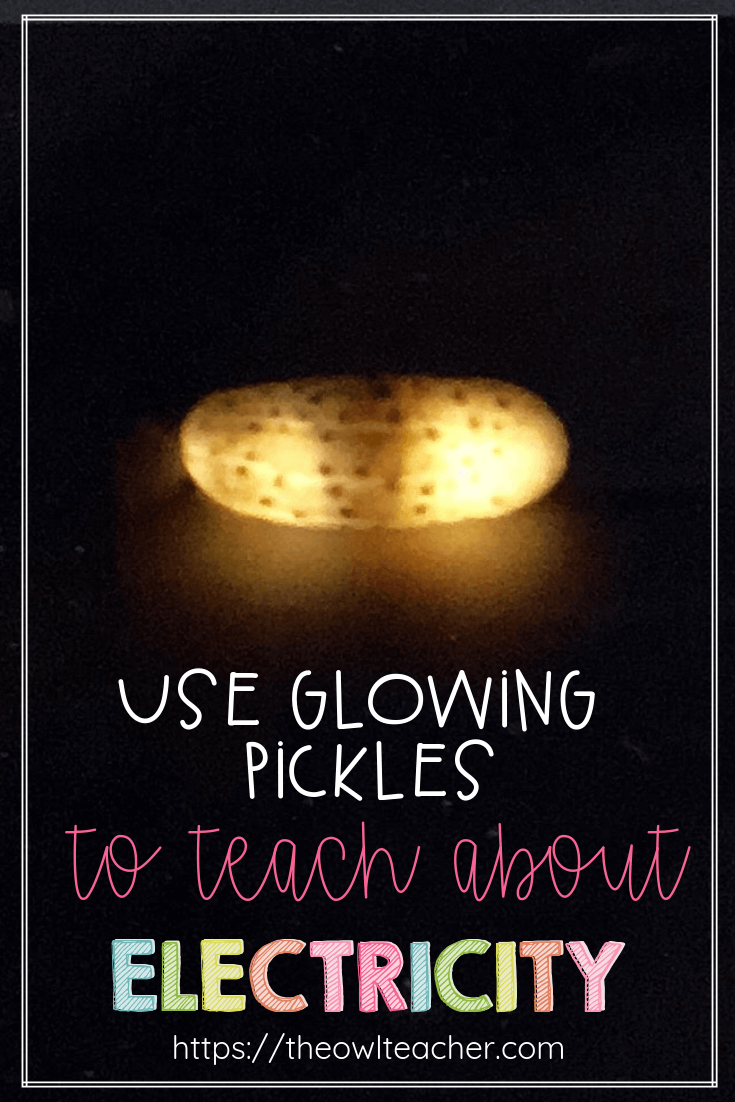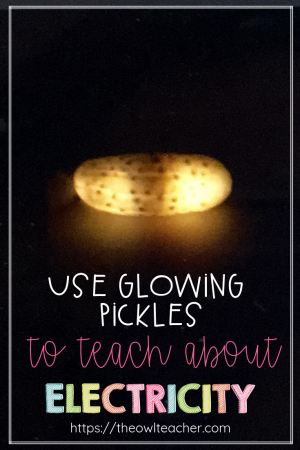 I gathered all my materials – a small extension cord that houses three plugs, a power strip (with an off/on switch), and a pickle. I cut off the end of the small extension cord and threw away the piece with the three different plug ends. I didn't need that. Then, I took that same end and split it. I used a wire cutter to pull off the insulator (special coating) so that the conductor (wire) was exposed. (See below.)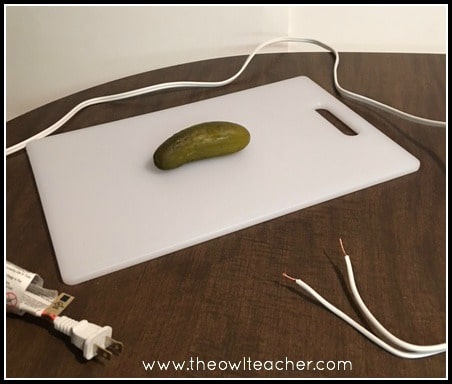 Making Electricity with a Pickle!
Next, I plugged in the power strip and switched it to the off position. Then, I pushed one wire into each end of the pickle. I found it was easier if I used a toothpick to poke a small "starter" hole in the pickle first. It varied from pickle to pickle, but most were a bit tough on the ends due to the vine of the plant. I also discovered that the farther in the wire is inserted, the better your glow length across the pickle will be. However, you do not want the wires touching one another from one end to the other. Some of the conductor or plastic coating can go inside the pickle. Finally, I plug in my extension cord (that is plugged into the pickle) into the power strip.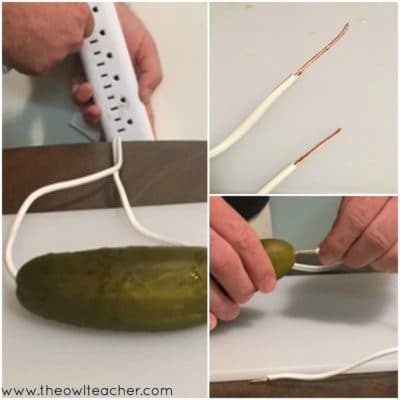 When I am ready for my "show" to begin, all I have to do is hit the light switches to turn off the lights (as it is seen best in a dark room) and hit the switch on the power strip to turn it on. Then, you will see and hear this (My hubby did it for me so I could videotape – he said it made him feel "dangerous." What a wild man he is! There's no sound so you can hear the popping and sizzling.):
And the students will be excited!
I don't do it for very long, because, as you can see, it starts to pop, sizzle, and spark. What you cannot see is the smell. It starts to smell a bit. It's not a bad smell, just a burnt pickle smell! 🙂
After this introduction, we will begin talking about how this relates to electricity! This is my anticipatory set of sorts…just to get them excited and thinking. I won't reveal just yet how it relates to electricity. As we progress through the unit, I like to once in a while remind students they should be thinking back to the beginning – the pickle demonstration (as students should NEVER do this – it should ONLY be a teacher demonstration!) and how it relates to what we are learning. Occasionally, students will tell me they think they know. At the end of the unit, we talk about it.
---
Related products you may enjoy!
---

In case you are wondering, the pickle creates a closed circuit and contains something that causes it to be a conductor of electricity, whether it be the salt ions in it or whatever. The electricity travels from the outlet to the pickle, across the pickle, and back to the outlet. If we were to cut the pickle in half during this demonstration (NOT recommended), then it would then become an open circuit and the flow of electricity would be stopped. This also demonstrates that electricity produces heat energy (as the pickle did get hot!), sound energy (the sizzle), and light energy (it glowed!).
Isn't science exciting and fun?

Warning:
Please make sure you have your principal's permission first if you choose to do this. Second, do NOT let the students do this, as it can be dangerous for them to play with open wires and "liquid" on their hands with electricity. As an adult, you are aware of the dangers and take the necessary precautions. An alternative to doing the demonstration is to show this video to your students and talk about it.