Parent-teacher conferences are so insightful, aren't they? It seems this is always when I learn the most about my students. Even after 10 years of teaching, I still find myself dreading the long nights of conferences though. In my district, we don't have half days of school and conferences for the rest of the time. Instead, we have full days of school and four hours of conferences on top of it! One nice thing—our PTO really pampers and spoils us these nights!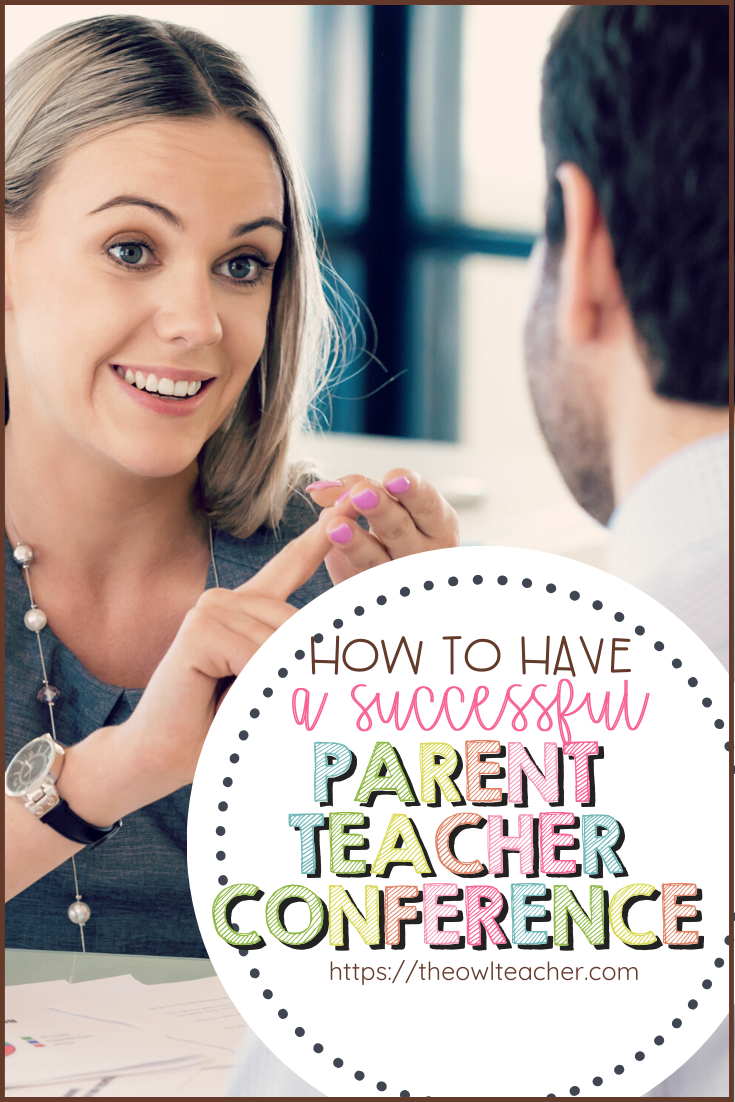 Tips for Successful Parent-Teacher Conferences
First, make sure you are prepared.
I have a notebook that is sectioned off for each student. In this notebook, I keep notes and observations related to each child. It may be academically related or behaviorally related. It may be positives or it may be areas of needed improvement. Each day I carry Post-It notes on me. If I notice something that I feel may be important to remember later, I write it down on my Post-It note with the day and child's name. At the end of the day, I tape my Post-It note in that child's section. If I'm feeling really ambitious, I'll actually rewrite it with more detail. When parent-teacher conferences (or intervention meetings) come around, I have a notebook full of any important information I want to reference. My notebook is also great to use to check for patterns. Of course, any significant matters should always be addressed long before conferences, as parents do not like to be "blindsided" with things. I also always have a one-page conference overview of important information about each child's strengths, areas of improvement, grades, work habits, conduct, and so on. I like to write all the important things down, so in those few minutes, I can make sure I get in everything!
Second, be personable.
Don't sit behind your desk or in an area that makes you seem "superior." It's important that you are on an equal playing field with parents, and remind them that you are there to work together as their partner for the success of their child. Carry yourself with a relaxed feeling and smile. I have sometimes started my conferences with "How do you feel the year is going?" to get parents' perspectives. No matter how you begin, when you do start talking about little Johnny, it's important that you are starting with the positives. Even though it can be hard, every parent needs to hear something good about their little guy or gal. However, don't make it vague — blanket statements such as "your child is so sweet" are much like telling a kiddo "good job." While on the surface it looks like you are praising him/her, it needs to be specific to have an impact. I try to provide examples of why or how each child is sweet, helpful, and so on.
Third, reflect.
I have found over the years that reflecting statements back to parents seems to help them remain calm and feel you are listening. I will often take what they say and reuse it in my statement back or express how I think they are feeling. For instance, if a parent says they feel there has been a lack of communication on my part, I will remain calm and reflect on it. How do I reflect on it? I say, "It sounds like you are feeling frustrated, because you feel I'm not communicating enough. How can I do this more effectively?" I always try to come from a problem-solving stance, no matter how offended I may feel. Often parents are more stressed about other circumstances in their lives and don't mean to take things out on us. Is that fair? No, but it's just how it is sometimes. As professionals, it is our job to (try hard!) not to take it personally and stay professional, especially during the crucial moments of parent-teacher conferences. By staying calm, it reassures them their child is in good hands.
Finally, suggest and request.
I always provide my parents with a few suggestions on how we can have a better year. Of course, this has to be done tactfully. For my students who are high flyers and their conference is done in about 5 minutes, I still give suggestions:  "I would really like to see Jill push herself more by doing some independent inquiry activities." I then always ask parents for their input (since they know their child best) on how I can better help their child be successful. Parents need to feel valued, and again, they are partners in this.