I'm always looking to integrate technology more into my lesson plans because our district is always pushing it, it's the here and now, and well, it's part of my goals. So, I had heard a lot about QR codes, but I really didn't know a lot about them. After much investigation, I decided to try to implement them in my classroom during our Rocks and Minerals Science Unit.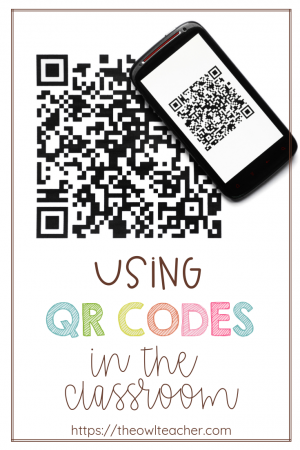 CREATING THE QR CODES
First, I needed to make the codes. I went to geology.com and looked up a specific mineral I wanted my students to explore. Then, I took the URL of that mineral's page and entered it in a QR Code Generator.
The generator created a QR code for me that I could download as an image. I put it on a task card, and I was good to go! I did this with multiple minerals and even with rocks. I had to save the images as the name of the mineral/rock. Here is an example of a created QR code for quartz:
USING THE QR CODES
Our building does not have a lot of technology. In fact, we share iPads on a cart that has to be checked out. However, that didn't stop us from giving it a whirl. I paired students up and gave them each a card with a QR code on it. To start, we had to open the QR scanner on our iPads. You do not need to have an iPad — any product that utilizes apps will work. However, you will need to have downloaded a QR scanner. There is no need to pay for one, as there are many for free. When it first opens up, it appears to be a camera, with a box outline of sorts. The box is to "outline" the QR Code. You'll want to point the camera toward the QR code and try to fit the code in that box.
The app should read it on its own and immediately take you to the site. It's usually pretty fast. Then, the students scroll through the information and collect what they need. Once done, they close out and move on to the next QR code, if applicable.
What I like about this, besides the integration of technology, is that this is a great way to keep students on a specific page of the internet. Or, you can even create your own page with your own material and not have to worry about them browsing all over!

Get Weekly Freebies!
Sign up for our short & sweet newsletter to get a freebie each week! It's quick and to the point, because you are busy!