As a teacher, you may be struggling to try to figure out what to get your colleagues down the hall so they know they are special to you. Or, perhaps you want to get something for the students in your classroom, but since there are so many of them, the cost needs to be low. When it comes to finding a gift for those who are special to us, we need something that won't break the bank and is from the heart. That's where this ultimate gift guide for teachers comes in.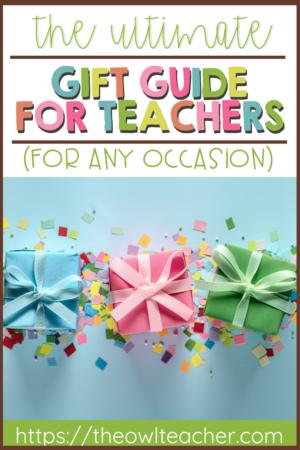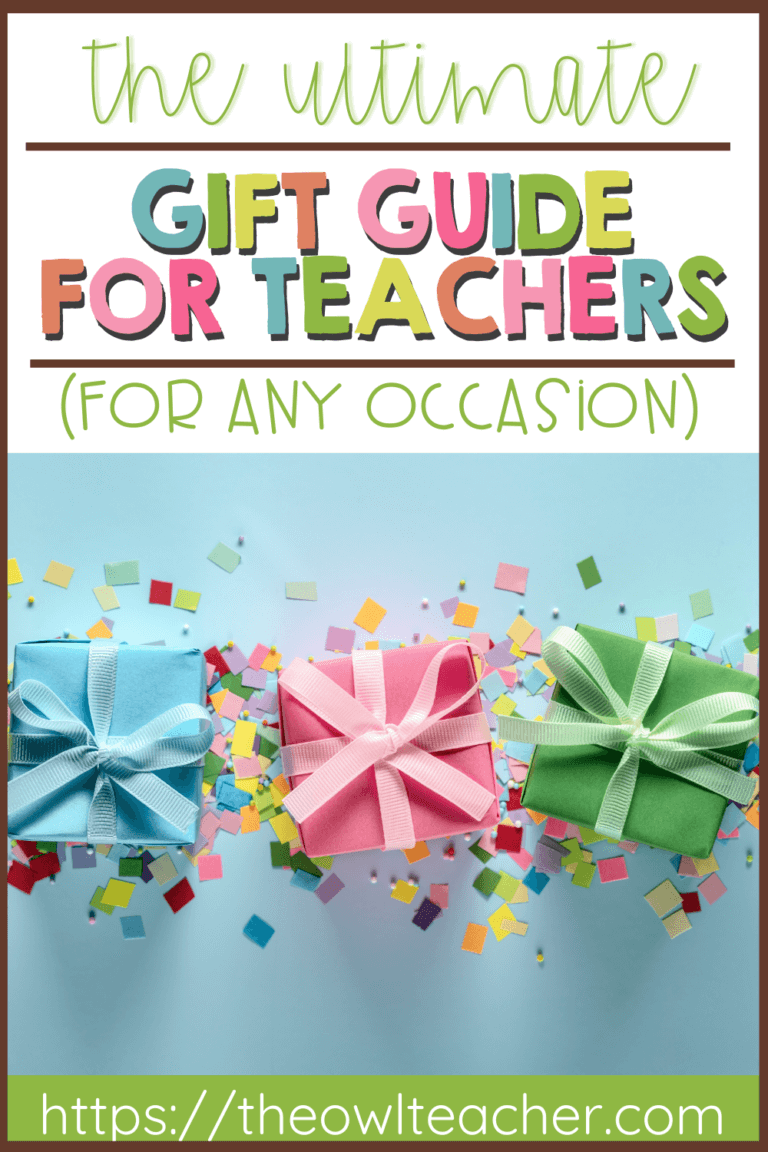 As a teacher we come in contact with a lot of great people in our lives – our students, our colleagues, parents, the room parent, and so many more. It's the time of the year when we wish we could shower everyone with gifts. So what can we get those who are special to us? Let me help!
The Gift Guide for Teachers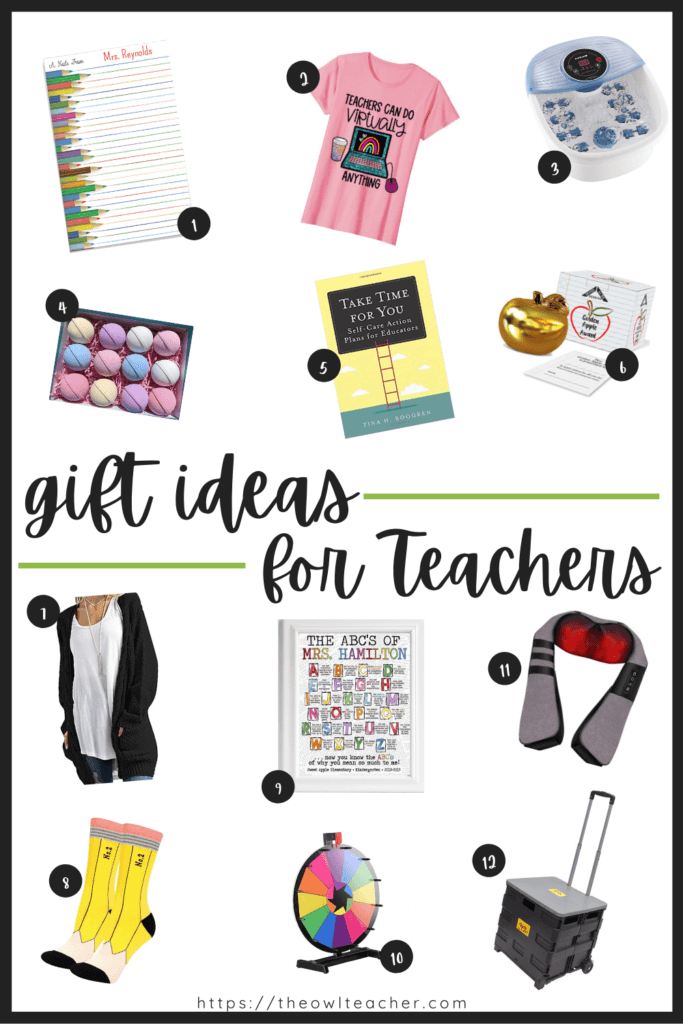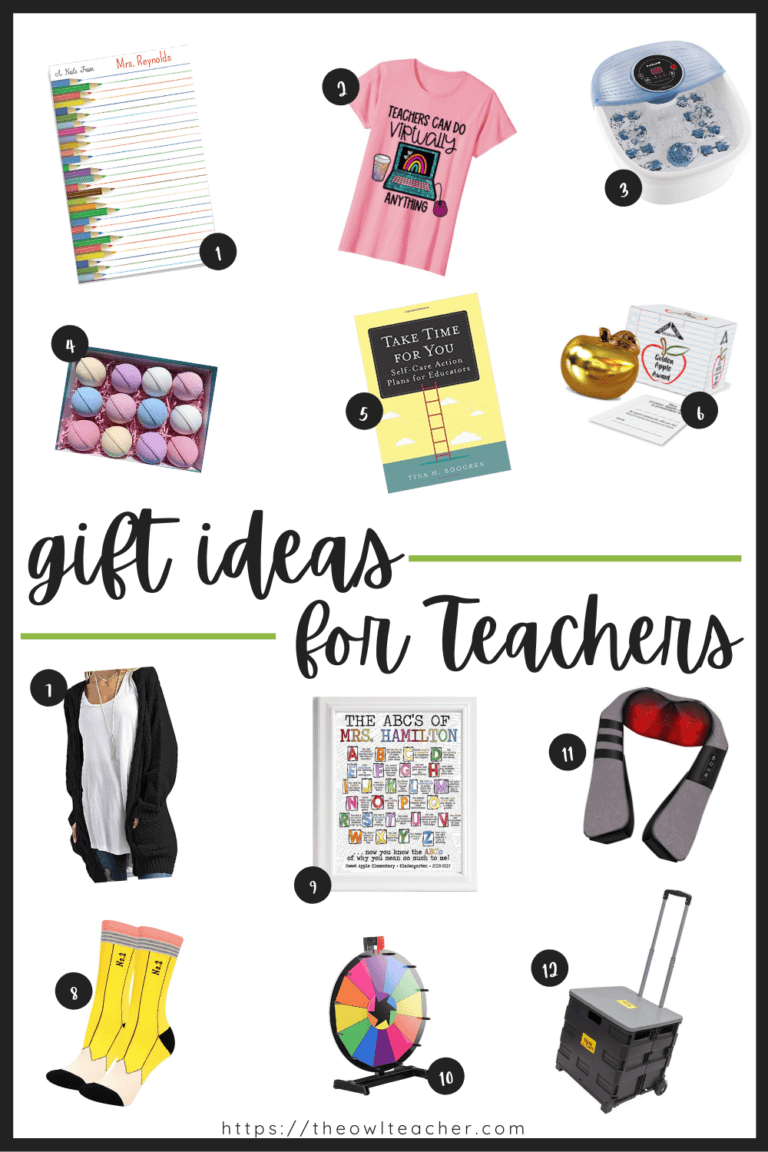 1. Personalized Notepad– Teachers are always using notepads, so why not get one that is cute and has his or her name across the top. This cute notepad set is perfect for sending notes home to parents!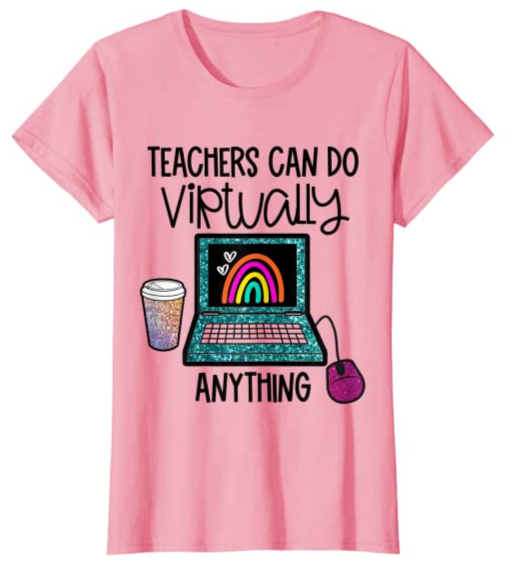 2. Teacher T-Shirt– No gift guide for teachers would be complete if it didn't showcase their love for teaching. This adorable shirt is a nice play on words with the virtual teaching we have faced lately! However, there are lots of other options out there, including shirts specific to grade levels or topics.
3. Foot Spa Bath Massager– Teachers stand on their feet all. day. long. This foot spa bath is definitely a winner for any teacher. It's a great way to help those feet feel better- and it helps him or her relax.
4. Bath Bombs with Essential Oils– Bath bombs (or shower tablets) are perfect for the teacher who feels stressed, overworked, or just tired. It really helps a teacher relax and feel better.
5. Take Time for You- Self-Care Action Plan Book– This book is a must-have for teachers. Teachers are notorious for taking care of others but leaving themselves off the list. This book helps a teacher make time for him or herself.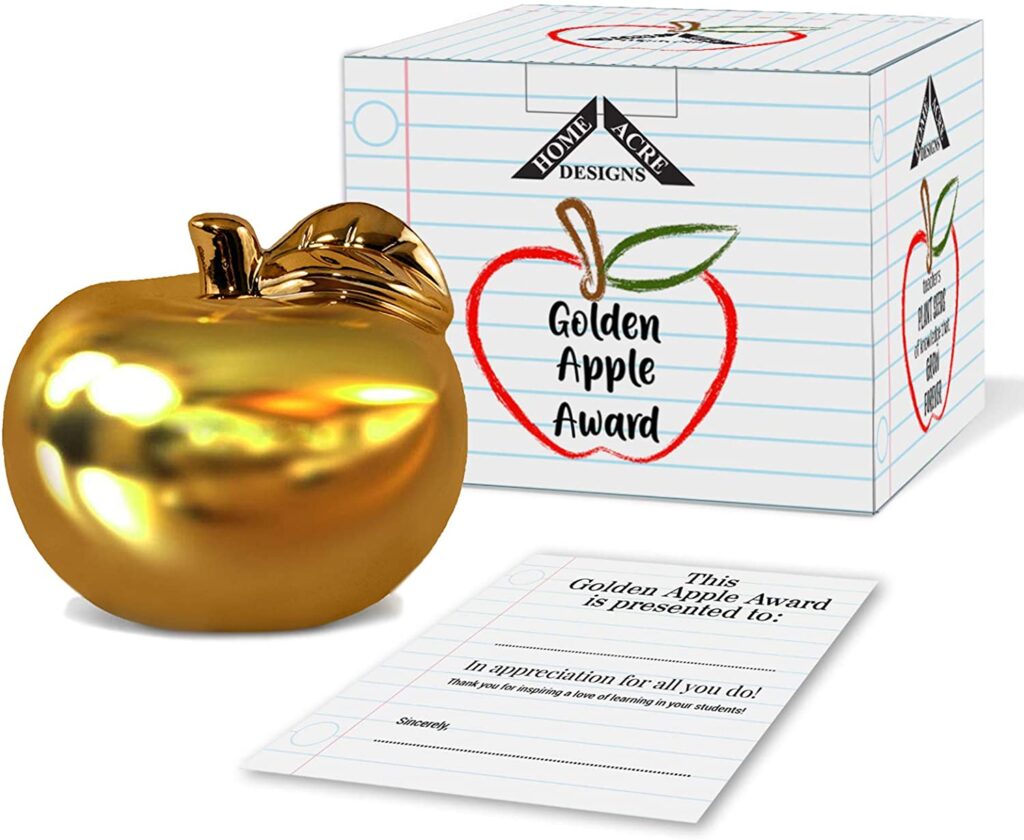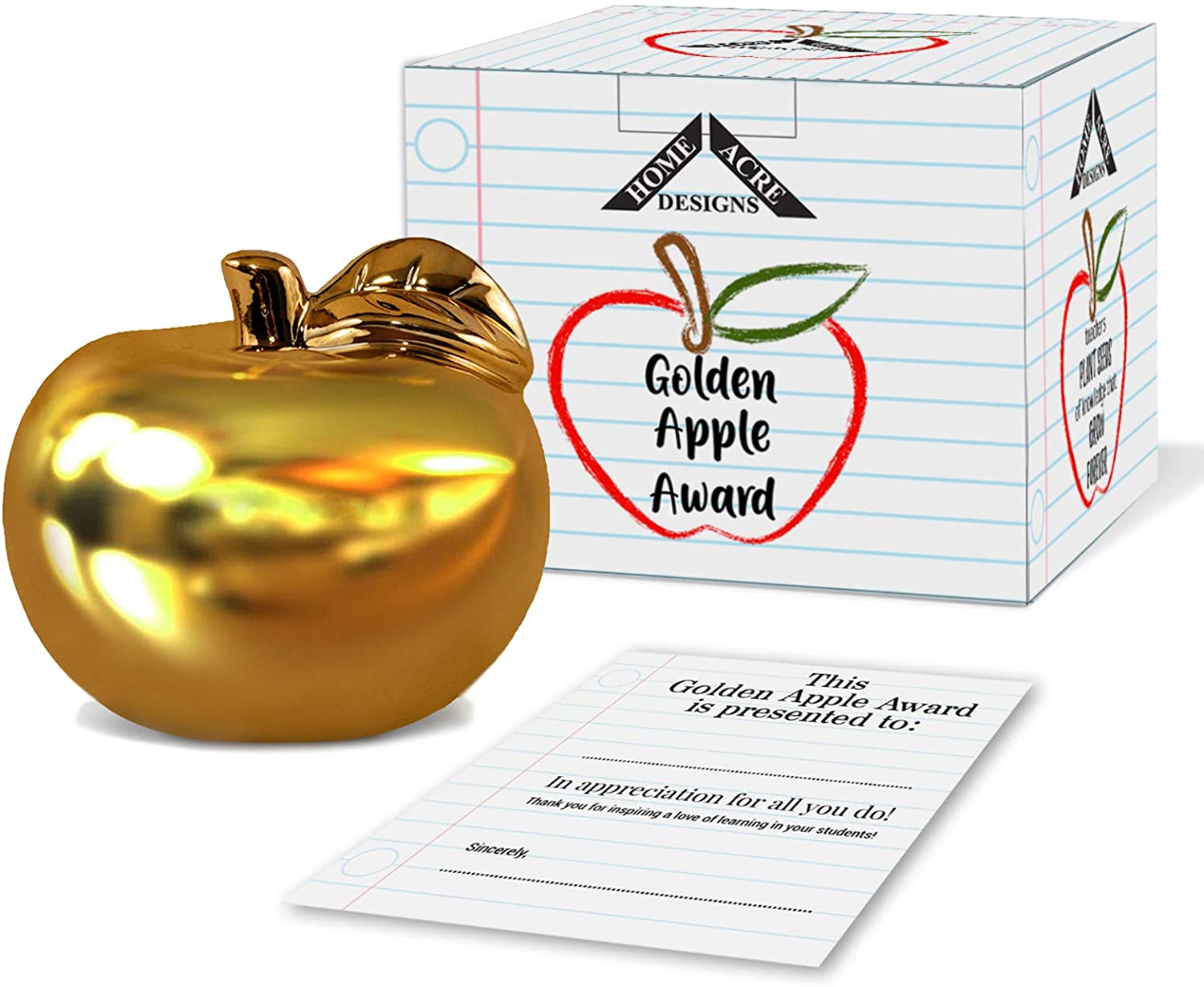 6. Golden Apple Award– Give your favorite teacher the Golden Apple Award! This would look cute on his or her desk and it makes them feel extra important!
7. Cardigan Sweater– A sweater is a nice way to stay warm in the classroom and it includes deep pockets to carry around sticky notes, dry erase markers, and other essential teaching materials.
8. Pencil Socks– These socks are a novelty item- and perfect for this gift guide for teachers. These socks aren't the only school-themed ones available. You can also find socks with books, owls, and cute teacher sayings.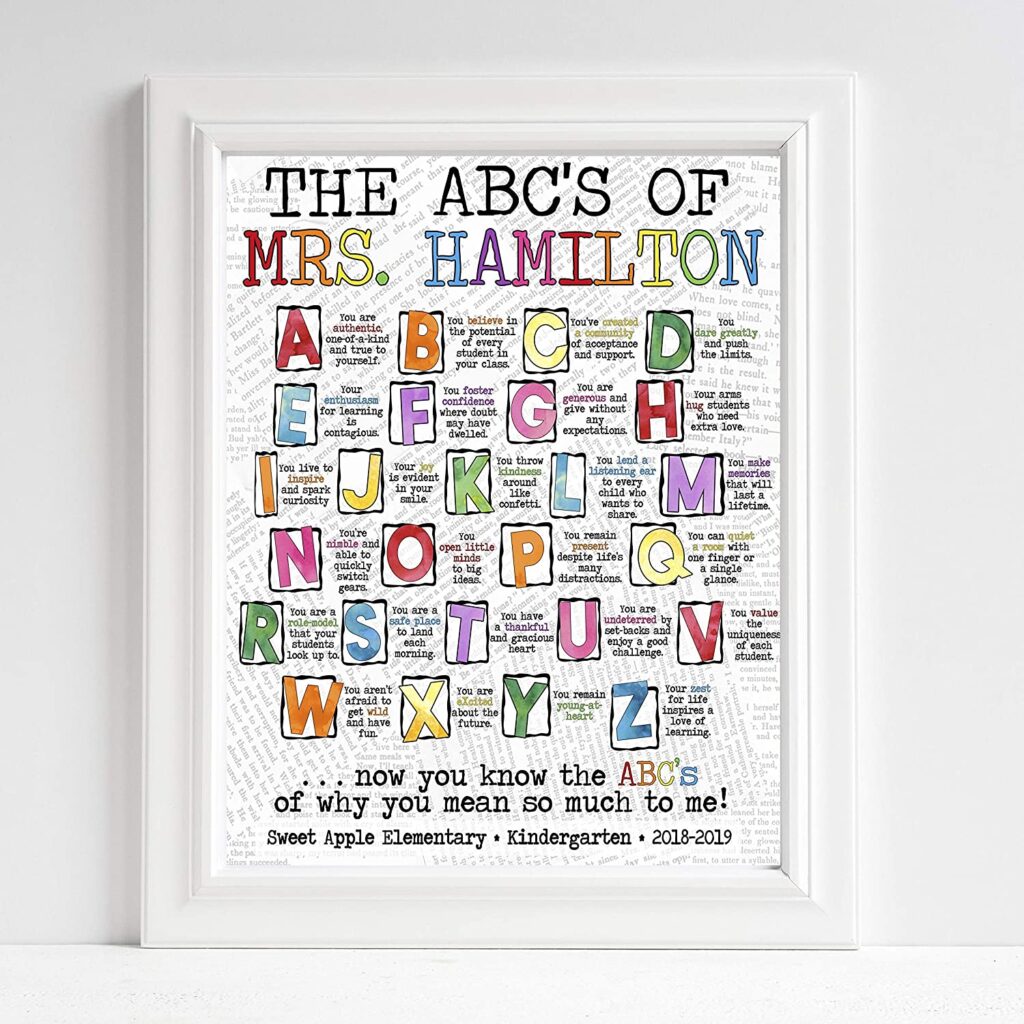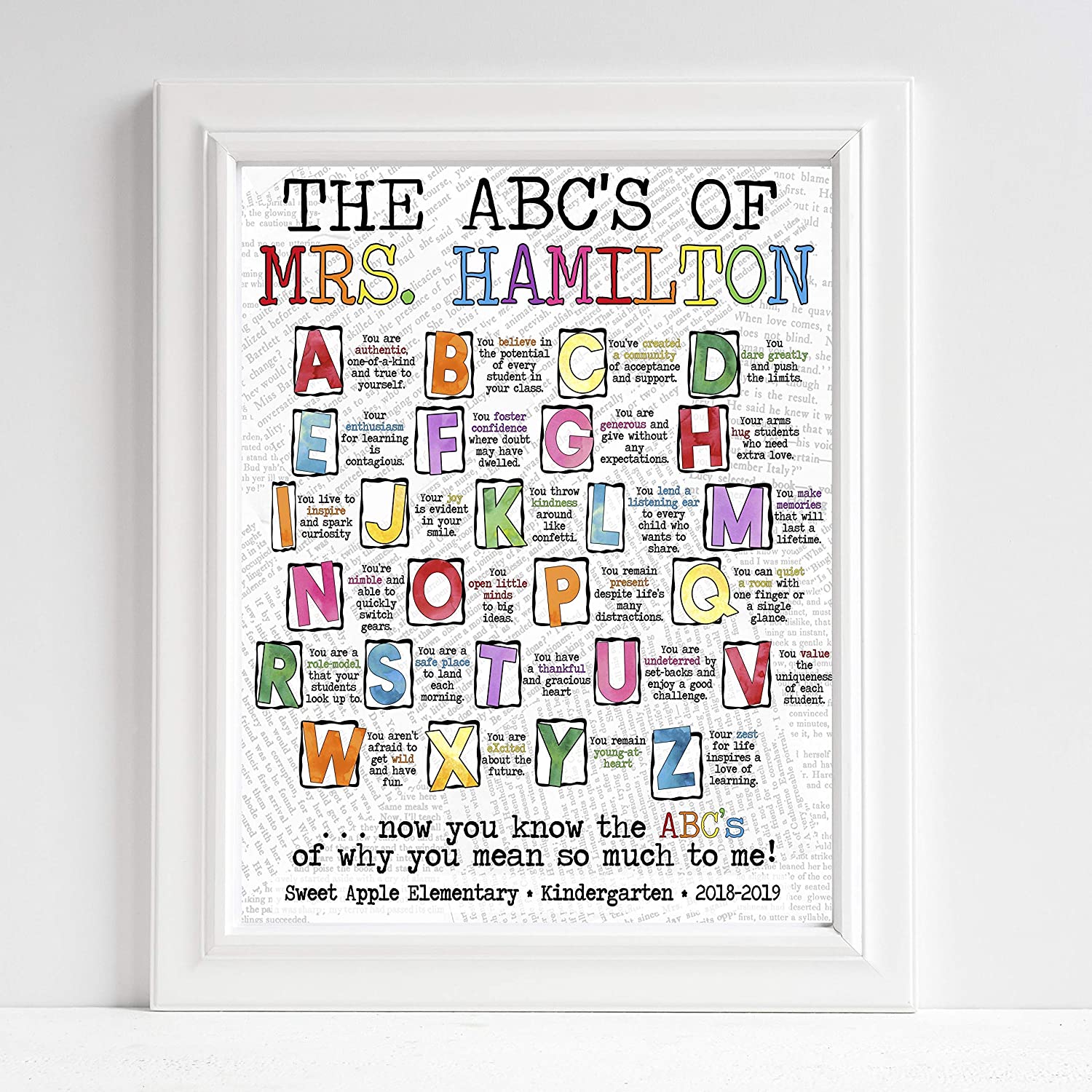 9. Personalized Framed ABC's– I couldn't resist putting this adorable hanging frame or poster on this gift guide for teachers! You can have it personalized for any teacher's name. It covers all the ABC's of what makes that teacher special. It's sure to warm any teacher's heart.
10. Prize Wheel– What teacher couldn't use a prize wheel in his or her classroom? It's a great classroom management tool. Just throw in some dry-erase markers to write on it and you're good to go!
11. Massager for Neck, Shoulder and Back– Every teacher has had a tense neck and shoulders at some point. It's just how it goes. This massager is the perfect way to help relieve some of that stress immediately!
12. Rolling Cart– The rolling cart is the perfect way to carry around all the materials teachers tote in and out of school each day without having to break their back! I've used one of these for years and I will never go back to a bag!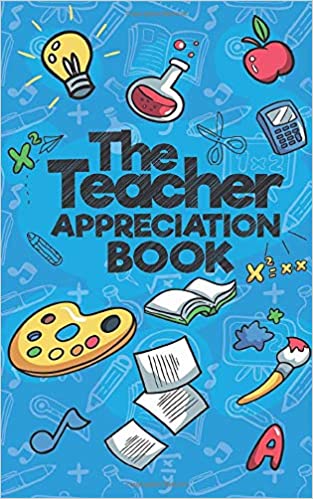 Must-Have Picture Books– Every elementary class, even upper elementary, loves to have a book read to them. This includes picture books. There are some really great picture books out there. Some are classics, while there are constantly new ones being released. Check out my collection (that is constantly growing). While there, check out this Teacher Appreciation Book that you can fill out for your favorite teacher. It's a memory book that he or she will hold on to for years to come!
The Gift Guide for Students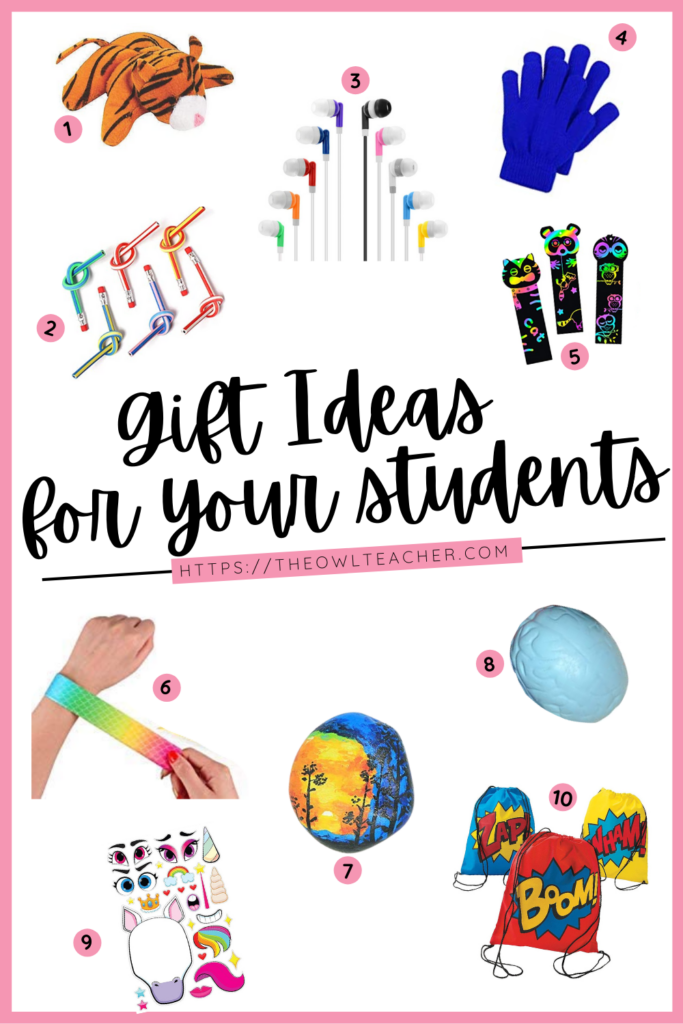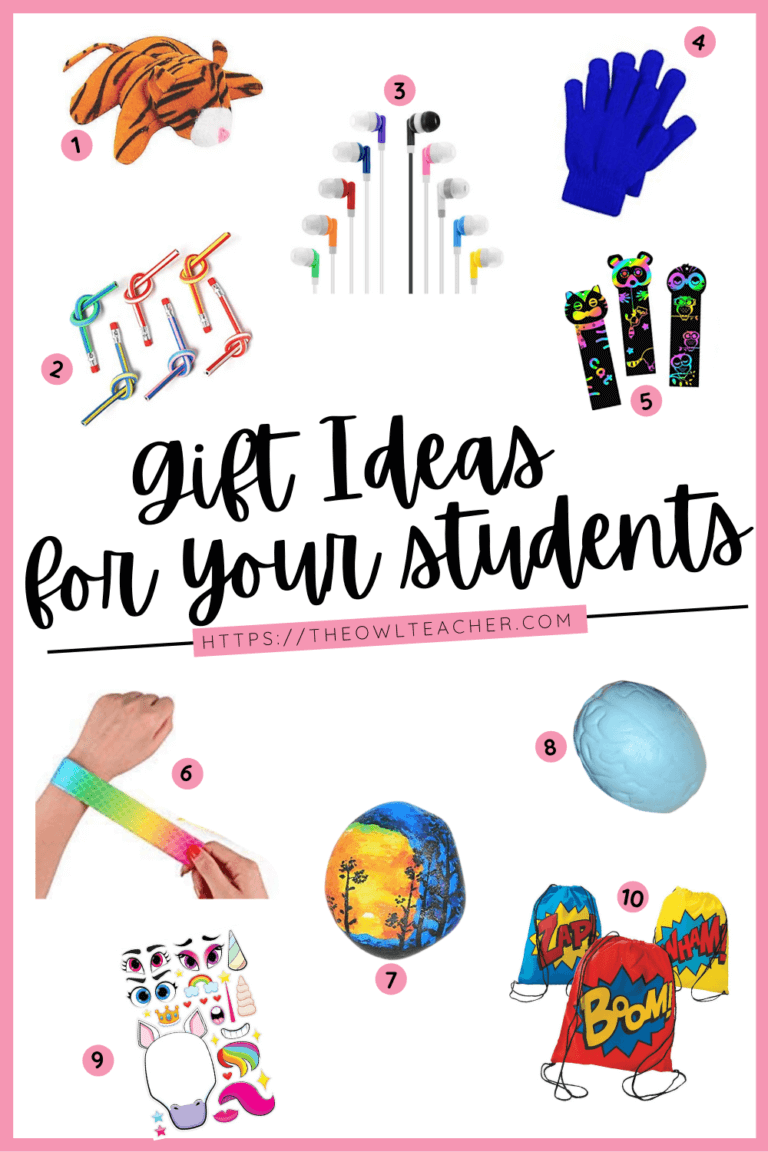 While this is a gift guide for teachers, I had to make sure I covered the students too! Every teacher faces the dilemma of getting his or her students something. Below are a few ideas that are not sold separately. Each idea below is sold in multi-packs so that you can save! If you don't want to spend money (I totally feel you!), you can check out my Gift Ideas for the Classroom Pinterest board (that is continuously being updated for every holiday and season) where you can find a flurry of ideas, posts, and homemade craft ideas.
1. Plush Animals– This is a 25 piece mini-plush zoo that will make even the upper elementary kiddos squeal with delight. Who doesn't love a cuddly animal to hug?
2. Bendy Pencils– Bendy pencils are cool! Have you ever had a pencil that you could twist up into a pretzel? These pencils can be used in the classroom and engage your students as fidget "toys" when they aren't working. Plus, they are quiet!
3. Earbuds– These earbuds come in a 30 pack with multiple colors for less than a dollar each. The biggest problem you'll have is deciding who gets what color.
4. Winter gloves – This 15-pack of winter gloves is the perfect gift for those little darlings who are always losing their gloves or forgetting them. Now you don't have to spend all of recess worrying about your little sweethearts getting cold hands.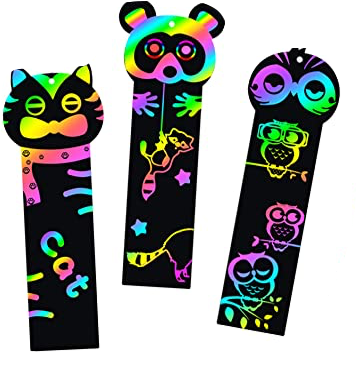 5. Scratch Paper Bookmarks– These scratch paper resources are an in-thing! They were popular back at Valentine's day and they are still popular now. Grab a large package and give each kiddo one or two. Now they can add a little creativity while keeping their place in their favorite book!
6. Slap Bracelets– I remember when slap bracelets were big when I was younger. They have made a comeback and now kiddos love them. These are great for treasure boxes and gift bags!
7. Rock Painting kit, rocks, and Scribble Stones Book. I love the author Diane Alber and her books. Purchase the book Scribble Stones, read it aloud to your class, and then provide each student with their own flat rock. Then have students create their own memory!
8. Brain Stress Reliever– I remember in college I had a professor who gave a brain stress reliever squishy to the highest earner on each exam. I was so excited when I finally earned one! These squishy brains are fun to receive!
9. Make a Face Sticker Sheets– These are the equivalent to paper dolls- one of my favorite activities when I was younger. Kids of all ages (and genders) love these activities!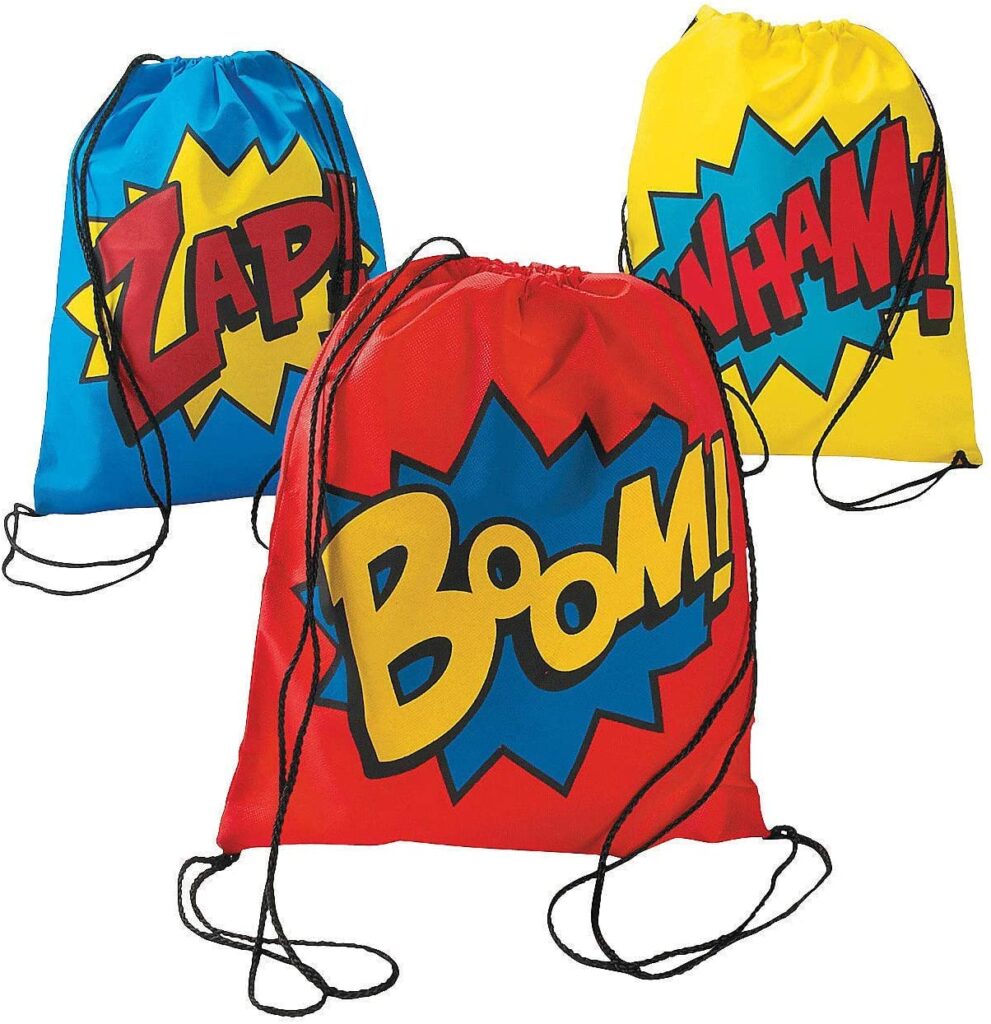 10. Drawstring Backpacks– These come in packs of 12 and is a cute way for students to store their books (or other supplies) on the back of their chair. They not only have them in superhero designs, but also in unicorns, emojis, and so much more!
If you're thinking some of the above items are too small, why not combine them in treat bags as a mini-gift package. You could easily pick up several Treasure Box Items such as Small notebook journals, Multi-color pens, or these Cameras with Viewfinder Images.
If you're feeling a bit crafty, why not pick up a Sand art kit, Bead Pets, or check out this Chocolate Bars with Snowmen Wraps idea. You can read all about it here.
If you are thinking about being more personal, grab some water bottles and either print out letter stickers on your silhouette or pick up some scrapbooking stickers. This will surely make your students feel extra special! (And you'll always know who left their water bottle behind!)
And honestly, it wouldn't be a gift guide for teachers or students, if I didn't mention books! Every student could benefit from getting free books as gifts! This can be done through scholastic, or other free book programs. Check out this article here to learn more.
One Final Note
I just can't let you leave without one final note about what special gifts you can get your favorite teacher or colleague. As you know, teachers are overworked and tired. They often spend tons of their own time on weekends, away from their loved ones, lesson planning, grading papers, and doing other tasks related to their job.
Help out a teacher by saving him or her time. One way you can do this is by providing already written lesson plans, activities, or some other classroom resource. Check out these resources below.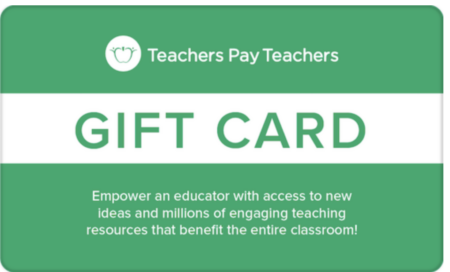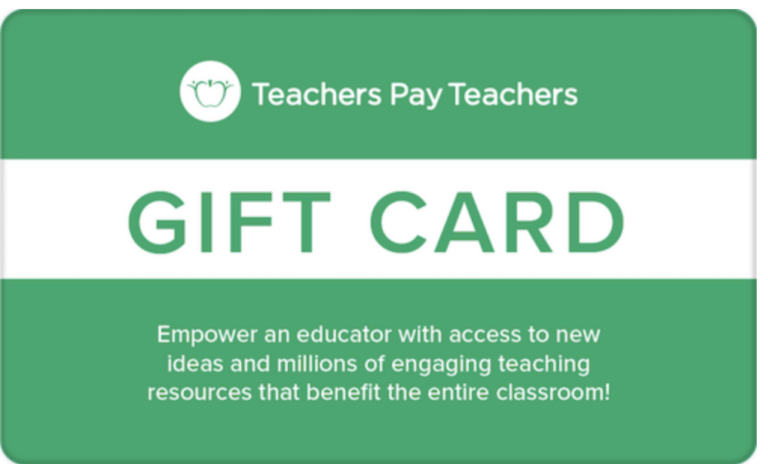 Teachers Pay Teachers. This resource is full of lesson plans, supplementary materials, worksheets, creative projects, and much more. You can purchase individual resources or a gift card to help out! If you are worried about whether you can trust the resources on TpT, read this article here. Here is the link to my store where you can find math and science resources for grades 2-5.
Whatever gift you choose, the receiver is sure to love it because it's coming from you!

I am a participant in the Amazon Services LLC Associates Program. If you use a link from this post to purchase, I will receive a small commission at no additional cost to you. You are not obligated to make a purchase using these links but if you do, it supports my blog and business. If you used one of my links, Thank you! I only share products that I've tested and love.