This post contains aff. links.
Kids love slime. I'm not sure why they are so fascinated with it, but they just are. Me? Not as much.
I've brought it into my classroom a few times in the past, like when teaching about states of matter, or when I was reading Dr. Seuss's Bartholomew and the Oobleck for Earth Day. But I wanted to do something more with it. I wanted to capitalize on my students' love for slime and get in some educational benefits if you know what I mean. So I sat down and brainstormed a long list. That's when I created slime science centers- with more than just states of matter!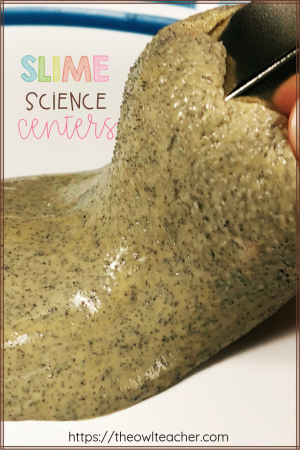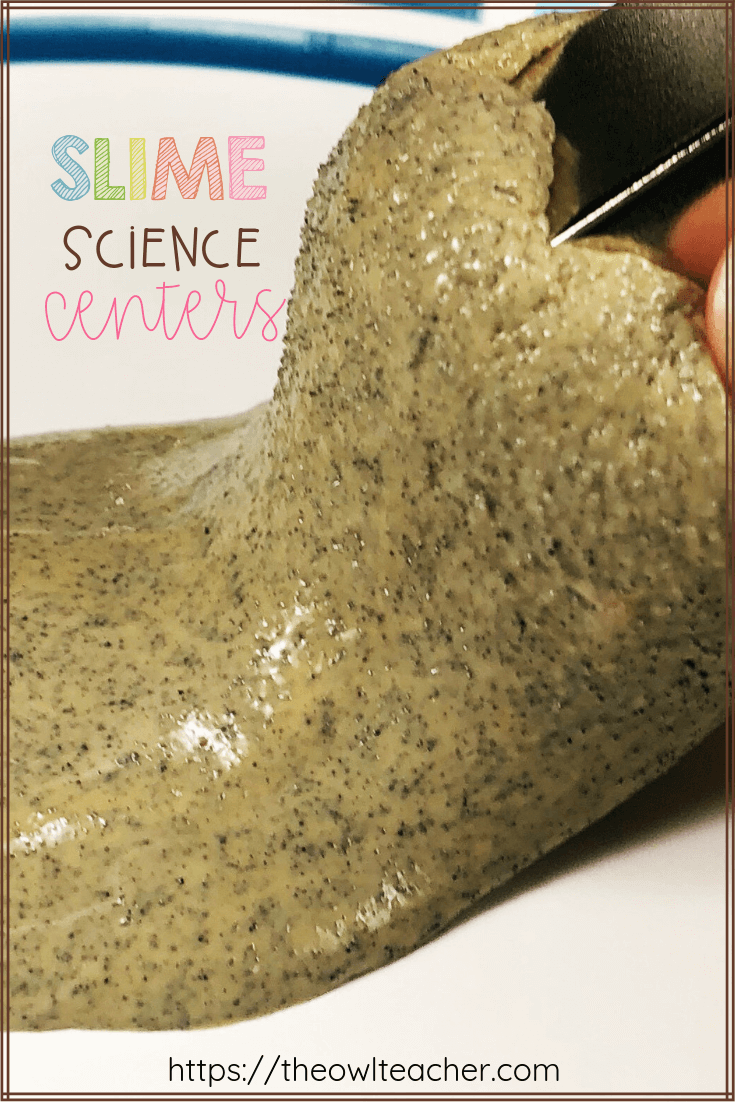 Exploring Slime Science Centers
There is a lot of things you can do with slime besides just exploring the states of matter and explaining non-newtonian fluids to students. When I brainstormed my list, I was able to come up with 18 different centers! I was quite surprised by all the different things that we can do with it!
The first thing I did was search the internet for slime recipes. There are so many different slime recipes out there that it can be quite overwhelming. I made recipe after recipe after recipe and even found some of the same types of recipes with different amounts! That also set my wheels thinking! What if I have my students compare the recipes?! So I created my slime science centers where students had to compare four different types of slime within each science concept.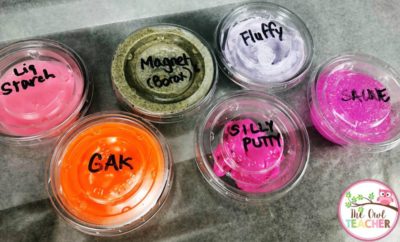 I had students compare these slimes – Slime A (liquid starch), Slime B (GAK), Slime C (saline slime), and Slime D (magnetic slime). Each slime I made, except the GAK. I bought that online through Amazon and then just split it among the containers. The magnetic slime I made using borax and by putting iron filings in it. However, I learned the hard way that if you make them up too early and then take them to school after, they look like this: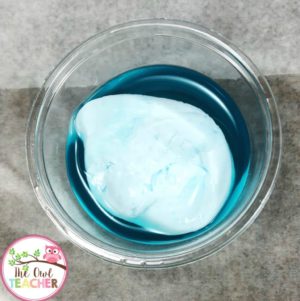 Basically, the liquid separated from the glue and I ended up with a solid glob of hardness. It was not cool. I had to quickly whip some new slime before school.
My plan was for students to go through several stations (but definitely not all 18!) and at the end, they would create their own SMALL glob of slime. BUT, they had to look at the properties of that small glob of slime they made and determine which of the four from our centers it was. (So the slime they made – Was it Slime A or Slime B? Perhaps, Slime C or D?)
Anyway, on to the slime science centers…
Slime Center #1 – The Observation Test
The first center, of course, was to have students observe the slime. They needed to smell it, record the color, texture, mass, and rate how slimy it was. I wanted the students to practice this scientific process skill. This was going to come in handy later when they make their slime and have to determine which one they made.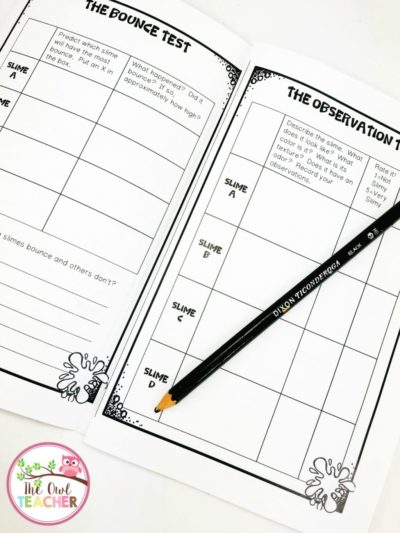 Slime Center #2 – The Bounce Test
For this center, students would roll their slime up into a ball and drop it from a specific height above their table to see if it would bounce or go splat! If it bounced they had to estimate how high it went.
Slime Center #3 – The Sink Test
I wanted students to explore if an object would sink slowly or quickly when placed on the slime. We've seen a test similar to this in the past – the poke test. But I provided my students with weights of different grams. I offered 5 grams and 1 gram. I wanted students to see that it does make a difference between the two.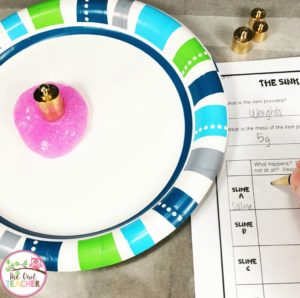 And they left pretty deep holes in our slime.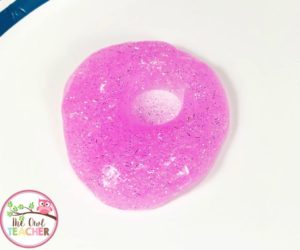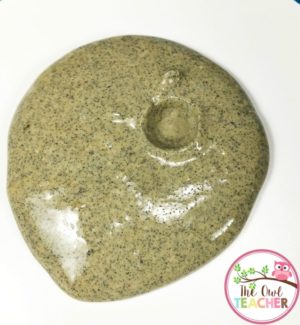 What was interesting in our investigation is that they all sunk pretty quickly- except with the GAK. It kept causing the weight to roll off. The one time it didn't roll off, it just slowly tipped over on its side.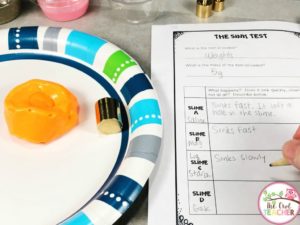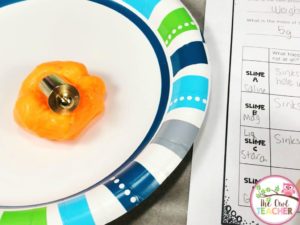 Slime Center #4 – The Buoyancy Test
We wanted to find out if our slime would float or sink. Of course, most students assumed it would float. To preserve the slime for the next group of students, we wrapped it in plastic wrap and tied the top so no water would get into it. Then we lowered it into a beaker with 300 mL of water. The magnetic slime sunk.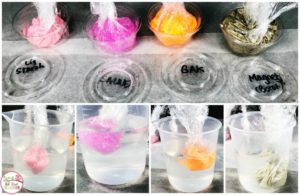 Slime Center #5 – The Volume Test
We also decided to determine the volume of our slime. We watched the water rise after putting in the slime and subtracted that from our start number of 300 mL to find our volume.
Slime Center #6 – The Magnetism Test
Next, we tested to see if any of the slimes were magnetic. (No students were notified ahead of time that Slime D was magnetic slime nor made with iron filings.) In this center, I provided students with Neodymium Magnets (must be these magnets) to test each slime. Slime A, B, and C did nothing.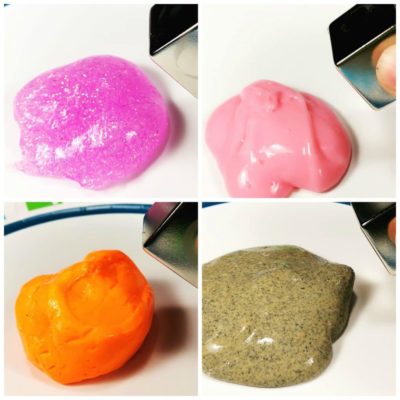 Slime D slowly started to pull (which you can see above), then WHAM! It was enveloped onto the magnet! It was cool. The students loved it!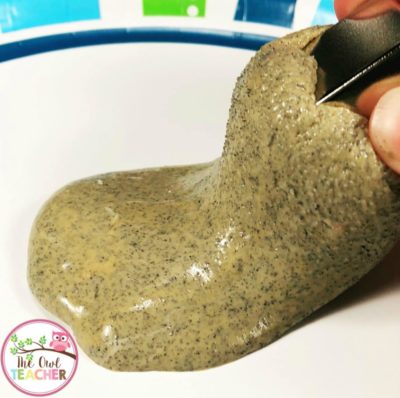 Slime Center #7 – The Conductor or Insulator Test
Since some students now knew that slime D was magnetic, that made this station interesting. Some students suspected that slime D would definitely be a conductor. Others thought all slime would be a conductor because it had liquid properties. We hooked it up through a series circuit…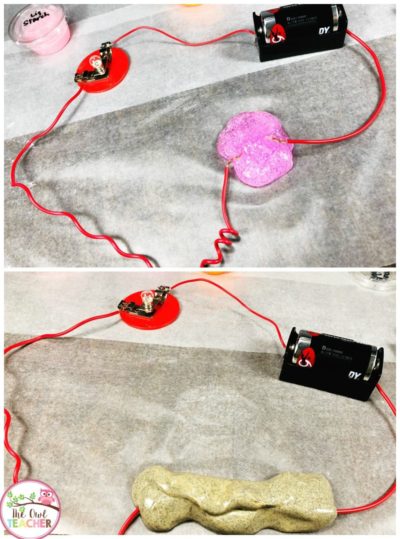 …but no matter how much we messed with it, the light bulb just doesn't light up! (Be careful to make sure your students aren't connecting the wires inside the slime.)
Slime Center #8 – The Bubble Test
To make things fun, I had students see if they could create bubbles in each of their slimes using a straw. Some slimes formed bubbles very easily, while others (looking at you GAK) did not. Some even created large bubbles! The trick is to make sure that you have the end of the straw sealed good!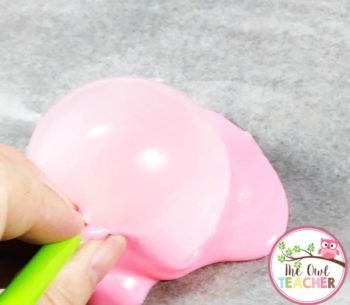 Slime Center #9 – The Conformity Test
Does all slime take the shape of its container or not? I couldn't just go without something similar to states of matter, right? We used a cookie cutter and then placed our slime in it. We wanted to see if the slime would spread out and fill it or stay put. Some slime filled it, some slime stayed put (GAK!) and others even seeped out under the cookie cutter.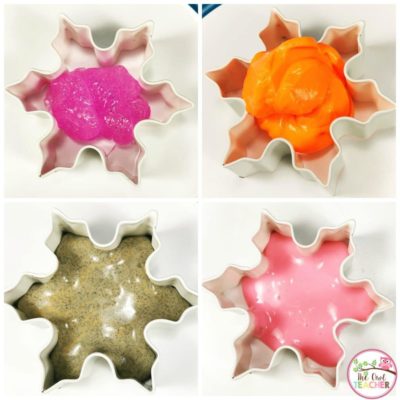 Slime Center #10 – The Force of Gravity Test
For this activity, we pulled out the spring scale and the plastic wrap! We took our slime and wrapped it again in plastic wrap and hooked it onto a spring scale to determine the force of gravity. (I suggest using a 5N scale or smaller instead of a 10!) . This provides students with lots of opportunities to try different science tools out!

These Slime Science Centers are just the tip of the iceberg! I have eight more that I can pull out next time I have a few minutes, before a holiday break, for Halloween, or even as a fun day. I also have these slime science centers:
The Acid and Bases Test
The Transfer Test
The Stretch Test
The Mixture and Solutions Test
The Bending Test
The Wetness Test
The Temperature Change Test
The Light Test
I love that I can finally do other science concepts with slime than just states of matter and it keeps the students engaged!
Now you have some ideas too!
If you don't want to create all the materials for these slime stations – you can check out my Slime Science Stations resource on Teachers Pay Teachers, or here on my website. In it, you will receive 8 different slime recipes,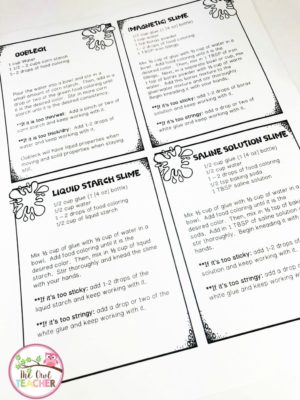 a slime booklet (full page and half pages),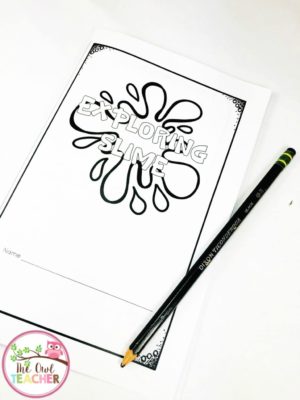 slime station direction cards,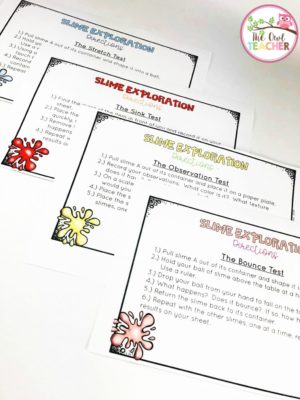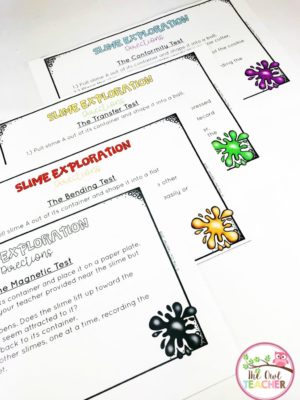 slime safety lab rules contract,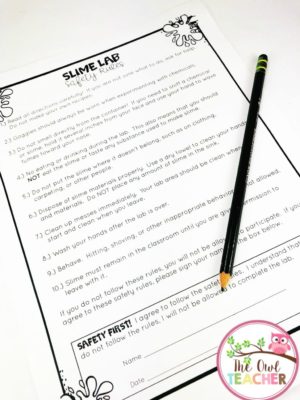 and more! There's even an activity for students to pick their favorite slime and to persuade others why it's the best!
Want to have fun with slime in your classroom fast? Get your copy of Slime Science Centers today and save a ton of time!
Grab a FREEBIE!
Grab this freebie to get started in your classroom today!