I love sharing all the various texts that I use in the classroom each week for every mentor text. It is so powerful when students are introduced to new books and actually see concepts modeled at their level, using their books they are familiar with. This week, my mentor text is Red: A Crayon's Story by Michael Hall.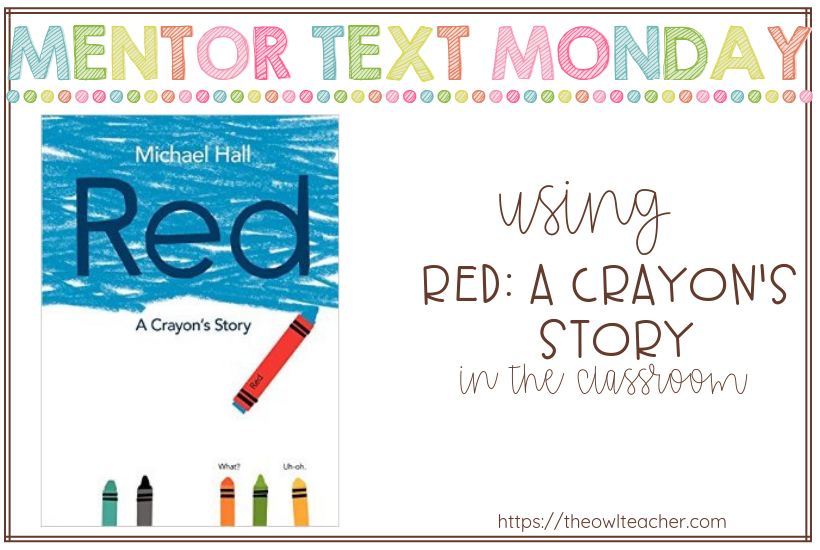 I'm going to give you a minute to look back at the cover. Go ahead. Did you notice anything? Try looking again, if you didn't. The cover is a big clue as to what the story is about. If you look closely at the cover, you will notice that the crayon's name is red, but colors in blue. This crayon is having an identity crisis!
When the mentor text begins, we are introduced to a crayon named Red but are immediately told he wasn't very good at it. His teacher thought he needed more practice, his mother thought he needed to just mix with other colors, and his grandparents assumed he just wasn't warm enough. Everyone had something to say about him. Some said he just wasn't applying himself, or that he would catch on in time. Others said he was lazy, while still, some said he was born that way. Everyone has a theory as to why Red wasn't able to be red. Finally, one day Red met a friend who just accepted him for who he was and encouraged him to be the best he could be at that.


While this story may closely resemble some of the events occurring in Hollywood with Bruce/Caitlyn Jenner (as a colleague of mine pointed out), I feel students could easily make connections to the text. How often have students felt they had to be somebody they weren't? Think of those perfectionists in your classroom. Couldn't you have a discussion about how important it is to accept others for who they are? Could this be easily relatable for students of other cultures that feel they must change or adapt to the culture they live in now?
The theme of diversity and acceptance is a strong one. I like to remind my students that I am not here to fit a square peg in a round hole, but instead to find the "right hole" for them. Isn't that really what differentiation is? Instead of labeling students or deciding that obviously, they aren't applying themselves, we should instead be accepting them for who they are and building off what they can do well.
This mentor text could not only facilitate discussion but could also be a good starting point for a personal narrative. Students could write about a time that they felt they weren't accepted as who they really were and how it all changed (if it did). The elements of cause and effect could be discussed, along with comparing and contrasting. Finally, this book would be a great book for discussing theme and diversity.
(Aff. Link) You can head to Amazon and pick up your own copy of Red: A Crayon's Story to add to your classroom library today!
Want more valuable teaching tips and other ah-mazing perks, such as discounts, giveaways, flash freebies, dollar deals, and so much more? Become a VIP member by joining my email list! Click here to subscribe.


Pin for Later: