When I first started teaching third grade, I discovered a whole new world when it came to teaching reading and reading interventions. It was interesting, to say the least! Very quickly I found myself feeling insecure about my teaching abilities and scrambling for knowledge. I read every blog and informational website I could find to educate myself in teaching reading. I read many very thick books produced by Fountas and Pinnell. I cruised bookstore after bookstore. Yep, I even racked up my Amazon credit card! I sought the advice of my colleagues. However, there was one piece of advice I kept hearing over and over: read, read, read.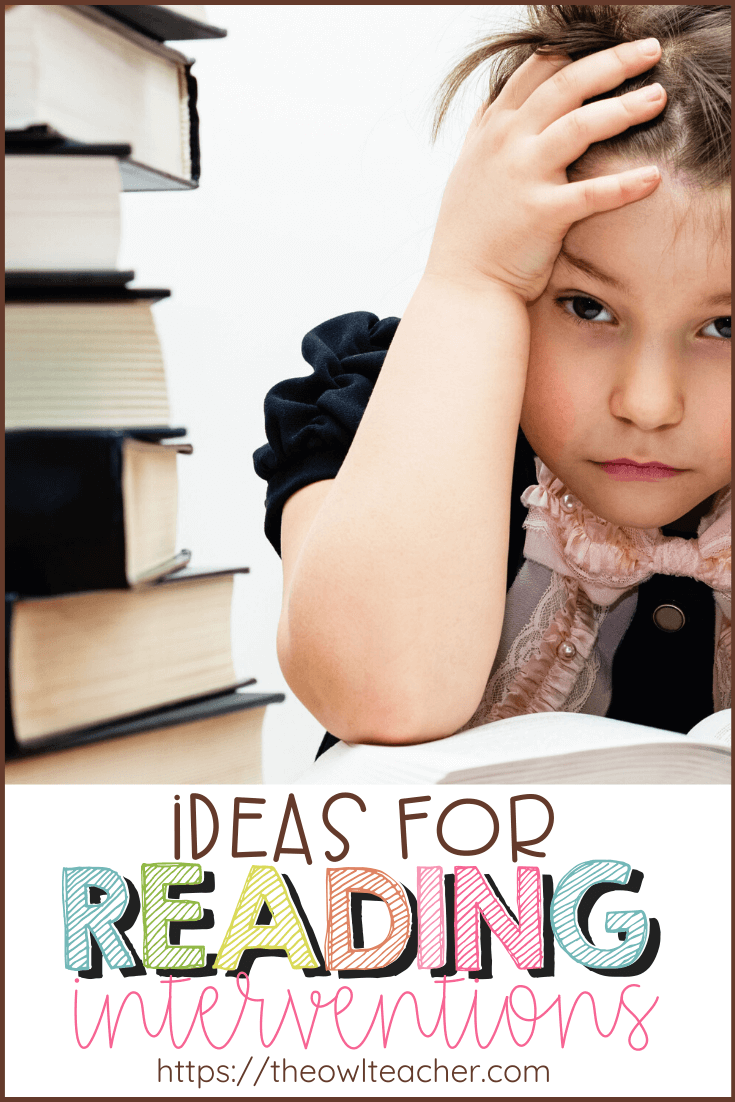 While I believed that having them read was definitely effective, I was not satisfied enough with this idea. I felt there just had to be more. I offered up some of my free time before school and after school tutoring students and, perhaps to some degree, experimenting with various methods and strategies that I had read and learned about. Through the process, I learned a few "tricks." While this is by NO means a complete list of reading interventions, it is a good start.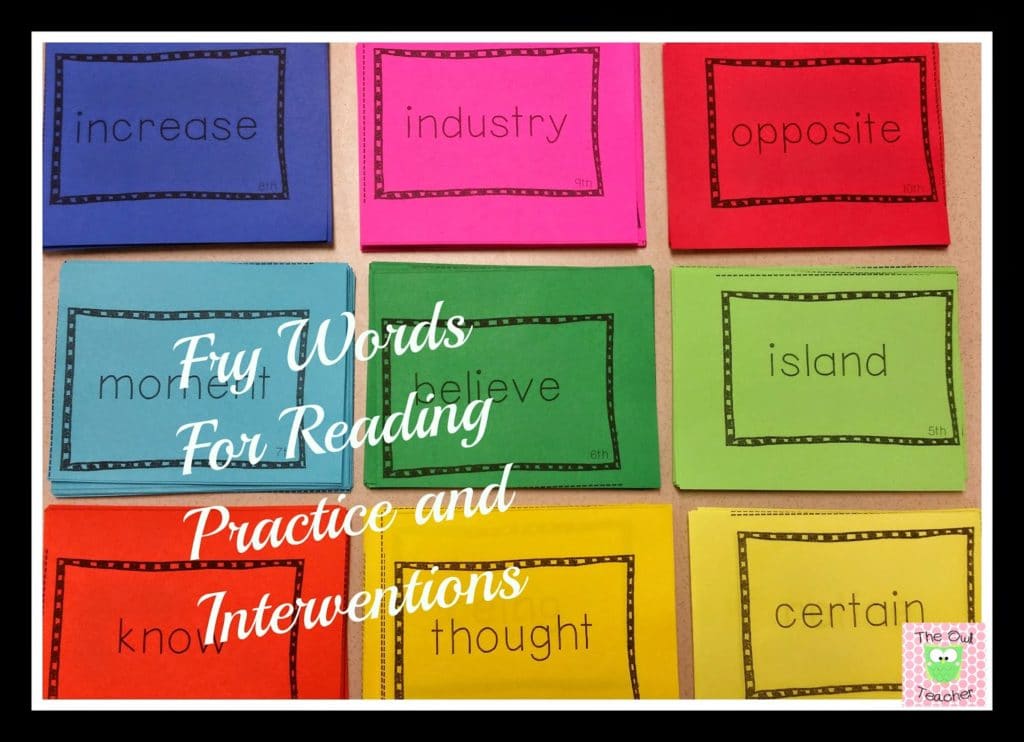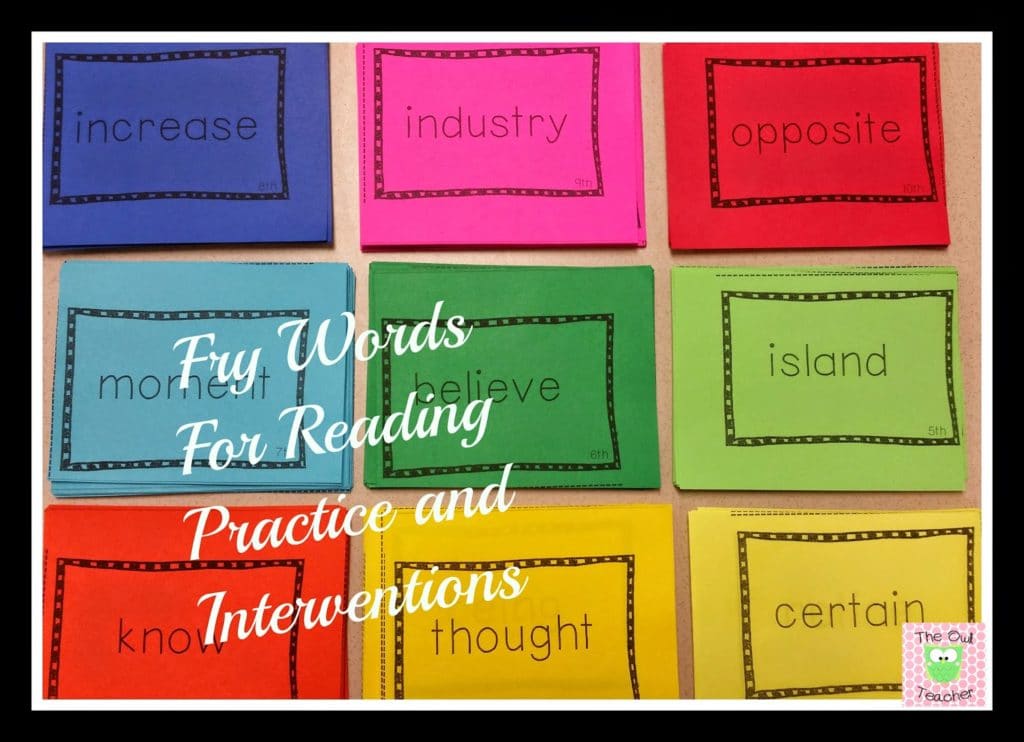 Ideas for Reading Interventions
1.) Fry Instant Sight Words and Phrases. I use this for a quick 10-minute intervention for my students who are struggling a bit transitionally. Even in third grade, I have found that it is needed. I like the Fry lists, because they are a mix of short one-syllable words and two-syllable words that are commonly found in our reading texts. Children need to become automatic with these words to help gain fluency. I make sure students understand and use decoding strategies, but I also implement these words and phrases as flashcards. I always start at the 200 level and work them up to the 300, then 400, and so on. Students have to be 75% accurate to move up a level. Of course, of that 25 % that they did not master, I will forward them on to the next set. The same applies to the Fry Phrases.
One thing I really love about the Fry Instant Sight Words is that they can be used as a review game with a volunteer parent or para-pro. I will have students play with cards like the game War. Students flip over their cards and quickly read the word. The student who says the word correctly first wins both cards. The student at the end with the most cards wins. I have also used both the words and phrases as a peer tutoring opportunity, a center for practice, and homework with parents. If you are interested, you can check out my Reading Sight Practice Resource at TpT by clicking here.
2.) Fluency Practice. I provide students with a reading passage and pair them up. Then I have students decide who is partner A and who is partner B. Partner A will read first while partner B will listen and notice any words not said correctly or skipped. I set the timer for one minute. Then after a minute reading, partner B will count up the number of words read and how many errors. Then the students switch. Partner B is now reading while A keeps track of incorrect or skipped words. This same procedure takes place for another minute. After both partners read, I will then set the timer again for another minute and have BOTH partners, A and B, read their passage out loud at the same time. I  encourage my students to cover their ears so they can concentrate. Students are always amazed by how they are able to read much faster the second time. This is such a great teachable moment about how important it is to read more than once (this is due to close reading, better fluency, catching things you missed before, and so on)! Finally, after reading the passage twice (and hearing it once) students have to sit down and, without looking back at the passage, write a quick retell. This involves writing the main idea and three details. I set the timer and they write briefly for one minute. This is another segue into how important it is to write "short-hand" and to develop note-taking skills. After writing for a minute, they have to find a new partner and share their retell. The students enjoy this method, I get in extra reading practice, and there are many more valuable lessons to it.
3.) Book in the Bag. Our school is fortunate to have a Reading A-Z account. Each week I print a book for my struggling students on their reading level. I place it in a large Ziploc bag along with a signature sheet. I also record these students reading the book on Monday. For homework that week, they are to read their book out loud to an adult, have the adult sign off on the reading sheet, and return with it each day. Then on Friday of that week I will then listen to and/or record that student reading the book again. I like to have students listen to the different recordings and talk about what they notice that is different. I think this is a great method to increase their confidence, which is essential since I believe confidence is a HUGE selling point. It's pretty simple, but it works!
There are definitely more reading interventions, and of course, you can always find many expensive programs out there. If you are like me though, you feel compelled to find something that isn't as time-consuming or expensive, yet is still effective.

Take a look at more of my posts about reading!