Brag tags are exciting, engaging, and extremely motivating in the classroom. Students love them, and there's no doubt based on the massive supply of them on Teachers Pay Teachers that teachers love them, too! But, have you ever wondered how brag tags could be if they were taken up a notch? I did. And I have done just that!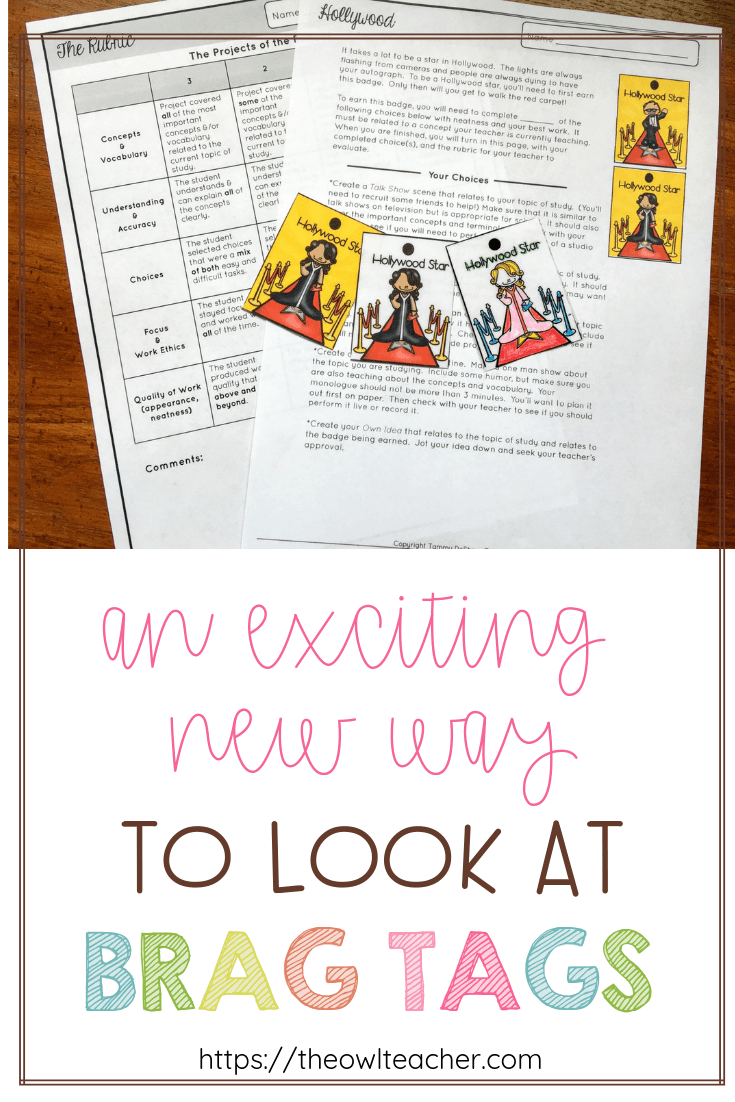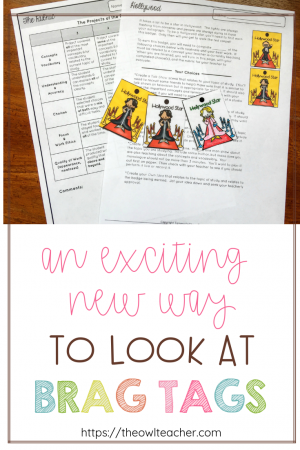 First, let me tell you why I wanted to take them up a notch. I have used something similar to "brag tags" before, where students earned tags for their lanyards. It was an effective management technique – but only for some. For others, they didn't care as much. To me, it seemed that often, the same kiddos were the ones earning the tags over and over and over. I knew it. They knew it. We all knew it. And if we were handing out tags that were holiday related so everyone received one, well, "You aren't fooling anyone. Those are pity tags!" as I was once told. No one wants pity tags. No one.
Now, I know every system is different, and every teacher has their own classroom management system. And, well, that's why the "new way to look at brag tags" isn't even about classroom management. (But, if you need classroom management tips, I have you covered!) No, sir. No ma'am! No way! Now I gotcha wondering, huh?
The New, Exciting Way to Look at Brag Tags Class Tags
or what I call…academic badges!
The name "brag tag" is just not my favorite. Perhaps it's my Christian side or my low self-esteem, I'm not sure, but the idea of "brag" just kills me. (I have no problem with others who love it – go for it!). So, I will call that the first way that I look at them differently; they are not "brag tags" but class tags. However, you'll find I call them "academic badges." Here's why…
What are academic badges?
When I was younger, I absolutely loved being in Girl Scouts. It taught me about character and working hard. One of my favorite things (besides eating more Girl Scout cookies than I sold) was earning the Girl Scout badges. It was a huge feeling of pride when I finally earned that thing!
Academic badges (or class tags) are like brag tags, but instead of being used for classroom management, they are used for academic purposes. And, much like Girl Scout or Boy Scout badges, students complete a series of choices related to the badge theme and the concept being taught in the classroom. Once the student completes the choices to the teacher's satisfaction, the student has earned the tag. But, it is much easier than it sounds. Read on! 🙂
How do academic badges work?
It depends on how you choose to use them. You can have students work on them individually when they finish their work early or simply assign students to work on one tag a week (their choice which one). Another option is to work together as a class to earn a specific tag.
Each badge along the top gives a small intro to the badge, such as in the example below. Then, it tells the student how to earn the badge. It is left open for the teacher to write in how many choices need to be completed to earn the badge. I usually say three, but it is completely up to you. This allows for you to differentiate based on your students' needs.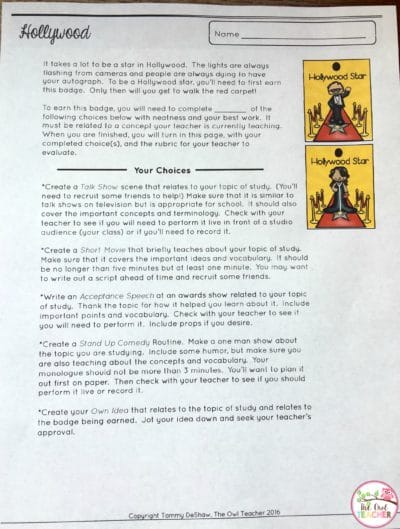 Let's say you stated the student needed to complete three to earn this "Hollywood Badge." The student would look over the sheet and decide which of the choices he wants to complete. The last one is always an option to create their own, but it has to relate to the "Hollywood" theme. Now, your student can't just pick any ol' topic to create a short movie on (the second choice on this page); he must do it on a concept you are currently teaching! This could be a science concept, a social studies concept, a reading concept, a writing concept, or, if he is really creative, possibly a math concept.
Let's say you are teaching point of view. Now, little Johnny can create a short movie that teaches about point of view. It's like choice boards, right? And this helps you when planning assignments! Saving time! Whoo-hoo!
What about grading? I don't have that kind of time!
Yes, I totally understand! These creative assignments definitely can be time-consuming to grade, especially if your options are three per tag per student. Whew.
What if you just quickly looked them over for the overall concept?
What if you just choose one of the three choices to grade?
What if you use this really neat rubric provided?
Isn't it nice when you can get grades for multiple subjects at once? Saving more time! Whoo-hoo!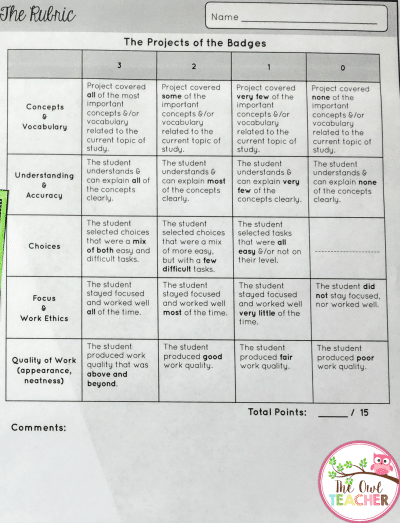 More exciting ways to look at these
These academic badges are unique because they can help the teacher assess students and their understanding of the concepts, along with catering to all learning styles.
It's exciting to think that these are so versatile and able to extend learning of any subject!
There are 41 different tags that students can earn.
That means students could earn one badge a week, if desired, so there are enough for the entire school year!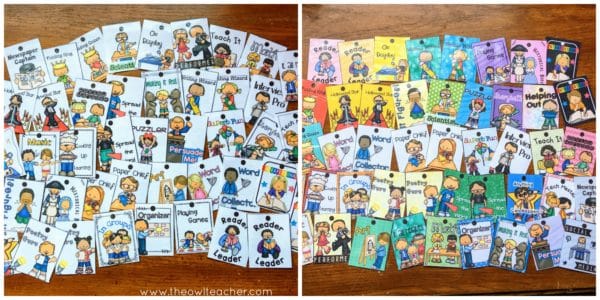 There are three versions – full color, printer-friendly, and personalize it!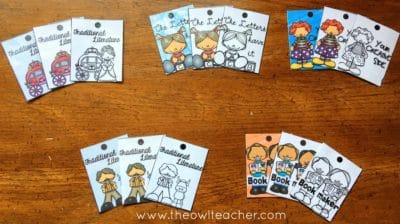 I love coloring. It is so relaxing, and I have found that even students in fifth grade love to decorate their own badges. This makes it so personable and exciting when students are able to decorate it themselves before it is laminated. This is mindfulness in the classroom!

Why are these so valuable?
That's a wonderful question! I'm so glad I asked myself. Haha! (Laugh with me.) These academic badges have the following benefits:
They motivate students.
They allow for differentiation.
They allow for mindfulness (the coloring of the "Personalize It" tag version).
You can implement growth mindset with these tags by encouraging students to work toward areas that are challenging to them.
They meet students' needs, interests, and abilities.
They provide choice.
They help save time in planning.
They allow students to work at their own pace.
They're perfect for early finishers.
They help enrich and extend learning.
They increase student ownership and empower learners.
They promote independence and responsibility.
They can easily adapt to multiple subject areas (interdisciplinary!).
They are student-centered.
Students can showcase their skills mastered and practice new skills.
They build classroom community.
They make learning fun and engaging.
Since I'm not the best photographer, I have a sample for you to download FREE that looks similar to these images in the post (but of course, much more attractive!). You can download it by clicking below. This will give you the opportunity to check them out and decide if you want to use them in your classroom.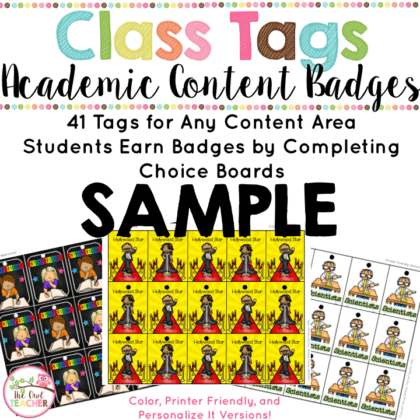 If you want to check them out, you will find them in my Teachers Pay Teachers store here. They are totally worth the value because you are getting so much for so little!
If you think these are beneficial to you and your classroom, too, please share your classroom photos with me and tell your friends! I'm excited to hear just how wonderful they are working for you too!