Wilma Unlimited. What can I say?! I know when I do my mentor text posts each week, I talk about how powerful this book and that book are, but this book by far is one of the most moving and powerful books I have read in a long time. It was one of those books that I remember hearing about in grad school, then years later purchased out of a scholastic book order catalog. Honestly, I hadn't read it, I had just heard it was good. Well, as I was searching my shelves of mentor text, I ran across it. As I often do, I was trying to procrastinate just a little, so why not distract myself by reading a book… I can't possibly be the only one out there that does that—right? Anyway, it was bittersweet. Why hadn't I read this before and used it? I can't wait to use it now! As I read it, so many ideas popped into my head on how it could be used. But, first, let me tell you what it is about.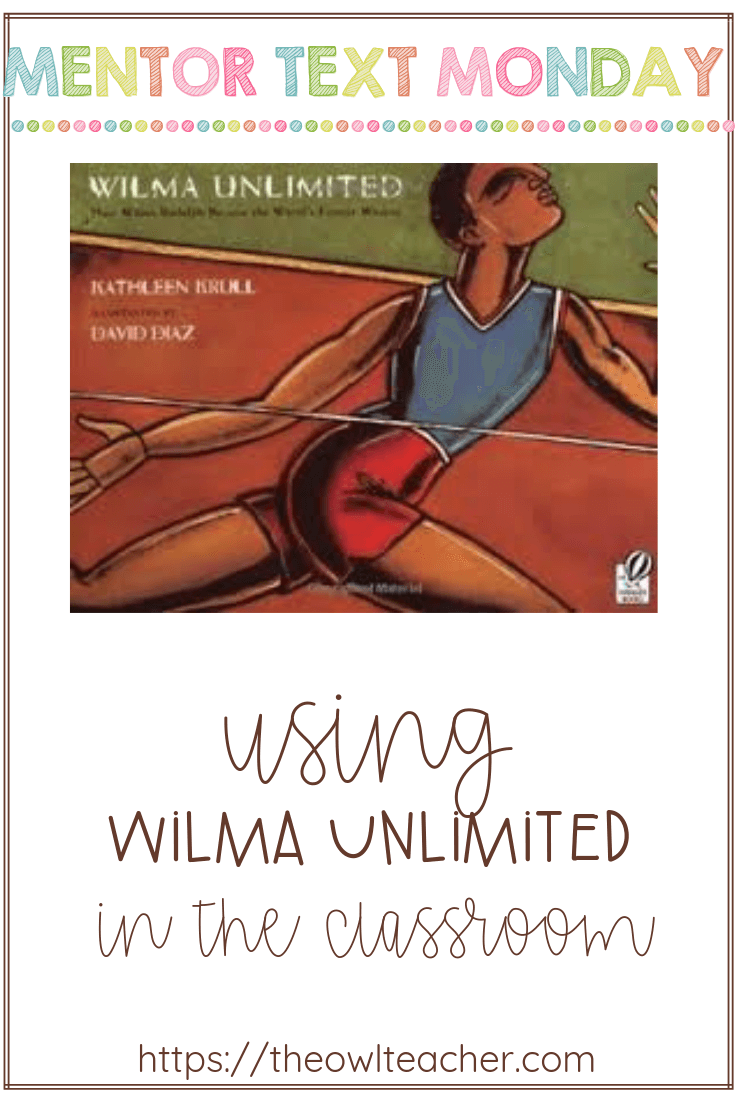 This nonfiction picture book – biography – reads like a story. It is about Wilma Rudolph and how she worked her way up to earning three gold medals in the Olympics. What is powerful about the story is that she was always the sickly child in her family of 19 siblings. Over and over it repeats the fact she was limited because of her illnesses and that she had gotten polio. Polio had left her leg paralyzed.
However, Wilma was determined and would not give up. When they said she couldn't go to school because of her leg, she worked hard, got stronger and did go to school. When she wanted to join the basketball team and people told her no, she proved them wrong. When others said she wouldn't come even close to winning a medal in the Olympics, she was determined. When she twisted her ankle, she triumphed.
The theme of perseverance is all throughout the text along with courage coming in at a close second. Not only could this book be used to teach theme, but along with having a class discussion about the importance of believing in yourself and overcoming all obstacles. (Students could even write a story of obstacles they have overcome.)
Who would have really thought that someone who had a paralyzed left leg would work up to a brace and eventually, an Olympic runner?
Another concept that could easily be taught is sequencing, as this book has many events that students could easily place in the order of occurrence. Further, students would enjoy exploring cause and effect with this text, the questioning strategy, and predicting. The strong character of Rudolph could also be explored.
No matter what concept you choose to use this mentor text for, it is a must read! You definitely need to head to Amazon (aff. link) and pick up your copy of Wilma Unlimited today!