Anchor charts are everywhere. When you are scrolling the feed on Pinterest, you see them. When you purchase products on TpT, or even when you step into your neighbor's classroom, you likely notice the walls lined with them. But what is the big deal about anchor charts, anyway? And do we really just make them "Pinterest pretty," hang them up, and then forget them until later?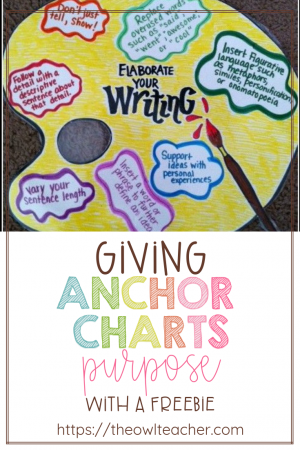 When I first noticed anchor charts, I remember looking at the walls of my colleagues and thinking, I could totally fancy those up. It wasn't an "I'm better than them" mentality but rather a creative perspective. I love to decorate and make things colorful (if you haven't noticed yet). So, I remember going home with my large spiral chart paper one weekend and making up anchor charts ahead of time. I pulled out my markers, sprawled across the floor and created art. Yes, they were amazing. The kids were going to be so impressed!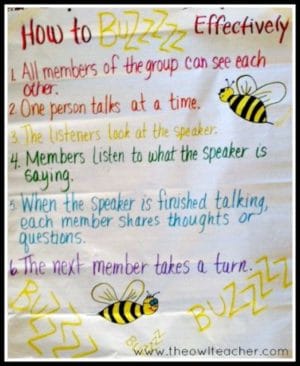 And they were…for a day or two. That. Was. It. They didn't look at them again the rest of the year, and to be honest, I didn't really either. Hence, the point of this entire blog post… Giving anchor charts purpose.
Anchor charts are useless if they are just hanging in your classroom on your walls looking pretty for all your neighboring teachers to admire. In fact, they are useless if they are only created by you. While the anchor charts above were pretty, they were the exact example of everything you should not do. (It's okay if you have made the same mistakes as me – we are all learning, including myself!)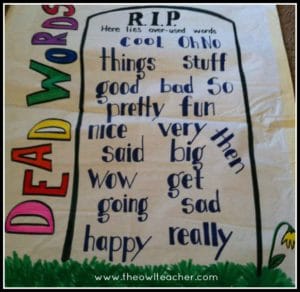 First, anchor charts should be built together with the class. When this is done together, it is relevant to the students, and they have some ownership in it. The anchor charts I created weren't really "theirs;" they were viewed as "mine." It's similar to the ones we buy at the store: Students don't really pay attention to those either, but if you hang a piece of their student work, how many times do they look at it, or if it's in the hall, how many times do they point it out? You get my point. They are proud of it! When they are involved, it takes on more meaning. Bring the students up and have them help write it, add to it, whatever you need to do to involve them more. And the hardest part for me (and possibly you) was getting over that "Pinterest" beauty that I believed anchor charts had to have. (It's similar to the Hollywood beliefs we have surrounding what's "skinny" and "beautiful." We have to fight that and be realistic!)
Second, anchor charts need to have a single focus with only relevant information. If we put too much on them, they are overwhelming. I have sometimes used pictures or symbols as a way to help students instead of a bunch of words. Also remember that once they go on the wall, they become harder to read from a distance, so too much suddenly becomes TOO MUCH. (Oh, and make sure they are accessible to all students.)
Third, use anchor charts to record content, strategies, steps, processes, cues, or guidelines. They don't have to be created for everything – but the important things that students can use to reference later. It is a tool to help expand their ideas, to problem solve or to answer questions they have later.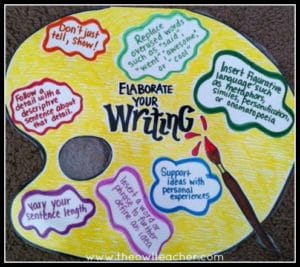 Next, don't just hang up the anchor charts and forget them. Teach students how to use them as you would with any other reference resource in your classroom. Going slow in the beginning to teach this will pay off later. Additionally, you will need to make a conscious effort to reference them. Reference them to make connections as new learning happens or to remind them of prior learning. It's very similar to word walls. In some cases, you can even pull down an anchor chart and add to it as you discover new things.
Finally, when you display the anchor charts, only post current learning to avoid clutter. Too many things hanging on the wall can be overwhelming, too. I like to rotate my displays, and from time to time, I use a clothesline across my wall with clothespins just for variety. Additionally, consider providing students with individual copies of the anchor charts to place in their notebooks or journals.
To help you get started, I have an anchor chart planning checklist. This can be a guide to what things you would like to have on it before you create it with your students.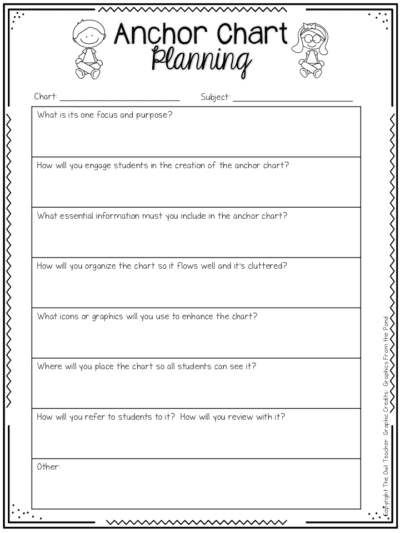 You can download this anchor chart planning checklist free!
Most importantly, when giving anchor charts purpose, it is about making thinking visible for students that they can reference as needed, but it's one that they have constructed with you. One with which they have some ownership. With a little reminding and coaching, students will learn to use it, and it can be a very valuable tool! I can remember many standardized tests where students looked at the wall where an anchor chart was hanging to recall information.